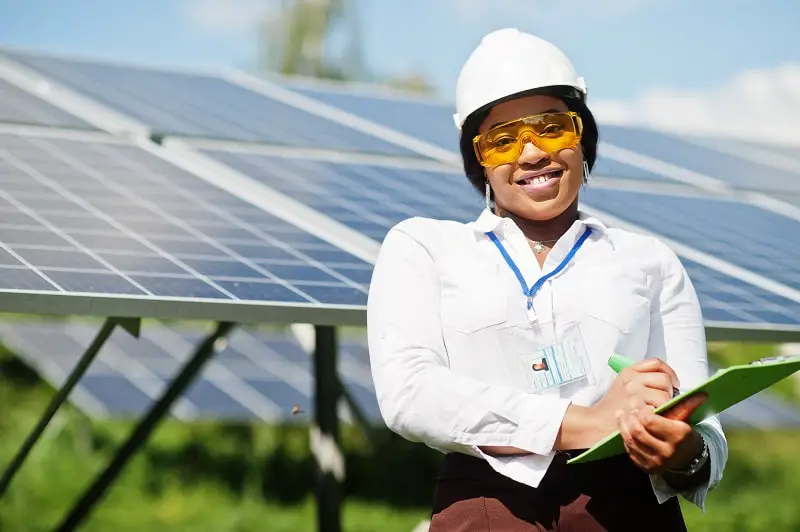 Solar Energy Systems Engineers
perform site-specific engineering analysis or evaluation of energy efficiency and solar projects involving residential, commercial, or industrial customers. Design solar domestic hot water and space heating systems for new and existing structures, applying knowledge of structural energy requirements, local climates, solar technology, and thermodynamics.
---
How To Become a Solar Energy Systems Engineer
How long does it take, what degree do you need and more.
---
In this requirements guide for Solar Energy Systems Engineers, you will find out what do you need to become a Solar Energy Systems Engineer, how hard is it, and what does it take to become one.
After reading this, you will be able to plan for your future if you want to be a Solar Energy Systems Engineer.
---
---
Recommended degree level
Bachelor's Degree
We did a survey to ask other Solar Energy Systems Engineers what degree they had when they became a Solar Energy Systems Engineer. Here are the results.
Bachelor's Degree
---
Post-Baccalaureate Certificate
---
Less than a High School Diploma
---
One of the most common questions that we always get is what major or degree do I need to become Solar Energy Systems Engineers or what courses do I need to take.
We also asked Solar Energy Systems Engineers what did they major in college or university and here are the top 5 most popular majors that came up.
Engineering
Architectural Engineering
Chemical and Biomolecular Engineering
Geotechnical and Geoenvironmental Engineering
Laser and Optical Engineering
---
---
---

Interested in becoming ? Find the right schools that can help you to become one. You will need some of your details to get you matched with the right college or university. This service is free thanks to our sponsors.
Questions to ask the university or college:
How many students are in the program?
Is your program accredited?
How many faculty members do you have? Do they hold the right credentials?
What is your job placement rate?
Does your school hold career fairs or other on-campus events with employers? How many employers typically attend?
How many of your students have at least one internship by graduation?
---
---
---
Improve Your
Test Score
Studying for a standardized test for your college admissions?
Improve your test scores on SAT, ACT, GRE, and GMAT.
Read more
---
---
---
You will need a considerable amount of work-related skill, knowledge or experience to be a Solar Energy Systems Engineer. For example, an accountant must complete 4 years of college and work for several years in accounting to be considered qualified.
Careers in this difficulty category will usually need several years of work-related experience, on-the-job training, and/or vocational training. These careers usually involve coordinating, supervising, managing, or training others. Similar careers include sales managers, database administrators, chemists, and art directors.
---
Related work experience required
2 to 4 years
2 to 4 years
---
1 to 2 years
---
4 to 6 years
---
Job training
Up to 1 month
Up to 1 month
---
1 to 2 years
---
6 months to 1 year
---
---
---
License and certifications
Do you need any license or certification
---
---
---
---
---
---
---
Start your journey to be
Get the best college for Solar Energy Systems Engineers
---
---
Discover the best colleges for your $$$
---
---
Find colleges have the highest earning grads
---
---
Yes, I'm sure
---
---
Biochemical Engineers

develop usable, tangible products, using knowledge of biology, chemistry, or engineering. Solve problems related to materials, systems, or processes that interact with humans, plants, animals, microorganisms, or biological materials.

Salary

$99410

Automotive Engineers

develop new or improved designs for vehicle structural members, engines, transmissions, or other vehicle systems, using computer-assisted design technology. Direct building, modification, or testing of vehicle or components.

Salary

$92800

Biomedical Engineers

apply knowledge of engineering, biology, and biomechanical principles to the design, development, and evaluation of biological and health systems and products, such as artificial organs, prostheses, instrumentation, medical information systems, and health management and care delivery systems.

Salary

$95090

Surveyors

make exact measurements and determine property boundaries. Provide data relevant to the shape, contour, gravitation, location, elevation, or dimension of land or land features on or near the earth's surface for engineering, mapmaking, mining, land evaluation, construction, and other purposes.

Salary

$66440

Civil Drafters

prepare drawings and topographical and relief maps used in civil engineering projects, such as highways, bridges, pipelines, flood control projects, and water and sewerage control systems.

Salary

$56700
---
Learn more about Solar Energy Systems Engineers
Find a college with the major you want

---
Related to Solar Energy Systems Engineers Requirements
Solar Energy Systems Engineers requirements, how to become Solar Energy Systems Engineers, degree required to be a Solar Energy Systems Engineer, Solar Energy Systems Engineers license and certifications, majors to be a Solar Energy Systems Engineer, is it hard to become a Solar Energy Systems Engineer and how long does it take