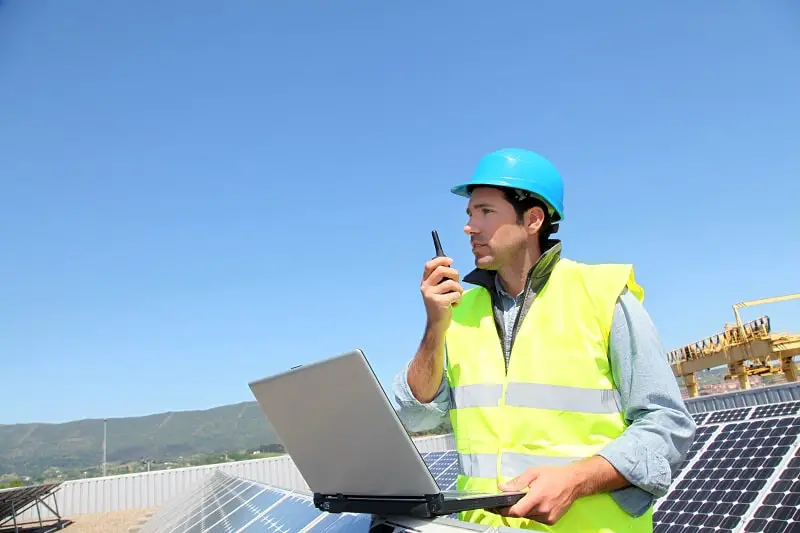 Solar Energy Installation Managers
direct work crews installing residential or commercial solar photovoltaic or thermal systems.
---
How To Become a Solar Energy Installation Manager
How long does it take, what degree do you need and more.
---
In this requirements guide for Solar Energy Installation Managers, you will find out what do you need to become a Solar Energy Installation Manager, how hard is it, and what does it take to become one.
After reading this, you will be able to plan for your future if you want to be a Solar Energy Installation Manager.
---
---
Recommended degree level
Post-Secondary Certificate
We did a survey to ask other Solar Energy Installation Managers what degree they had when they became a Solar Energy Installation Manager. Here are the results.
a Post-Secondary Certificate
---
College Certificate
---
Associate's Degree
---
One of the most common questions that we always get is what major or degree do I need to become Solar Energy Installation Managers or what courses do I need to take.
We also asked Solar Energy Installation Managers what did they major in college or university and here are the top 5 most popular majors that came up.
Construction Trades
Mason or Masonry
Carpentry
Electrician
Building or Property Maintenance
---
Although some Solar Energy Installation Managers need only a high school diploma and receive on-the-job training lasting up to 1 year, most candidates receive training at a technical school or community college. Most Solar Energy Installation Managers take courses at local community colleges and trade schools to learn about solar panel installation. Courses range from basic safety and photovoltaic knowledge to system design.
---
---

Interested in becoming ? Find the right schools that can help you to become one. You will need some of your details to get you matched with the right college or university. This service is free thanks to our sponsors.
Questions to ask the university or college:
How many students are in the program?
Is your program accredited?
How many faculty members do you have? Do they hold the right credentials?
What is your job placement rate?
Does your school hold career fairs or other on-campus events with employers? How many employers typically attend?
How many of your students have at least one internship by graduation?
---
---
---
Improve Your
Test Score
Studying for a standardized test for your college admissions?
Improve your test scores on SAT, ACT, GRE, and GMAT.
Read more
---
---
---
You may need some previous work-related skill, knowledge or experience to be a Solar Energy Installation Manager. For example, an electrician must complete three or four years of apprenticeship or several years of vocational training, and often must have passed a licensing exam, in order to perform the job.
Careers in this difficulty category will usually need 1 or 2 years of on-the-job training and informal training with experienced workers. These careers usually involve using communication and organizational skills to coordinate, supervise, manage, or train others to accomplish goals. Similar careers include hydroelectric production managers, travel agents, electricians, court reporters, and medical assistants.
---
Related work experience required
2 to 4 years
2 to 4 years
---
1 to 2 years
---
4 to 6 years
---
1 to 2 years
---
6 months to 1 year
---
3 to 6 months
---
---
---
License and certifications
Do you need any license or certification
Recommended but not required
---
Although not mandatory, Solar Energy Installation Managers may obtain certification from the North American Board of Certified Energy Practitioners. Certification can demonstrate professionalism and basic photovoltaic knowledge to employers. To qualify, candidates need at least 58 hours of advanced photovoltaic training by an accredited school or organization as well as complete a ten-hour construction safety course through OSHA.
---
---
We asked other Solar Energy Installation Managers if they could only have 5 skills, what would they be. Here is what they said.
= Hot in-demand that most employers are looking for
---
---
---
Just like any other job, you will need certain know-hows to excel at your job. Solar Energy Installation Managers are generally very knowledgeable in these 5 key areas.
---
---
---
Start your journey to be
Get the best college for Solar Energy Installation Managers
---
---
Discover the best colleges for your $$$
---
---
Find colleges have the highest earning grads
---
---
Yes, I'm sure
---
---
Segmental Pavers

lay out, cut, and place segmental paving units. Includes installers of bedding and restraining materials for the paving units.

Salary

$43000

Solar Hot Water Installers

install or repair solar energy systems designed to collect, store, and circulate solar-heated water for residential, commercial or industrial use.

Salary

$43000

Reinforcing Iron and Rebar Workers

position and secure steel bars or mesh in concrete forms in order to reinforce concrete. Use a variety of fasteners, rod-bending machines, blowtorches, and hand tools. Includes rod busters.

Salary

$54670

Track Equipment Operators

lay, repair, and maintain track for standard or narrow-gauge railroad equipment used in regular railroad service or in plant yards, quarries, sand and gravel pits, and mines. Includes ballast cleaning machine operators and railroad bed tamping machine operators.

Salary

$57120

Electricians

install, maintain, and repair electrical wiring, equipment, and fixtures. Ensure that work is in accordance with relevant codes. May install or service street lights, intercom systems, or electrical control systems.

Salary

$59190
---
Learn more about Solar Energy Installation Managers
Find a college with the major you want

---
Related to Solar Energy Installation Managers Requirements
Solar Energy Installation Managers requirements, how to become Solar Energy Installation Managers, degree required to be a Solar Energy Installation Manager, Solar Energy Installation Managers license and certifications, majors to be a Solar Energy Installation Manager, is it hard to become a Solar Energy Installation Manager and how long does it take