How Long Does It Take, What Degree Do You Need, and More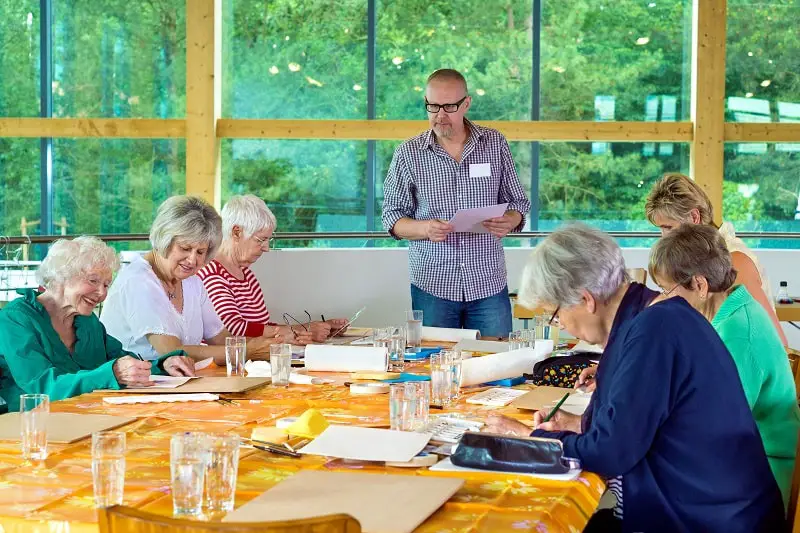 Recreational Therapists plan, direct, or coordinate medically-approved recreation programs for patients in hospitals, nursing homes, or other institutions. Activities include sports, trips, dramatics, social activities, and crafts. May assess a patient condition and recommend appropriate recreational activity.
Education
Bachelor's degree
---
---
---
---
Table of contents
---
Summary
| | |
| --- | --- |
| Degree | Bachelor's degree |
| Degree field | Recreational Therapy or a related field such as Art Therapy and Physical Therapy |
| License or certification | A small number of states require licensing. While you may not need a license in your state, most employers prefer to hire Recreational Therapists with the Certified Therapeutic Recreation Specialist (CTRS) credential |
| Duration to become one | 4 to 5 years |
| Difficulty to become one | Hard |
---
Featured Schools
Recreational Therapists Requirements
Step 1: Start Learning About Recreational Therapy in High School
There are not many high school classes that provide transferable skills for becoming a Recreational Therapist. The most important skills for this career include reading comprehension, writing, critical thinking, active listening, active learning, and speaking.
You should also feel comfortable working with others. Volunteering at a hospital, retirement home, or other healthcare facilities can provide hands-on experience in a medical setting.
Step 2: Earn a Bachelor's Degree in Recreational Therapy
Most employers require Recreational Therapy candidates to have a Bachelor's Degree. Recreational Therapy is the most common major for those seeking this career path. You may also find employment with a degree in a related field.
Related degrees include Art Therapy, Behavioral Aspects of Health, Music Therapy, Occupational Therapy, Dance Therapy, Physical Therapy, and Rehabilitation.
Recreational Therapy degrees focus on the use of recreational activities to provide mental or physical treatment. Treatments may include the use of music, arts, animals, dance, games, or sports. To develop the necessary skills for this job, students take courses in:
Human anatomy
Patient assessment
Medical and psychiatric terminology
Characteristics of disabilities
You also learn how to use various assistive devices and technologies to assess and monitor patients or clients.
Step 3: Complete an Internship to Gain Work Experience
Earning a professional certification is often a requirement for most employers, which requires the completion of an internship. The internship should provide at least 560 hours of practical experience.
Internships are often completed at health clinics, such as therapy clinics and various mental health facilities. Your internship may involve working with children, families, seniors, or people with specific mental or physical disabilities.
The internships typically last three months and are often offered through accredited Recreational Therapy programs. If your program does not offer an internship opportunity, you can find openings online using job search websites.
Step 4: Earn the Certified Therapeutic Recreation Specialist (CTRS) Credential
A small number of states require licensing for Recreational Therapists. However, most states do not regulate this field. While you may not need a license in your state, most employers prefer to hire Recreational Therapists with the Certified Therapeutic Recreation Specialist (CTRS) credential.
The CTRS certification process is administered by the National Council for Therapeutic Recreation Certification (NCTRC). There are two main paths to earning this certification.
The academic path requires a Bachelor's Degree in Recreational Therapy and a 560-hour internship. The equivalency path is available for those that have a Bachelor's Degree in a related field. Instead of requiring a 560-hour internship, the equivalency path requires at least five years of work experience in Recreational Therapy.
You may not need to wait until after graduation to take the CTRS exam. The requirements typically include the need for a minimum of 90 credit hours toward your degree. The average Bachelor's degree program includes 120 to 130 credit hours of courses. This allows you to take the exam during your last of the Bachelor program.
Step 5: Earn a Certification for Your Area of Specialization
If you plan on specializing in a specific area of Recreational Therapy, earning a relevant certification can improve your employability. Along with the CTRS, the NCTRC offers several specialty certifications:
Behavioral health
Developmental disabilities
Community inclusion services
Geriatrics
Physical medicine/rehabilitation
There are also professional organizations available that offer certification in Aromatherapy, Aquatic Therapy, and other subcategories of Recreational Therapy. These certifications are not required but they help show your proficiency in specific Recreational Therapy techniques.
Step 6: Join a Professional Recreational Therapist Organization
There are several national professional organizations for Recreational Therapists, including the American Therapeutic Recreation Association (ATRA) and the NCTRC. The NCTRC is the same governing body that administers the CTRS exam.
The ATRA is a separate organization that offers a wide range of resources for Recreational Therapists. There are several types of memberships available at the ATRA, including a student membership and a professional membership. Both memberships provide learning opportunities and access to the latest evidence-based practices.
Along with the national organizations, you should consider joining a state or regional organization dedicated to Recreational Therapists. Almost every state has a separate organization or an individual chapter of the ATRA.
Step 7: Start Looking for Work as a Recreational Therapist
After earning a degree, necessary certifications, and joining a professional organization, you can start finding entry-level work as a Recreational Therapist. There are many potential employers for Recreational Therapists, including employers in the following sectors and industries:
Hospitals
Government
Nursing care facilities
Ambulatory healthcare services
Social assistance
Hospitals are the largest employer of Recreational Therapists, accounting for about 38% of all jobs in this field. You can find employment opportunities at local, state, or private hospitals. Government positions for Recreational Therapists may be available through your state's Department of Health Services (DHS). Other potential employers include school systems and private practices.
Step 8: Further Your Education for Advanced Job Placement
The previous steps prepare you for a career in Recreational Therapy. However, some employers and senior-level positions may require a graduate degree. Continuing your education is also required in some states to maintain your certification as a professional Recreational Therapist.
Earning a Master's Degree in Recreational Therapy or your area of specialization helps you advance your career. A Master's Degree in Recreational Therapy includes courses related to human anatomy, psychology, and physiology. You may also complete courses in risk management, evaluation, and statistical analysis.
Students that earn a Master's Degree also gain the skills and knowledge needed to work in a managerial capacity. You may take courses related to financial administration, business management, and program management. These courses help you understand the management and administration of Recreational Therapy programs.
What degree do most Recreational Therapists have
Bachelor's degree
We did a survey to ask other Recreational Therapists what degree they had when they first became one. Here are the results.
Bachelor's degree
---
Master's degree
---
Certificate
---
How long does it take
4 to 5 years
It typically takes about four or five years to become a Recreational Therapist. Most Recreational Therapists start with a Bachelor's Degree, which often takes four years to complete. You must also complete a 14-week internship to qualify for the CRTS exam. After meeting these requirements, you should be able to obtain entry-level employment as a Recreational Therapist.
---
Learn more about Recreational Therapists
Find a college with the major you want
---
---