How Long Does It Take, What Degree Do You Need, and More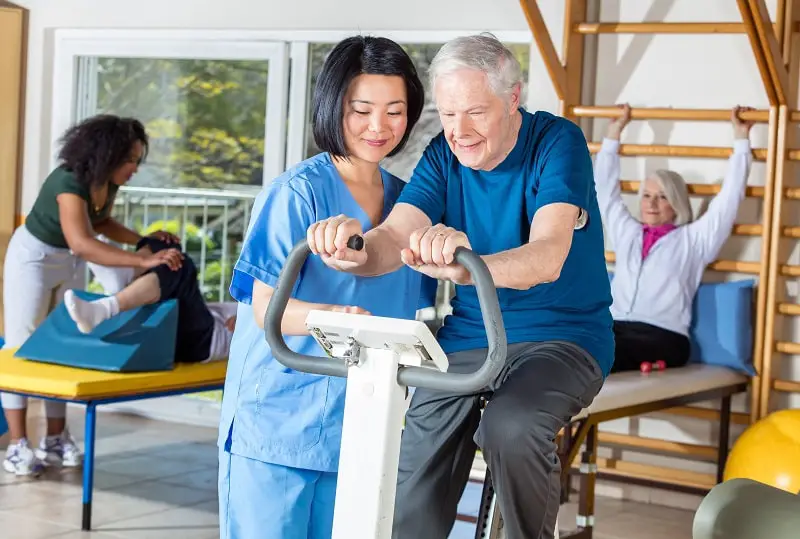 Physical Therapists assess, plan, organize, and participate in rehabilitative programs that improve mobility, relieve pain, increase strength, and improve or correct disabling conditions resulting from disease or injury.
Education
Master's degree
---
---
---
---
Table of contents
---
Summary
| | |
| --- | --- |
| Degree | Doctoral degree |
| Degree field | Physical Therapy degree accredited by the Commission on Accreditation in Physical Therapy Education (CAPTE) |
| License or certification | All states require Physical Therapists to obtain a license to practice |
| Duration to become one | Six to ten years |
| Difficulty to become one | Very Hard |
Most states require Physical Therapists to hold a Doctor of Physical Therapy degree from an accredited program. Physical Therapists typically earn Bachelor's Degrees in Exercise Science, Kinesiology, or Biology before enrolling in a Physical Therapy program. All states require Physical Therapists to obtain a state license after passing the National Therapy Examination.
---
Featured Schools
Physical Therapists Requirements
Step 1: Study Science in High School
Physical Therapists complete extensive training, which includes coursework in Biology and Human Anatomy. High school students should begin exploring these topics by taking the highest levels of science available at their schools. Some schools may also offer advanced classes in Psychology, Physiology, or Kinesiology.
Step 2: Earn a Bachelor's Degree
Physical Therapists typically need to earn a Bachelor's Degree to meet the requirements for enrolling in a Doctor of Physical Therapy (DPT) program. About 30% of Physical Therapists majored in Exercise Science. Other common majors include Kinesiology, Biology, Health Science, and Psychology. The degree should be in a field that is related to Health Science or Exercise.
DPT Degree programs have prerequisite courses. Before completing their senior year of undergraduate studies, students should review the prerequisites for the programs that they want to apply to.
Step 3: Enroll in a Doctor of Physical Therapy Program
Most states require Physical Therapists to obtain a Doctor of Physical Therapy Degree. The degree must be obtained from a program accredited by the Commission on Accreditation in Physical Therapy Education (CAPTE).
DPT degrees typically take three years to earn. However, individuals who plan on pursuing a DPT degree may enroll in a six-year or seven-year program after high school. These extended programs allow students to earn both a Bachelor's Degree and a DPT Degree.
As with most medical programs, DPT programs include coursework and clinical work. About 80% of the curriculum is completed in the classroom or a lab. 20% of the program is dedicated to clinical rotations. Students typically spend their first year of the program in a classroom setting. Common courses include Biomechanics, Pharmacology, and Biomechanics.
During the second or third year, students begin completing clinical rotations at local clinics. Students gain practical experience with acute care and orthopedic care while working under experienced Physical Therapists.
Along with traditional three-year DPT programs, some universities offer new innovative scheduling options to accommodate students with different needs. For example, a residential DPT program blends online coursework and in-person clinical rotations. It is typically completed in less than three years.
Some universities offer a flex DPT program, which includes in-person clinical rotations on the weekends and online coursework. These programs tend to take a little longer to complete as students spend less time on clinical rotations each week. Instead of three years or less, a flex DPT program may take four years.
Step 4: Consider Completing a Residency Program
Physical Therapists may choose to enroll in a residency program after earning their Doctor of Physical Therapy Degree. Residencies last about one year and allow students to focus on specialty areas of Physical Therapy.
The American Board of Physical Therapy Specialties currently recognizes nine areas of specialty. The first board-certified specialization was Cardiovascular & Pulmonary Clinical Specialist (CCS). The CSS credential demonstrates knowledge of advanced training for helping patients recover from open-heart surgery or heart attacks. Other specialties include geriatric, orthopedic, neurology, pediatric, oncology, electrophysiologic, sports, and women's health.
The American Board of Physical Therapy Residency and Fellowship Education maintains a directory of current residency and fellowship programs.
Step 5: Consider Completing a Fellowship Program
Physical Therapists that complete residency programs may continue their education by completing a fellowship program. Fellowship programs may last one or two years, depending on the specialization.
Step 6: Pass the National Physical Therapy Examination
Physical Therapists must pass the national physical therapy examination. The exam is provided by the Federation of State Boards of Physical Therapy. The national exam includes 250 questions divided into two sections.
The first section deals with the body system and includes separate components for each major body system, including the cardiovascular system and the lymphatic system. The second part deals with equipment, technologies, safety procedures, and professional responsibilities.
The exam is scored on a scale of 200 to 800. A score of 600 or above is considered a passing score. The exam is offered for times per year. Applicants who fail the exam may take it up to six times during their lifetime.
Step 7: Obtain a State License to Practice Physical Therapy
All states require Physical Therapists to obtain a license to practice. The requirements vary from state to state. However, all states require candidates to pass the national exam.
Most states also complete criminal background checks and some may require a specific number of hours of supervised clinical experience. States also typically require licensed Physical Therapists to complete continuing education credits to keep their licenses.
Step 8: Seek Work as a Professional Physical Therapist
After obtaining a state license, Physical Therapists can start looking for work in their field. About one-third of Physical Therapists work at private practices. A little over one-fourth of Physical Therapists work at hospitals. Other employers include government-sponsored healthcare services and nursing care facilities.
Step 9: Become a Board-Certified Physical Therapist
Experienced Physical Therapists may eventually decide to become board certified in a specialty area of Physical Therapy. Board certifications are available in each of the areas of specialty recognized by the American Board of Physical Therapy Specialties, including orthopedics, geriatrics, and sports.
Becoming board certified requires the completion of clinical work in the specialty that you are seeking certification. Most Physical Therapists gain this experience when completing residencies or fellowships. The requirements for board certification also include passing an exam. The exam is administered over seven hours. Examinees complete an online tutorial followed by four 90-minute tests and a survey.
What degree do most Physical Therapists have
Master's degree
We did a survey to ask other Physical Therapists what degree they had when they first became one. Here are the results.
Master's degree
---
Doctoral degree
---
Bachelor's degree
---
How long does it take
Six to ten years
The minimum educational requirements for Physical Therapists include four years of undergraduate coursework and the completion of a Doctoral program. Doctor of Physical Therapy programs typically takes three years to complete. Some Physical Therapists complete residencies and fellowships, which can add several years of education.
---
Learn more about Physical Therapists
Find a college with the major you want
---
---