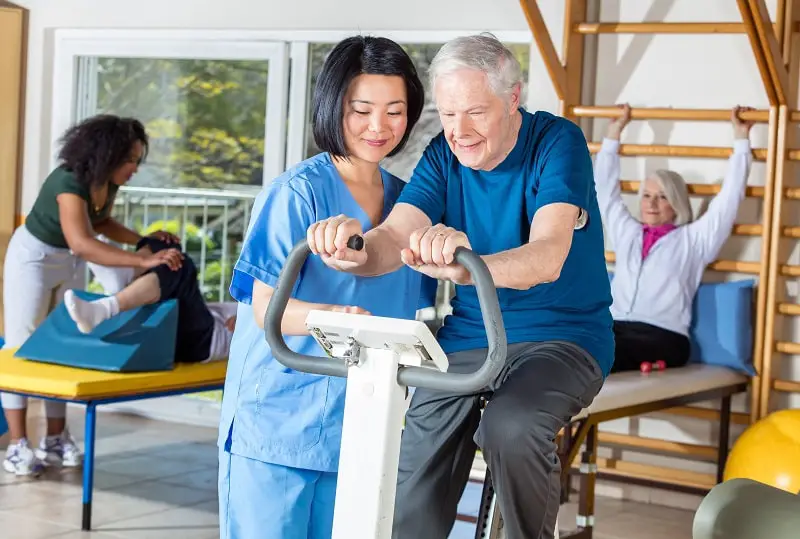 Physical Therapists
assess, plan, organize, and participate in rehabilitative programs that improve mobility, relieve pain, increase strength, and improve or correct disabling conditions resulting from disease or injury.
---
How To Become a Physical Therapist
How long does it take, what degree do you need and more.
---
In this requirements guide for Physical Therapists, you will find out what do you need to become a Physical Therapist, how hard is it, and what does it take to become one.
After reading this, you will be able to plan for your future if you want to be a Physical Therapist.
---
---
Recommended degree level
Master's Degree
We did a survey to ask other Physical Therapists what degree they had when they became a Physical Therapist. Here are the results.
Master's Degree
---
PhD
---
Bachelor's Degree
---
One of the most common questions that we always get is what major or degree do I need to become Physical Therapists or what courses do I need to take.
We also asked Physical Therapists what did they major in college or university and here are the top 5 most popular majors that came up.
Physical Therapy
Kinesiotherapy or Kinesiotherapist
---
Physical therapists need a Doctor of Physical Therapy (DPT) degree. All states require physical therapists to be licensed.
---
---

Interested in becoming ? Find the right schools that can help you to become one. You will need some of your details to get you matched with the right college or university. This service is free thanks to our sponsors.
Questions to ask the university or college:
How many students are in the program?
Is your program accredited?
How many faculty members do you have? Do they hold the right credentials?
What is your job placement rate?
Does your school hold career fairs or other on-campus events with employers? How many employers typically attend?
How many of your students have at least one internship by graduation?
---
---
---
Improve Your
Test Score
Studying for a standardized test for your college admissions?
Improve your test scores on SAT, ACT, GRE, and GMAT.
Read more
---
---
---
You will need an extensive amount of skill, knowledge and experience to be a Physical Therapist. Many require more than five years of experience. For example, a surgeon must complete four years of college and an additional five to seven years of specialized medical training to be able to do their job.
Careers in this difficulty category may need some on-the-job-training, but most of these careers assume that the person will already have the required skills, knowledge, and work-related experience and training. These careers usually involve coordinating, training, supervising, or managing the activities of others to accomplish goals. Very advanced communication and organizational skills are required. Similar careers include pharmacists, lawyers, astronomers, biologists, neurologists, and veterinarians.
---
Related work experience required
6 months to 1 year
6 months to 1 year
---
None
---
1 to 2 years
---
Job training
Up to 1 month
Up to 1 month
---
None
---
1 to 3 months
---
---
---
License and certifications
Do you need any license or certification
Required
---
All states require physical therapists to be licensed. Licensing requirements vary by state but all include passing the National Physical Therapy Examination administered by the Federation of State Boards of Physical Therapy. Several states also require a law exam and a criminal background check. Continuing education is typically required for physical therapists to keep their license. Check with state boards for specific licensing requirements.
---
---
We asked other Physical Therapists if they could only have 5 skills, what would they be. Here is what they said.
= Hot in-demand that most employers are looking for
---
---
---
Just like any other job, you will need certain know-hows to excel at your job. Physical Therapists are generally very knowledgeable in these 5 key areas.
---
---
---
Start your journey to be
Get the best college for Physical Therapists
---
---
Discover the best colleges for your $$$
---
---
Find colleges have the highest earning grads
---
---
Yes, I'm sure
---
---
Orthoptists

diagnose and treat visual system disorders such as binocular vision and eye movement impairments.

Salary

$85600

Home Health Aides

provide routine individualized healthcare such as changing bandages and dressing wounds, and applying topical medications to the elderly, convalescents, or persons with disabilities at the patient's home or in a care facility. Monitor or report changes in health status. May also provide personal care such as bathing, dressing, and grooming of patient.

Salary

$25330

Physical Therapist Assistants

assist physical therapists in providing physical therapy treatments and procedures. May, in accordance with State laws, assist in the development of treatment plans, carry out routine functions, document the progress of treatment, and modify specific treatments in accordance with patient status and within the scope of treatment plans established by a physical therapist. Generally requires formal training.

Salary

$57750

Recreational Therapists

plan, direct, or coordinate medically-approved recreation programs for patients in hospitals, nursing homes, or other institutions. Activities include sports, trips, dramatics, social activities, and arts and crafts. May assess a patient condition and recommend appropriate recreational activity.

Salary

$50640

Medical Records Technicians

compile, process, and maintain medical records of hospital and clinic patients in a manner consistent with medical, administrative, ethical, legal, and regulatory requirements of the health care system. Process, maintain, compile, and report patient information for health requirements and standards in a manner consistent with the healthcare industry's numerical coding system.

Salary

$44010
---
Learn more about Physical Therapists
Find a college with the major you want

---
Related to Physical Therapists Requirements
Physical Therapists requirements, how to become Physical Therapists, degree required to be a Physical Therapist, Physical Therapists license and certifications, majors to be a Physical Therapist, is it hard to become a Physical Therapist and how long does it take