How Long Does It Take, What Degree Do You Need, and More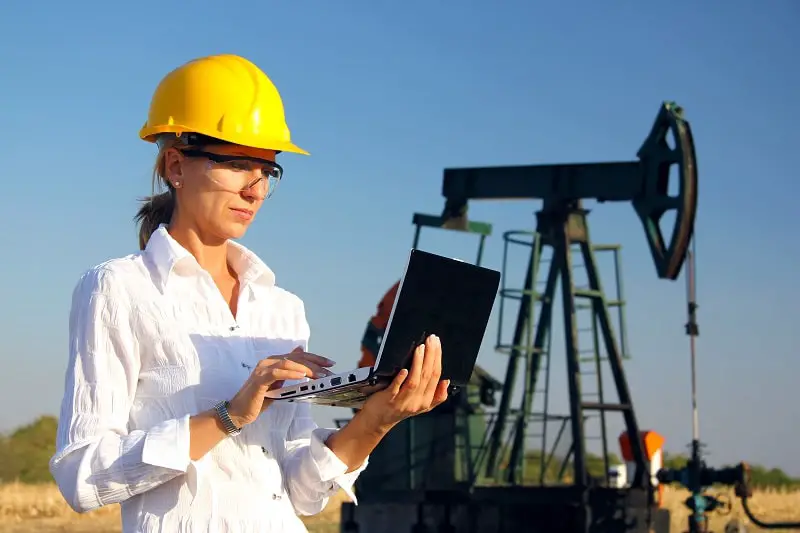 Petroleum Engineers devise methods to improve oil and gas extraction and production and determine the need for new or modified tool designs. Oversee drilling and offer technical advice.
Education
Bachelor's degree
---
---
---
---
Table of contents
---
Summary
| | |
| --- | --- |
| Degree | Bachelor's degree |
| Degree field | Petroleum Engineering or a relevant engineering field. Degree must be accredited by Accreditation Board for Engineering and Technology (ABET) |
| License or certification | Engineers who offer their services directly to the public in the US must have a license. |
| Duration to become one | 4 to 5 years minimum |
| Difficulty to become one | Hard |
---
Petroleum Engineers Requirements
Step 1: Take Applicable Courses in High School
If you are interested in a career as a Petroleum Engineer, you should excel in math and science. Relevant math classes include algebra, trigonometry, and calculus. You should also take biology, chemistry, and physics. If possible, enroll in college-level courses or advanced placement (AP) classes in math or science.
Step 2: Earn a Bachelor's Degree in Engineering
You need a Bachelor's Degree to obtain employment as a Petroleum Engineer, preferably with a major in Petroleum Engineering. However, Chemical, Civil, or Mechanical Engineering may also qualify you for entry-level positions.
A typical Engineering program will include a combination of the core curriculum, laboratory work, and field study. You learn about the principles of engineering, geology, and thermodynamics.
Some employers prefer to hire candidates with a graduate degree, which typically requires an additional two years of education after obtaining your Bachelor's degree. You can save time by completing a five-year Engineering program that leads to both a Bachelor's Degree and a Master's Degree.
Whether you choose a standard Bachelor's program or a Bachelor/Master program, make sure that the program is accredited by the Accreditation Board for Engineering and Technology (ABET). ABET is a nonprofit organization that accredits post-secondary programs with a focus on Engineering and Technology.
Step 3: Gain Work Experience Through an Internship
Accepting an internship provides the opportunity to gain real-world experience. You can work directly with Professional Petroleum Engineers to learn more about their roles and responsibilities.
Internships are often available during the Winter and Summer, allowing students to work during a break from their studies. Along with internships, some Engineering programs offer cooperative programs. A cooperative program also provides hands-on training and experience.
Step 4: Pass the Fundamentals of Engineering Exam
After graduating or during the last year of your Engineering program, you can take the Fundamentals of Engineering (FE) exam. It is the first of two exams that are needed to become a licensed Professional Petroleum Engineer.
The FE exam is administered by the National Council of Examiners for Engineering and Surveying (NCEES). It includes 110 questions and typically takes about six hours to complete. If you pass the exam, you receive the designation of an Engineer in Training (EIT) or an Engineer Intern (EI).
Step 5: Seek Entry-Level Petroleum Engineer Jobs
Entry-level Petroleum Engineer positions typically require a Bachelor's Degree and the EIT or EI designation. You will likely work under a Professional Engineer (PE) for at least four years before having the opportunity to take the next exam.
Petroleum Engineers typically work in the oil industry. There are also positions available for Petroleum Engineers in the Federal Government through the Department of the Interior.
Demand for Petroleum Engineers is strong and expected to increase by 3% between 2018 and 2028. However, some regions offer fewer opportunities for this field. You are more likely to find employment in regions with active mining or drilling operations, such as the Southwestern United States. If you are willing to expand your job search across the nation, you may find it easier to land your first job.
Step 6: Become a Licensed Professional Engineer
The requirements for becoming a licensed Petroleum Engineer vary between states. However, most states require that you have at least four years of work experience as an EIT or EI. You must also pass the Principles and Practices of Engineering (PE) exam.
As with the FE exam, the PE exam is administered by the NCEES. Due to the limited number of examinees, the NCEES only offers testing on one day of the year. For 2020, the scheduled testing date is October 22. However, the date is subject to change each year.
You can reserve a seat up to a year in advance. The test is completely computer-based and includes 85 questions. It typically takes about nine hours to complete.
After passing the PE exam, you can submit the necessary paperwork to apply for a Professional Engineer (PE) license in your state. Depending on the requirements in your state, you may need to pay an additional fee or register with your state board before registering for the exam.
Step 7: Continue Your Education for Job Advancement
You may need to continue your education to maintain your professional license. Even if it is not required, continuing your education can improve your competency and job prospects.
There are several options available for continuing your education as a Petroleum Engineer. You could continue to take college courses in related subjects or enroll in a Master's Degree Program for Petroleum Engineers.
Earning a Master of Science in Petroleum Engineering typically takes two years of full-time study. If you are continuing your education while working, you may find it easier to enroll in online classes. Some universities and colleges offer hybrid programs, which include a combination of classroom learning and online courses.
Step 8: Join a Professional Organization
Petroleum Engineers can benefit from joining a professional organization dedicated to the field. The Society of Petroleum Engineers (SPE) is the largest organization in the United States for Engineers. The organization supports workers in the oil and gas industries, providing a wide range of programs and services.
You may join the SPE while completing your degree. The organization has a student membership option and individual student chapters at universities and colleges around the US. However, SPE is especially helpful for young professionals.
By becoming an SPE Young Professional member, you gain access to various educational and networking opportunities. You can find Career Pathways Fairs, mentoring programs, and professional summits.
After you reach the age of 35, you can continue to receive support from the SPE. The organization offers a Senior Professional membership for Professional Engineers.
What degree do most Petroleum Engineers have
Bachelor's degree
We did a survey to ask other Petroleum Engineers what degree they had when they first became one. Here are the results.
Bachelor's degree
---
Master's degree
---
Post Baccalaureate certificate
---
How long does it take
4 to 5 years minimum
Becoming a Petroleum Engineer with an entry-level job may take about four to five years. You need to obtain a Bachelor's Degree for almost any entry-level position in this field. Most employers also require you to pass the Fundamentals of Engineering (FE) exam. However, becoming a Professional Engineer (PE) typically requires an additional four years of work experience, extending the timeframe to eight or nine years.
---
Learn more about Petroleum Engineers