How Long Does It Take, What Degree Do You Need, and More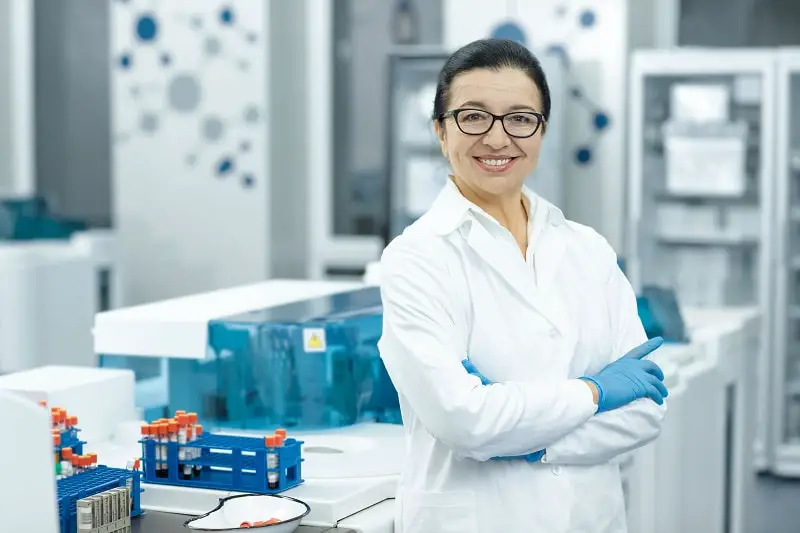 Pathologists diagnose presence and stage of diseases using laboratory techniques and patient specimens. Study the nature, cause, and development of diseases. May perform autopsies.
Education
Doctoral degree
---
---
---
---
Table of contents
---
Summary
| | |
| --- | --- |
| Degree | Doctor of Medicine (MD) degree |
| License or certification | Required |
| Duration to become one | 10 to 12 years |
| Difficulty to become one | Very Hard |
Pathologists need a Doctor of Medicine (MD) degree, which first requires a Bachelor's degree.
Pathologists often earn undergraduate degrees in Premedical Studies, Biology, or Chemistry before attending medical school.
After completing medical school and a residency program, Pathologists need to earn a state license and board certification.
---
Featured Schools
Pathologists Requirements
Step 1: Study Chemistry and Biology In High School
Aspiring Pathologists should study Chemistry and Biology in high school, as this career requires strong Science skills.
Pathology summer programs and internships are available for high school students and recent high school graduates. These programs provide a closer look at the field of Pathology and may increase your chances of getting into a competitive Pathology program.
Step 2: Earn a Bachelor's Degree
Earning a Bachelor's degree is required before earning a Doctor of Medicine (MD). Common majors include Biology and Chemistry. Aspiring Pathologists typically earn a Bachelor's of Science (BS) in Biology or Chemistry with a focus on Pre-Medical Studies.
BS programs typically take four years to complete. During your first two years, you will take foundational courses, such as Biology, Physics, and Chemistry. The last two years of your Bachelor's program includes more advanced studies and may provide training in clinical settings.
Step 3: Gain Work Experience
After earning a Bachelor's degree, you may look for entry-level work to gain experience before enrolling in medical school or a Master's degree program. Examples of entry-level jobs include Clinical Laboratory Technician and Research Laboratory Technologist. This is an optional step that can help round out your education and training.
Step 4: Earn a Master's Degree
Earning a Master's degree is another optional step that provides additional laboratory training and clinical experience. Suitable Master's programs include Pathology, Biochemistry, and Microbiology.
A Master's degree can also prepare you for entry-level work in the field of Pathology. A Master's degree is often the educational requirement for working as a Pathologist Assistant or a Laboratory Manager.
Step 5: Earn a Doctor of Medicine (MD) Degree
Pathologists require a Doctor of Medicine (MD) degree, which typically takes four years to complete. Before enrolling in a medical school, you need to pass the Medical College Admission Test (MCAT).
The MCAT is administered jointly by the American Association of Colleges and Osteopathic Medicine (AACOM) and the Association of American Medical Colleges (AAMC).
The first two years of medical school focus on coursework and lab work. During your last two years, you will start rotations, which involves working in a variety of medical settings, such as hospitals and clinics.
Step 6: Complete a Residency Program
After completing your MD program, you begin a residency program that focuses on Pathology. Residency programs typically last two to four years and may involve work in a hospital or clinical setting where you interact with patients.
If you plan on pursuing a subspecialty of the Pathology field, such as Chemical Pathology or Dermatopathology, consider looking for a fellowship program after completing your residency program. Fellowships provide specialized training for the various subspecialties of Pathology and may last one to three years.
Step 7: Become Licensed and Certified as a Pathologist
Step 8: Start Looking For Work as a Pathologist
After becoming licensed and certified, you may start working as a professional Pathologist. Look for work at hospitals, clinics, forensics departments, pharmaceutical companies, and other workplaces in the healthcare field.
Step 9: Earn a Doctor of Philosophy In Pathology
If you decide to move from practicing Pathology to researching Pathology, you may need to earn a PhD. A Doctor of Philosophy in Pathology typically requires two or three years of study and the completion of original research.
What degree do most Pathologists have
Doctoral degree
We did a survey to ask other Pathologists what degree they had when they first became one. Here are the results.
Post-Doctoral Training
---
Doctoral degree
---
First Professional degree
---
How long does it take
10 to 12 years
Pathologists need to earn a Bachelor's degree and an MD degree, which each take four years to complete. You also need to complete a residency program, adding another two to four years to your training.
---
Find a college with the major you want
---
---