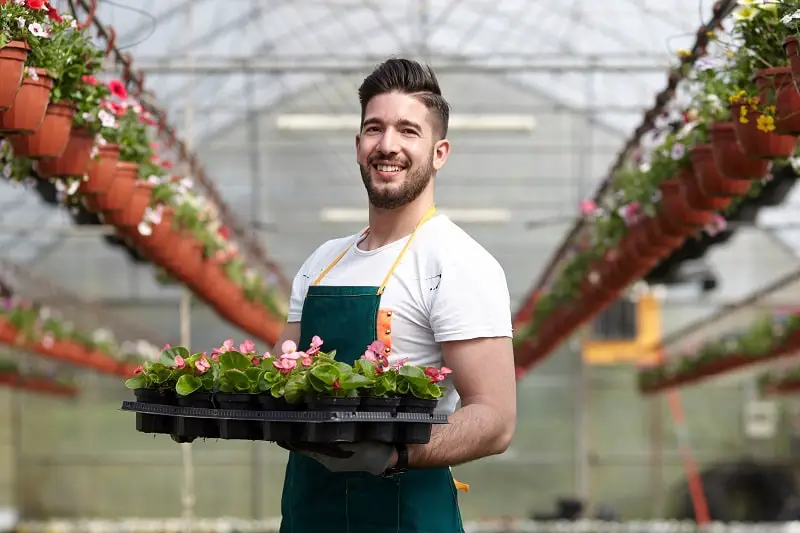 Nursery Workers
work in nursery facilities or at customer location planting, cultivating, harvesting, and transplanting trees, shrubs, or plants.
---
How To Become a Nursery Worker
How long does it take, what degree do you need and more.
---
In this requirements guide for Nursery Workers, you will find out what do you need to become a Nursery Worker, how hard is it, and what does it take to become one.
After reading this, you will be able to plan for your future if you want to be a Nursery Worker.
---
---
Recommended degree level
High School Diploma
We did a survey to ask other Nursery Workers what degree they had when they became a Nursery Worker. Here are the results.
High School Diploma
---
Less than a High School Diploma
---
First Professional Degree
---
One of the most common questions that we always get is what major or degree do I need to become Nursery Workers or what courses do I need to take.
We also asked Nursery Workers what did they major in college or university and here are the top 5 most popular majors that came up.
---
Most Nursery Workers do not need a high school diploma. They usually receive short-term on-the-job training.
---
---

Interested in becoming ? Find the right schools that can help you to become one. You will need some of your details to get you matched with the right college or university. This service is free thanks to our sponsors.
Questions to ask the university or college:
How many students are in the program?
Is your program accredited?
How many faculty members do you have? Do they hold the right credentials?
What is your job placement rate?
Does your school hold career fairs or other on-campus events with employers? How many employers typically attend?
How many of your students have at least one internship by graduation?
---
---
---
Improve Your
Test Score
Studying for a standardized test for your college admissions?
Improve your test scores on SAT, ACT, GRE, and GMAT.
Read more
---
---
---
Most of the time, you won't need any previous work-related skill, knowledge or experience. For example, you can become a waiter or waitress even if you have never worked as one before.
You may need anywhere between a few days to a few months of on-the-job training.
---
Related work experience required
3 to 6 months
3 to 6 months
---
Up to 1 month
---
None
---
Job training
Up to 1 month
Up to 1 month
---
1 to 3 months
---
None
---
---
---
License and certifications
Do you need any license or certification
Not required
---
No license or certification required for Nursery Workers
---
---
We asked other Nursery Workers if they could only have 5 skills, what would they be. Here is what they said.
= Hot in-demand that most employers are looking for
---
---
---
Just like any other job, you will need certain know-hows to excel at your job. Nursery Workers are generally very knowledgeable in these 5 key areas.
---
---
---
Start your journey to be
Get the best college for Nursery Workers
---
---
Discover the best colleges for your $$$
---
---
Find colleges have the highest earning grads
---
---
Yes, I'm sure
---
---
Animal Breeders

select and breed animals according to their genealogy, characteristics, and offspring. May require knowledge of artificial insemination techniques and equipment use. May involve keeping records on heats, birth intervals, or pedigree.

Salary

$43080

Logging Equipment Operators

drive logging tractor or wheeled vehicle equipped with one or more accessories such as bulldozer blade, frontal shear, grapple, logging arch, cable winches, hoisting rack, or crane boom, to fell tree; to skid, load, unload, or stack logs; or to pull stumps or clear brush.

Salary

$41840

Nursery Workers

work in nursery facilities or at customer location planting, cultivating, harvesting, and transplanting trees, shrubs, or plants.

Salary

$26450

Fishers and Related Fishing Workers

use nets, fishing rods, traps, or other equipment to catch and gather fish or other aquatic animals from rivers, lakes, or oceans, for human consumption or other uses. May haul game onto ship.

Salary

$34340

Agricultural Graders and Sorters

grade, sort, or classify unprocessed food and other agricultural products by size, weight, color, or condition.

Salary

$26510
---
Learn more about Nursery Workers
Find a college with the major you want

---
Related to Nursery Workers Requirements
Nursery Workers requirements, how to become Nursery Workers, degree required to be a Nursery Worker, Nursery Workers license and certifications, majors to be a Nursery Worker, is it hard to become a Nursery Worker and how long does it take