How Long Does It Take, What Degree Do You Need, and More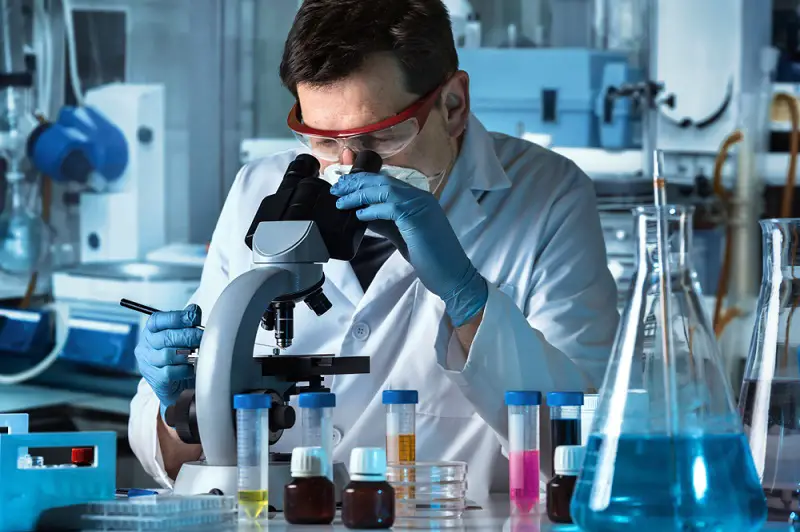 Microbiologists investigate the growth, structure, development, and other characteristics of microscopic organisms, such as bacteria, algae, or fungi. Includes medical microbiologists who study the relationship between organisms and disease or the effects of antibiotics on microorganisms.
Education
Bachelor's degree
---
---
---
---
Table of contents
---
Summary
| | |
| --- | --- |
| Degree | Bachelor's degree |
| Degree field | Microbiology, Biochemistry or a related field |
| License or certification | Voluntary certifications available. Certifications are typically needed for those seeking careers as Clinical Microbiologists. |
| Duration to become one | 4 to 5 years |
| Difficulty to become one | Very Hard |
---
Microbiologists Requirements
Step 1: Take Advanced Placement Science Courses in High School
Aspiring Microbiologists should start developing the necessary skills by completing Advanced Placement (AP) science courses in high school. Examples include AP Biology, Chemistry, and Physics. Maintaining a high GPA may also increase your chances of getting into the college or university of your choice.
Step 2: Earn a Bachelor's Degree in Microbiology
Almost every entry-level job in Microbiology requires at least a Bachelor's Degree. Most Microbiologists earn a degree in Microbiology. However, closely related fields such as Biochemistry are also suitable.
Students learn the fundamentals of Microbiology, including the physical and chemical interactions between cells. The coursework will include classroom learning and lab experience.
During the first two years, you take your core classes. Common courses include Microbial Genetics, Organic Chemistry, Cellular Physiology, and Environmental Microbiology.
Along with Science-related courses, Microbiology students take courses in Mathematics, Statistics, and Computer Science to learn how to handle complex data analysis. During your last two years of study, you will likely spend more time in the lab than in the classroom.
Step 3: Complete an Internship to Gain Lab Experience
Most Bachelor of Science (BS) programs in Microbiology include laboratory coursework but additional lab experience is highly recommended. To gain more experience in the lab, look for Microbiology internship opportunities during your undergraduate studies.
Internships are often available through companies that employ Microbiologists, such as those involved in Pharmaceuticals or the Food industry.
The faculty at your university or college should help you explore internship opportunities. Internships are typically offered during summer and winter break to avoid interfering with your coursework.
Step 4: Start Seeking Entry-Level Microbiology Positions
After completing your formal education, start looking for entry-level positions in the Microbiology field. The minimum educational requirements for most entry-level jobs are a Bachelor's Degree in Microbiology or a closely related field.
Potential jobs include Entry-Level Microbiologists, Microbiology Technician, Microbiology Research Assistant, and Microbiology Lab Support. Employers will typically look at your education and lab experience.
Step 5: Earn a Master's Degree in a Subfield of Microbiology
A Master's Degree is not a requirement for entry-level Microbiology jobs. However, a Master's Degree can increase your employability and provides a chance to specialize in a specific branch of Microbiology.
There are several dozen branches of Pure Microbiology and Applied Microbiology. Common examples include:
Bacteriology
Parasitology
Immunology
Medical Microbiology
Pharmaceutical Microbiology
Industrial Microbiology
Food Microbiology
Environmental Microbiology
Specializing in a branch of Microbiology may be necessary for senior-level positions in various industries such as Food & Agriculture, Pharmaceuticals, and Medicine.
Earning a Master's of Science (MS) in a branch of Microbiology typically takes two years. It prepares you for senior roles in the Microbiology field. For example, with a Master's Degree in Microbiology, you may find it easier to become a Lab Supervisor or Lead Researcher.
Step 6: Earn a Ph.D. in Microbiology
A Ph.D. is typically needed for independent research and employment at colleges and universities. As with the Master's Degree, earning a Ph.D. in Microbiology often involves the study of a specific subfield such as Pharmaceutical Microbiology or Immunology.
Postdoctoral Microbiology students work with experienced Microbiologists to gain more knowledge related to specific areas of research. Students must also propose their own research projects and publish the results. Becoming a published researcher is often a requirement for those who want to gain a permanent faculty position at a university or college.
Step 7: Obtain Certification in the Microbiology Field
Microbiologists may obtain several certifications to demonstrate their competency. The certifications include options for supervisors and lab technicians. Some of these certifications may also be required by employers for specific positions. However, this is not common for entry-level jobs.
Certifications are typically needed for those seeking careers as Clinical Microbiologists. The Clinical Microbiology Certifications are administered jointly by the American Society for Clinical Pathology and the American College of Microbiology. To be eligible for these exams, you need previous clinical lab experience and at least a Bachelor's Degree.
Microbiologists working in the medical field may need to obtain certification through the American Board of Medical Microbiology. The ABMM certification is for doctoral-level Microbiologists who direct medical and public health Microbiology labs.
Step 8: Join a Professional Organization for Microbiologists
As with many professional fields, there are professional organizations dedicated to Microbiologists, including the American Society for Microbiologists (ASM). The ASM offers resources, networking opportunities, and job-seeking tips and publishes the results of research in the Microbiology field.
What degree do most Microbiologists have
Bachelor's degree
We did a survey to ask other Microbiologists what degree they had when they first became one. Here are the results.
Bachelor's degree
---
Post Baccalaureate certificate
---
Master's degree
---
How long does it take
4 to 5 years
Becoming a Microbiologist typically takes about four or five years as most Microbiologists enter the field after earning a Bachelor's Degree. If you choose to earn a Master's Degree, it may take an additional two years to become a Microbiologist. For those wanting to earn a Ph.D. and work at a college or university, becoming a Microbiologist can take seven to eight years.
---
Learn more about Microbiologists