How Long Does It Take, What Degree Do You Need, and More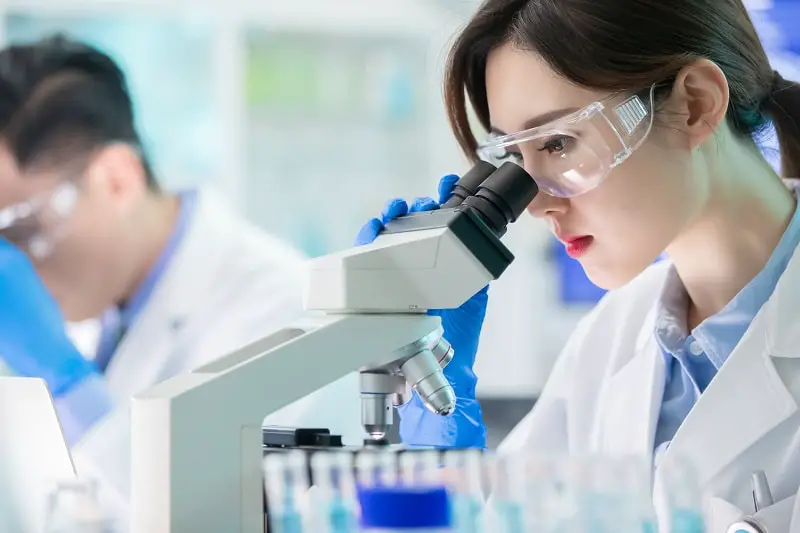 Medical Scientists conduct research dealing with the understanding of human diseases and the improvement of human health. Engage in clinical investigation, research and development, or other related activities.
Education
Doctoral degree
---
---
---
---
Table of contents
---
Summary
| | |
| --- | --- |
| Degree | Doctoral degree |
| Degree field | Medical Doctor (M.D.) and Doctor of Osteopathic Medicine (D.O.) |
| Duration to become one | 11 to 12 years |
| Difficulty to become one | Very Hard |
Medical Scientists need a Doctoral degree to enter this field. The most common degrees for Medical Scientists include Medical Doctor (M.D.) and Doctor of Osteopathic Medicine (D.O.). Medical Scientists do not need licenses to practice medicine unless they administer drugs to patients in clinical trials.
---
Featured Schools
Medical Scientists Requirements
Step 1: Study Science in High School
Aspiring Medical Scientists should explore Science in high school. Take the highest level of Science courses available, which may include advanced placement (AP) courses such as Biology, Physics, and Chemistry.
Step 2: Earn an Undergraduate Degree
Medical Scientists need to earn a Bachelor's degree before continuing their educational path. Biology is the most common field of study for pre-med students who want to become Medical Scientists.
Medical Scientists study diseases and conditions to help improve the health of patients, which requires a strong background in Biology. However, aspiring Medical Scientists may also major in Chemistry or Physics.
Students should take a broad range of classes, including the Physical and Life Sciences. Reviewing the prerequisites of the program that you plan on applying to after earning a Bachelor's degree is also recommended.
Step 3: Earn a Ph.D. Through a Dual-Degree Program
Many Medical Scientists earn Ph.D.s in specific areas of medicine such as Cancer, Neurology, or Gerontology. The most common path involves enrolling in a dual-degree program. This allows you to earn a Master's degree followed by a Ph.D.
Dual-degree programs may take six years to complete. The first four years cover the core requirements for earning a Master's degree while the final two years focus on Doctoral research and training in your chosen specialization.
Step 4: Obtain a Research Position
After earning a Ph.D., Medical Scientists typically continue their education through research positions. Postdoctoral research positions often involve lab work and research with experienced Scientists.
When a research project ends, the work is often published for peer review. Everyone involved in the project is often credited. Getting published is often a necessary step for advancing your career.
Step 5: Earn a Medical Degree
As an alternative to earning a Ph.D. and completing postdoctoral work, some Medical Scientists choose to attend medical school. You may even choose to earn a Ph.D. and a Medical degree.
Common Medical degrees include Medical Doctor (M.D.), Doctor of Osteopathic Medicine (D.O.), Doctor of Dental Surgery (D.D.S.), and Doctor of Dental Medicine (D.M.D.).
If you decide to earn a Medical degree instead of, or in addition to, a Ph.D., you need to take the Medical College Admission Test (MCAT). The MCAT is a multiple-choice exam that assesses your basic knowledge of medical practices and terms.
Medical programs last four years and are traditionally divided into two parts. The first part of the program covers classroom learning, such as the practices of treating and diagnosing patients. The second part of the program focuses on clinical rotations to give students a hands-on education.
Step 6: Join a Residency Program
Aspiring Medical Scientists who earn Medical degrees instead of Ph.D.s should join a residency program. Residency programs last three to seven years, depending on the specialty. Residency programs often take place at hospitals and include hands-on training working with patients.
Step 7: Look for Medical Scientist Positions
After finishing your postdoctoral research or a residency program, begin looking for positions as a Medical Scientist. Medical Scientists are often employed by pharmaceutical companies and health agencies that obtain funding through the Federal government.
Step 8: Obtain Related Work Experience
If you struggle to obtain a position in your chosen profession, you may choose to work as a Physician or a Surgeon to gain work experience. Many Medical Scientists work as Physicians or Surgeons for years before becoming more interested in research. Working as a Physician or a Surgeon will require you to obtain a state license and possibly board certification in your area of specialty.
What degree do most Medical Scientists have
Doctoral degree
We did a survey to ask other Medical Scientists what degree they had when they first became one. Here are the results.
Post-Doctoral Training
---
Doctoral degree
---
Master's degree
---
How long does it take
11 to 12 years
Medical Scientists need an undergraduate degree, which takes four years to earn. This is followed by a six-year dual-degree program or a four-year Medical degree program. After earning a Ph.D., aspiring Medical Scientists may complete a research project, which can take one to two years. Those with a Medical degree complete a residency program, which often takes three years.
---
Find a college with the major you want
---
---