How Long Does It Take, What Degree Do You Need, and More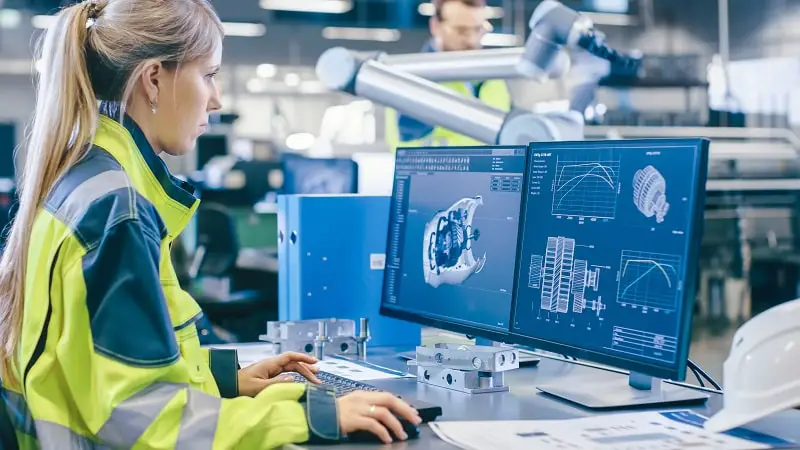 Mechanical Engineers perform engineering duties in planning and designing tools, engines, machines, and other mechanically functioning equipment. Oversee installation, operation, maintenance, and repair of equipment such as centralized heat, gas, water, and steam systems.
Education
Bachelor's degree
---
---
---
---
Table of contents
---
Summary
| | |
| --- | --- |
| Degree | Bachelor's degree |
| Degree field | Mechanical Engineering, Engineering Management, and related Engineering majors |
| License or certification | State license required if providing services to the public |
| Duration to become one | Four to eight years |
| Difficulty to become one | Hard |
Mechanical Engineers typically need at least a Bachelor's degree before entering this field. Mechanical Engineers often obtain degrees in Mechanical Engineering, Engineering Management, and related Engineering majors.
Mechanical Engineers who offer services to the public must hold a state license. Many Mechanical Engineers also earn a Professional Engineer license by passing the Fundamentals of Engineering (FE) exams and the Principles of Engineering (PE) exams.
---
Featured Schools
Mechanical Engineers Requirements
Step 1: Enroll in Engineering Programs and Study Math
Math is an important part of Engineering, making it an essential topic for high school students. Aspiring Mechanical Engineers should also consider enrolling in Engineering programs, either through school or local groups.
For example, many of the top colleges and universities hold summer programs and Engineering workshops for high school juniors and seniors. Summer programs provide hands-on training with the principles of Engineering, which gives students a head start on their education.
Step 2: Complete a Pre-Engineering Program
As an alternative to earning a Bachelor's Degree, some Mechanical Engineers start with an Associate's Degree. Earning an Associate's Degree through a pre-engineering program (PREP) prepares students for a career in Engineering.
Students who cannot afford to enroll in a four-year college may find a PREP program more affordable, as they are typically offered at community colleges. A PREP program includes courses that cover the basics of Engineering and qualifies students for jobs as Mechanical Drafters.
After completing the program, students can find work as Mechanical Drafters and later pursue a Bachelor's Degree. In most cases, students will only need to complete two more years of undergraduate study.
Step 3: Earn a Bachelor's Degree
Mechanical Engineers need a Bachelor's Degree to find entry-level work. They typically major in Mechanical Engineering, Engineering Management, Mechanical Engineering Technology, or a related degree.
The program should be accredited by the Accreditation Board of Engineering and Technology (ABET). Employers tend to prefer candidates who graduated from ABET-accredited programs. Graduating from an accredited program is also required to earn a Professional Engineer license.
Most Mechanical Engineering programs include coursework in Mathematics, Engineering, Design, and Physical Sciences. Students also receive training with advanced computer-aided design (CAD) software. CAD software allows Mechanical Engineers to construct complex designs in less time compared to manually drafting the design on paper.
Step 4: Participate in Internships or Co-Op Programs
Engineering programs often provide students with the chance to gain practical experience through internships or co-op programs. These programs give students real skills and networking opportunities that may lead to permanent employment after college. Internships and co-op programs may be offered during the summer, allowing students to complete the program between semesters.
Step 5: Consider Earning a Master's Degree
A Master's Degree in Mechanical Engineering can lead to additional job opportunities, such as managerial positions. A typical Master's program takes two years to complete. However, some universities offer five-year Mechanical Engineering programs that allow students to receive a Bachelor's Degree and a Master's Degree.
Earning a Master's Degree in Mechanical Engineering allows students to specialize in specific areas of this field. For example, students may choose to explore Robotics, Biomedical Engineering, Aerospace Engineering, or Nuclear Energy.
Mechanical Engineers may also earn Master's Degrees in other technologies or improve their management skills. For example, a Mechanical Engineer may earn a Bachelor's Degree in Mechanical Engineering and a Master's Degree in Materials Engineering or Business Administration.
Step 6: Consider Earning a Doctorate
A Doctorate may be necessary for Mechanical Engineers at the highest levels of this profession, such as leading major research and development projects. Earning a Doctorate may take another three to four years. Doctoral candidates often spend two to three years completing coursework before starting on a dissertation. A Ph.D. is also necessary for those who eventually want to teach Mechanical Engineering at a college or university.
Step 7: Pass the Fundamentals of Engineering Exam
Employers typically prefer to hire candidates who have already passed the Fundamentals of Engineering (FE) exam. The exam is available after completing your first year of a Bachelor's program. The FE exam is administered by the National Council of Examiners for Engineering and Surveying (NCEES). It includes 110 questions and takes about six hours to complete.
The NCEES offers different exams for different subfields of Engineering, including Mechanical Engineering. The FE Mechanical Exam covers knowledge of mathematics, statistics, engineering economics, electricity, fluid mechanics, thermodynamics, and other areas of Mechanical Engineering.
Step 8: Look for Entry-Level Engineering Jobs
Mechanical Engineers may start applying for jobs after college and passing the FE exam. The biggest employers of Mechanical Engineers are architectural firms and engineering firms. Jobs are also available in machinery manufacturing, transportation equipment manufacturing, and electronic product manufacturing.
Step 9: Pass the Principles of Engineering (PE) Exam
The Principles of Engineering (PE) exam for Mechanical Engineers includes 80 questions and takes up to nine hours to complete. The exam is divided into three main categories:
HVAC and refrigeration
Machine design and materials
Thermal and fluid systems
The exam mostly contains multiple-choice questions. However, several questions are alternative item types (AITs). AITs require the examinee to interact with the computer to demonstrate technical knowledge. For example, you may need to click on part of an image to answer a question.
You typically need to gain four years of work experience before taking the PE exam. However, some states may allow you to take the exam earlier. About 14 states allow early PE exams but still require four years of experience before awarding a PE license.
Step 10: Obtain a State License
Some states require Mechanical Engineers to hold a state license when offering services to the public. While the licensing requirements vary, states typically require candidates to pass the PE exam. You may also need to continue your education to renew your license each year. Most states also recognize licenses from other states if the other state's requirements match their own.
What degree do most Mechanical Engineers have
Bachelor's degree
We did a survey to ask other Mechanical Engineers what degree they had when they first became one. Here are the results.
Bachelor's degree
---
Associate's degree
---
Certificate
---
How long does it take
Four to eight years
Most Mechanical Engineers find entry-level work after earning a four-year degree. However, some Mechanical Engineers continue their education by earning Master's Degrees and Doctoral Degrees, which can take another two to four years. Mechanical Engineers typically obtain licenses after finding work.
---
Learn more about Mechanical Engineers
Find a college with the major you want
---
---