Find A School
---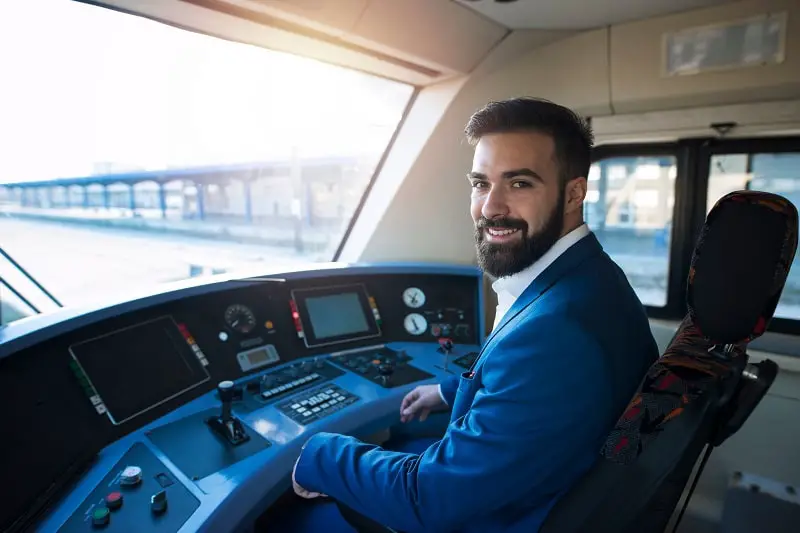 Locomotive Engineers
drive electric, diesel-electric, steam, or gas-turbine-electric locomotives to transport passengers or freight. Interpret train orders, electronic or manual signals, and railroad rules and regulations.
Degree:
No degree required
---
Last updated: August 11, 2020
Table of contents
| | |
| --- | --- |
| Degree level | No degree required |
| Degree field | An undergraduate degree isn't required but a degree in Railroad Operations will improve your career prospects |
| License or certification | You must be certified by the Federal Railroad Administration (FRA) |
| Duration to become one | Several years depending on your work experience |
| Difficulty to become one | |
Featured Trade Schools
Locomotive Engineers Requirements
Step 1: Develop Applicable Skills During High School
Working as a Locomotive Engineer involves a combination of technical, mechanical, and physical tasks. Aspiring Locomotive Engineers should start working on related skills by taking classes in Computers and Automotive Repair. Due to the physical nature of the job, students may also want to participate in sports to maintain good reflexes and physical aptitude.
Step 2: Make Sure You Meet the Basic Requirements
Becoming a Locomotive Engineer is a straightforward path that requires advancement through several prerequisite positions. You start as a Brakeperson or Switchperson.
No previous experience is necessary for entry-level positions working the brakes or switches. However, you do need to meet specific entry requirements.
Most employers require applicants to have a High School diploma or GED. You must also be at least 18 years old. These jobs also involve pushing, lifting, pulling, and carrying heavy objects. You need to be able to handle certain physical tasks frequently and work outdoors in all weather conditions.
Step 3: Apply for an Entry-Level Job at a Railroad Agency
Almost every railroad agency requires Locomotive Engineers to have experience as Train Conductors, which typically requires experience as a Brakeperson or Switchperson on a train crew.
Brakepeople and Switchpeople are responsible for railroad traffic control on the ground, which means that they do not ride the trains. However, the job does include safety responsibilities to support the movement of trains.
Newly hired Train Crew members typically complete two to three months of on-the-job training. The training is provided by the employer and includes hands-on training and instruction in a classroom setting.
Step 4: Apply for a Position as a Train Conductor
The next step is to obtain a position as a Train Conductor, which includes more on-the-job training. Conductors typically spend a year or longer working with a Train Crew before qualifying for a company position as a Conductor.
Unlike the entry-level positions, Train Conductors ride the trains. On passenger trains, Conductors take tickets and are responsible for passenger safety. On freight trains, Conductors are responsible for the loading and unloading of freight. Due to the safety regulations for railroads, Conductors also require certification.
The certification is handled through the Federal Railroad Administration (FRA), a division of the Department of Transportation (DOT). Each railroad agency is required to develop a training program that meets the Federal safety standards for railways. Your employer will provide access to the training program and allow time off for testing.
Step 5: Earn an Associate's Degree in Railroad Operations
Most railroad companies do not require Locomotive Engineers to hold a postsecondary degree. However, earning an Associate's Degree in Railroad Operations can increase your career prospects and impress potential employers.
An Associate's Degree in Railroad Operations covers the day-to-day systems used by railroad agencies. Students learn more about the administrative and technical components of train operations. These programs also include training on safety regulations and industry standards.
The typical entry requirements for an Associate's Degree program is a high school diploma or a GED. You may also need to complete a background check and a general physical exam to ensure that you are fit to work in the railroad industry. The program often involves hands-on coursework, requiring specific clothing and safety gear.
Step 6: Apply for a Position as a Locomotive Engineer
After working as a Train Conductor, you can start applying for open positions as an entry-level Locomotive Engineer.
Your work experience and education may impact your chances of moving up from the Conductor position to the Engineer position. Those with several years of experience and an Associate's Degree in Railroad Operations are more likely to fill vacant positions.
As with previous jobs in this career path, new Locomotive Engineers need to complete extensive on-the-job training. Depending on the employer, the training process may take two to three months.
New Locomotive Engineers are paired with experienced Engineers to learn details related to the specific route that they will work on. Trainees learn the length of the track, switch locations, and other features that may impact train movement.
After the training, you can obtain a federal certification and start working as a Locomotive Engineer without direct supervision. However, experienced Engineers need to go through the training process each time they switch to a new route.
Step 7: Obtain a Federal Certification as a Train Engineer
Train Engineers require certification through the FRA. This certification is separate from the Train Conductor certification.
You need to complete a test that meets the FRA requirements for Locomotive Engineer certification. After passing the test, you must retake it each year or after an extended absence from your job. Your employer will handle the certification process.
During the certification process, you must supply the FRA with documents to demonstrate prior safety conduct as a railroad employee and as a motor vehicle operator. The FRA completes a thorough safety background check.
Your employer will also complete several tests to examine your knowledge and skills as a Locomotive Engineer. Some of the main sections covered by the FRA testing include:
Personal safety
Railroad operating rules
The mechanical condition of the equipment
Train handling procedures
Physical characteristics related to train handling
Federal regulations
The test also involves hands-on demonstrations to examine your skills. After completing the test, your employer submits the required documents to the FRA for review. Within one to two months, you should receive your federal certification to operate as a Locomotive Engineer.
What degree do most Locomotive Engineers have
High School Diploma
We did a survey to ask other Locomotive Engineers what degree they had when they first became one. Here are the results.
High School Diploma
---
Post-secondary certificate
---
Certificate
---
How long does it take
Several years depending on your work experience
The path to becoming a Locomotive Engineer varies depending on your ability to obtain promotions within the field. Locomotive Engineers almost always start as Brakepeople or Switchpeople before becoming Train Conductors, which may require one year or more of experience as part of a train crew.
After becoming a Train Conductor, you may need to work another year or two before receiving the opportunity to apply for a Locomotive Engineer position. When you obtain an Engineer position, you will likely have two to three more months of training. This entire process, from train crew to Engineer, may take several years.
Transporation Supervisors

directly supervise and coordinate activities of transportation and material-moving machine and vehicle operators and helpers.

Salary

$58070

Excavating Machine Operators

operate or tend machinery equipped with scoops, shovels, or buckets, to excavate and load loose materials.

Salary

$48680

Gas Pumping Station Operators

operate steam, gas, electric motor, or internal combustion engine driven compressors. Transmit, compress, or recover gases, such as butane, nitrogen, hydrogen, and natural gas.

Salary

$62900

Locomotive Engineers

drive electric, diesel-electric, steam, or gas-turbine-electric locomotives to transport passengers or freight. Interpret train orders, electronic or manual signals, and railroad rules and regulations.

Salary

$66920

Traffic Technicians

conduct field studies to determine traffic volume, speed, effectiveness of signals, adequacy of lighting, and other factors influencing traffic conditions, under direction of traffic engineer.

Salary

$50700
---
---
Find a college with the major you want

---
---