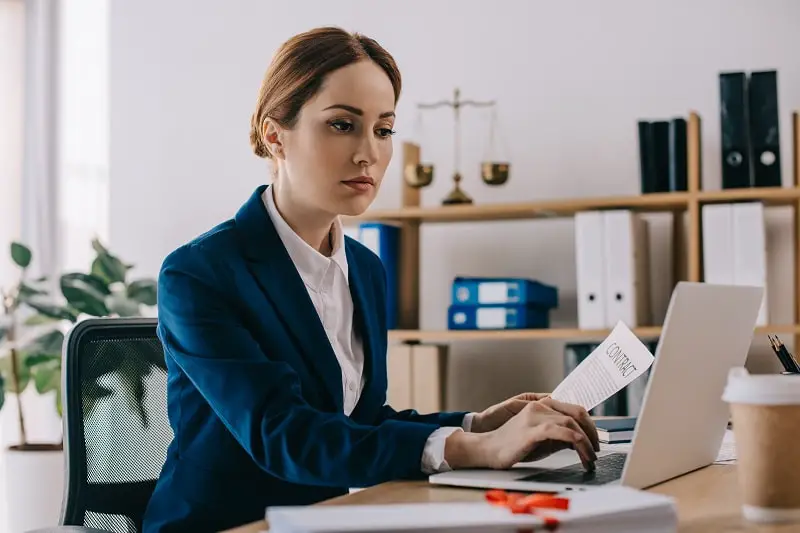 Lawyers
represent clients in criminal and civil litigation and other legal proceedings, draw up legal documents, or manage or advise clients on legal transactions. May specialize in a single area or may practice broadly in many areas of law.
---
How To Become a Lawyer
How long does it take, what degree do you need and more.
---
In this requirements guide for Lawyers, you will find out what do you need to become a Lawyer, how hard is it, and what does it take to become one.
After reading this, you will be able to plan for your future if you want to be a Lawyer.
---
---
Recommended degree level
First Professional Degree
We did a survey to ask other Lawyers what degree they had when they became a Lawyer. Here are the results.
First Professional Degree
---
PhD
---
Post-Doctoral Training
---
One of the most common questions that we always get is what major or degree do I need to become Lawyers or what courses do I need to take.
We also asked Lawyers what did they major in college or university and here are the top 5 most popular majors that came up.
Law
Advanced Legal Research/Studies
Programs for Foreign Lawyers
US Law and Legal Studies or Jurisprudence
Legal Studies or Jurisprudence
---
All lawyers must have a law degree and must also typically pass a state's written bar examination. Most states and jurisdictions require lawyers to complete a juris doctor (J.D.) degree from a law school accredited by the American Bar Association (ABA). A bachelor's degree is required for entry into most law schools, and courses in English, public speaking, government, history, economics, and mathematics are useful.
---
---

Interested in becoming ? Find the right schools that can help you to become one. You will need some of your details to get you matched with the right college or university. This service is free thanks to our sponsors.
Questions to ask the university or college:
How many students are in the program?
Is your program accredited?
How many faculty members do you have? Do they hold the right credentials?
What is your job placement rate?
Does your school hold career fairs or other on-campus events with employers? How many employers typically attend?
How many of your students have at least one internship by graduation?
---
---
---
Improve Your
Test Score
Studying for a standardized test for your college admissions?
Improve your test scores on SAT, ACT, GRE, and GMAT.
Read more
---
---
---
You will need an extensive amount of skill, knowledge and experience to be a Lawyer. Many require more than five years of experience. For example, a surgeon must complete four years of college and an additional five to seven years of specialized medical training to be able to do their job.
Careers in this difficulty category may need some on-the-job-training, but most of these careers assume that the person will already have the required skills, knowledge, and work-related experience and training. These careers usually involve coordinating, training, supervising, or managing the activities of others to accomplish goals. Very advanced communication and organizational skills are required. Similar careers include pharmacists, lawyers, astronomers, biologists, neurologists, and veterinarians.
---
Related work experience required
2 to 4 years
2 to 4 years
---
None
---
Over 10 years
---
1 to 2 years
---
4 to 10 years
---
None
---
---
---
License and certifications
Do you need any license or certification
Required
---
To become licensed lawyers, students must be admitted to the bar, a form of licensing. Because each state has its own laws, admission to the bar requires completing the respective state bar exam. Some states also require completion of a written ethics exam and the Multistate Performance Test.
---
---
We asked other Lawyers if they could only have 5 skills, what would they be. Here is what they said.
= Hot in-demand that most employers are looking for
---
---
---
Just like any other job, you will need certain know-hows to excel at your job. Lawyers are generally very knowledgeable in these 5 key areas.
---
---
---
Start your journey to be
Get the best college for Lawyers
---
---
Discover the best colleges for your $$$
---
---
Find colleges have the highest earning grads
---
---
Yes, I'm sure
---
---
Title Examiners and Searchers

search real estate records, examine titles, or summarize pertinent legal or insurance documents or details for a variety of purposes. May compile lists of mortgages, contracts, and other instruments pertaining to titles by searching public and private records for law firms, real estate agencies, or title insurance companies.

Salary

$51380

Paralegals and Legal Assistants

assist lawyers by investigating facts, preparing legal documents, or researching legal precedent. Conduct research to support a legal proceeding, to formulate a defense, or to initiate legal action.

Salary

$54500

Arbitrators and Conciliators

facilitate negotiation and conflict resolution through dialogue. Resolve conflicts outside of the court system by mutual consent of parties involved.

Salary

$72760

Lawyers

represent clients in criminal and civil litigation and other legal proceedings, draw up legal documents, or manage or advise clients on legal transactions. May specialize in a single area or may practice broadly in many areas of law.

Salary

$144230

Court Reporters

use verbatim methods and equipment to capture, store, retrieve, and transcribe pretrial and trial proceedings or other information. Includes stenocaptioners who operate computerized stenographic captioning equipment to provide captions of live or prerecorded broadcasts for hearing-impaired viewers.

Salary

$62390
---
Find a college with the major you want

---
Related to Lawyers Requirements
Lawyers requirements, how to become Lawyers, degree required to be a Lawyer, Lawyers license and certifications, majors to be a Lawyer, is it hard to become a Lawyer and how long does it take