How Long Does It Take, What Degree Do You Need, and More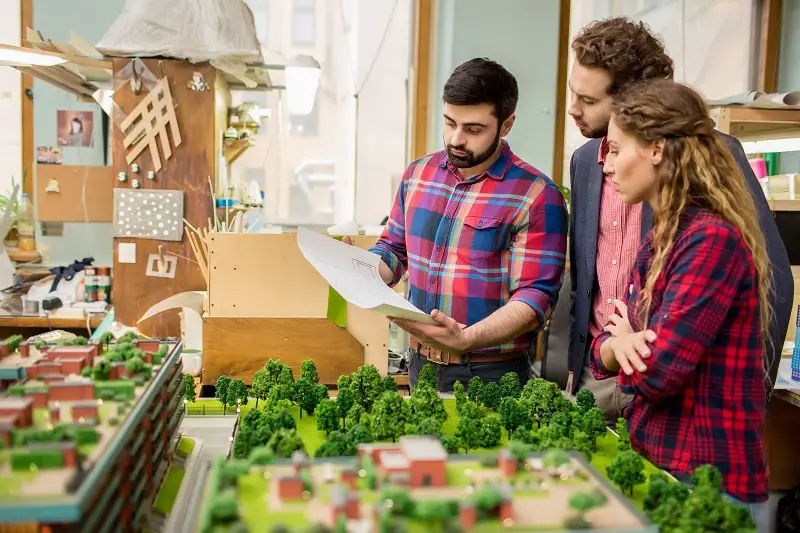 Landscape Architects plan and design land areas for projects such as parks and other recreational facilities, airports, highways, hospitals, schools, land subdivisions, and commercial, industrial, and residential sites.
Education
Bachelor's degree
---
---
---
---
Table of contents
---
Summary
| | |
| --- | --- |
| Degree | Bachelor's degree |
| Degree field | Landscape Architecture |
| License or certification | All 50 states in the US require Landscape Architects to obtain a professional license |
| Duration to become one | 6 years |
| Difficulty to become one | Hard |
---
Featured Schools
Landscape Architects Requirements
Step 1: Build a Foundation of Useful Skills in High School
While most high schools do not offer Landscape Architecture courses, you can gain useful skills by taking AP art history or design classes. Learning more about mechanical drawing and graphic design can provide a good foundation for your college courses. Other applicable high school courses include math and physics.
Along with taking relevant classes, you can learn more about the field of Landscape Architecture. Read Landscape Architecture journals, magazines, and blogs to understand the different types of landscaping styles and the latest industry trends.
Step 2: Earn a Bachelor's Degree in Landscape Architecture
Almost every Landscape Architect Firm, Developer, or Government Agency requires Landscape Architects to hold at least a Bachelor's Degree. Earning a Bachelor of Landscape Architecture (BLA) degree may take four to five years, depending on the structure of the program.
BLA programs include extensive training, requiring students to develop architectural proposals and designs. You also learn how to design public and private outdoor spaces for homes, buildings, parks, playgrounds, gardens, and other areas. Common courses for Landscape Architects include:
Plant materials
Urban design
Landscape architecture history
Site construction
Housing landscape design
Aspiring Landscape Architects should enroll in programs that are accredited by the Landscape Architectural Accreditation Board (LAAB), which is managed by the American Society of Landscape Architects (ASLA).
Almost every state in the US has at least one accredited program offered through a major college or university. Montana, Wyoming, Vermont, Maine, and Alaska are the only states without accredited programs. Pennsylvania offers the most options, with seven different accredited programs.
There are a total of 70 universities in the US offering 44 undergraduate degree programs and 52 graduate degree programs.
There are also two types of Bachelor's Degrees for Landscape Architects. This includes the Bachelor of Landscape Architecture (BLA) and a Bachelor of Science in Landscape Architecture (BSLA). BLA programs may be accredited while BSLA programs are not accredited.
If you already have a Bachelor's Degree in an unrelated field, you may enroll in a Master of Landscape Architecture (MLA) program. The Master's programs typically involve three years of full-time study.
Step 3: Accept an Internship to Gain Work Experience
The college or university that you attend may offer internship opportunities through their Landscape Architect programs. You may also qualify for an internship immediately after graduating.
Landscape Architecture Firms typically offer internships between December and January and May and June. The work experience that you gain through an internship counts toward the requirements for earning a Landscape Architect license.
Step 4: Look for Entry-Level Landscape Architect Jobs
After graduating with a Bachelor's Degree, you can start seeking employment in your field. However, you may not be able to work as a Landscape Architect without direct supervision from a licensed Landscape Architect.
Many Landscape Architecture Firms hire graduates for entry-level positions, allowing them to gain the required work experience for taking the licensing exam. These positions may include apprenticeships or paid internships.
Step 5: Become a Licensed Landscape Architect
All 50 states in the US require Landscape Architects to obtain a professional license. The examination for the license is handled through the Council of Landscape Architectural Registration Boards (CLARB). CLARB develops and administers the exam and maintains updated information on state licensing requirements.
There are two types of licensing requirements. This includes "title acts" and "practice acts." In states that include title acts, you cannot call yourself a Landscape Architect without obtaining a license. You can still provide services to clients but you cannot advertise yourself as a Landscape Architect. In states with practice acts, you cannot work as a Landscape Architect without a license.
While the specific requirements vary, obtaining a license in any state requires you to pass the Landscape Architect Registration Examination (LARE). The LARE includes four sections for demonstrating your knowledge and skills:
Project and construction management
Inventory and analysis
Design
Grading, drainage, and construction documentation
The exam is offered three times per year over two-week periods in April, August, and December. The work requirements vary between each state. Your level of education also impacts the required work experience.
In most states, you need two years of supervised work experience if you hold a Bachelor's Degree in Landscape Architecture. If you already have a Master's Degree, you may only need one year of work experience.
Step 6: Earn a Masters of Landscape Architecture (MLA) Degree
A Bachelor's Degree is the minimum educational requirement for most employers in the Landscape Architecture field. However, earning a Master's Degree can provide a clearer path to senior-level positions and promotions.
Master's Degrees also provide the chance to specialize in certain areas of Landscape Architecture. Specialty areas of Landscape Architecture include:
Site planning
Land development
Parks and recreation
Environmental planning
Heritage conservation
Urban design
Many Landscape Architects choose to earn a Master's Degree while pursuing their careers. As with the Bachelor programs, the Master's program that you choose should be accredited by the LAAB.
Step 7: Join a Professional Organization for Landscape Architects
There are two main professional organizations for Landscape Architects. You may join the American Society of Landscape Architects (ASLA) or the International Federation of Landscape Architects (IFLA).
The ALSA was founded in 1899 and currently represents more than 15,000 members. The ALSA offers free memberships to students in Landscape Architecture programs. However, to become a full member, you need to earn your degree and complete at least three years of work experience.
The IFLA is an international organization that focuses on Landscape Architecture with a global impact. If you plan on working internationally, you may want to join this professional organization.
What degree do most Landscape Architects have
Bachelor's degree
We did a survey to ask other Landscape Architects what degree they had when they first became one. Here are the results.
Bachelor's degree
---
First Professional degree
---
Certificate
---
How long does it take
6 years
Becoming a Landscape Architect may take about six years of education and work experience. If you start with a Bachelor of Landscape Architecture (BLA) degree, you should complete your educational requirements in about four years.
To become a professional Landscape Architect, you also need a license, which typically requires two years of work experience. However, licensing requirements vary between each state. You may also find internships or apprenticeships immediately after graduating, allowing you to start working within four years, depending on the length of the program.
---
Learn more about Landscape Architects
Find a college with the major you want
---
---