How Long Does It Take, What Degree Do You Need, and More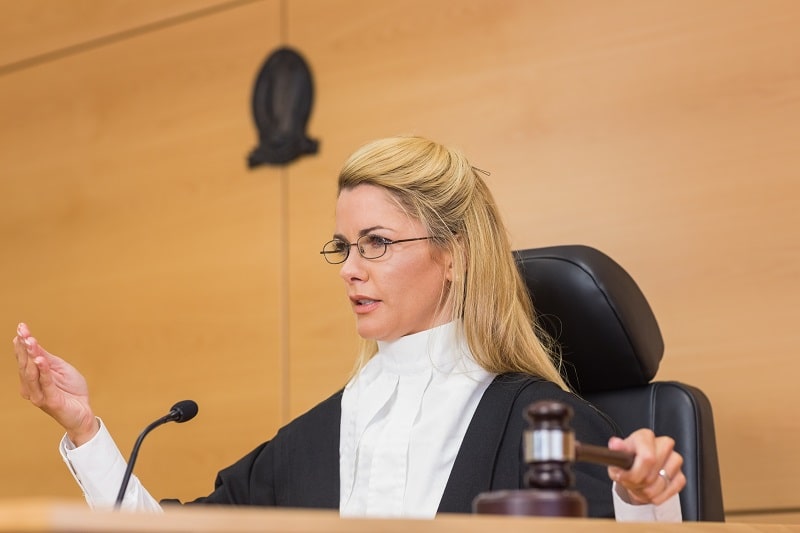 Judges and Magistrates arbitrate, advise, adjudicate, or administer justice in a court of law. May sentence defendant in criminal cases according to government statutes or sentencing guidelines. May determine liability of defendant in civil cases. May perform wedding ceremonies.
Education
Doctoral degree
---
---
---
---
Table of contents
---
Summary
Becoming a Judge typically requires a Juris Doctor (JD) Degree, which is a graduate-level degree offered through law schools. Before earning a JD Degree, students need to complete four years of undergraduate study and often earn a Bachelor's Degree in Legal Studies or Criminal Justice. Most Judges need to have a law license, which involves passing a state bar association exam.
---
Featured Schools
Judges and Magistrates Requirements
Step 1: Study Law and Criminal Justice in High School
Judges start their careers as Lawyers, which requires knowledge of laws and criminal justice. High school students can get started exploring these subjects at school or through online programs. Maintaining a high GPA is also recommended, as good grades make it easier to get into the school of your choice.
Step 2: Earn a Bachelor's Degree
Aspiring Judges need to earn a Law Degree, which first requires four years of undergraduate study. While many law schools do not strictly require applicants to hold a Bachelor's Degree, earning one increases your chances of getting accepted.
Students often major in Legal Studies, Criminal Justice, or related pre-law fields of study. Law programs also encourage students to take courses in English, Public Speaking, Mathematics, Economics, Government, and History.
Step 3: Pass the LSAT
Law school applicants need to pass the Law School Admission Test (LSAT). The LSAT includes five sections with about 60 multiple-choice questions. The sections include logical reasoning, analytical reasoning, and reading comprehension. The test also requires a writing sample and includes a variable section with items from the first three sections.
The results of the test are provided electronically through the testing center's website. The yearly testing cycle starts in August and ends in June. You can take the LSAT up to three times per year. However, you can only take it up to seven times during your lifetime. Tests that are older than five years cannot be used to apply to law school.
Step 4: Earn a Law Degree
Most Judges who work for local, state, or federal courts need a Law Degree, which is called a Juris Doctor (JD) Degree. Law programs should be accredited by the American Bar Association (ABA). The ABA has accredited 199 law schools in the United States.
Most programs take three years to complete and include courses in property law, constitutional law, labor law, and other areas of the legal profession. Law school is very demanding, requiring students to devote themselves to their studies to maintain high grades.
Step 5: Earn Work Experience Through an Internship or Volunteering
Law students often take part in internships or volunteer during law school. Gaining practical experience before entering the workforce often leads to better job prospects. Common sources for internships and volunteer opportunities include courts, the office of the city clerk, and law firms.
Step 6: Pass the Bar Exams and Become a Licensed Lawyer
All states require Lawyers to be licensed, which involves passing the bar exams. The exams are administered by the state's bar association and the National Conference of Bar Examiners. The bar examination process typically involves two days of testing.
On the first day, applicants must pass the Multistate Bar Examination (MBE). The MBE is a standardized test with 200 questions. The questions cover six areas: constitutional law, criminal law, contracts, evidence, real property, and torts.
The second day of the examination requires applicants to write several essays. The topics of the essays are traditionally chosen by the local examiners. However, an increasing number of states now use one of two nationally recognized tests: the Multistate Performance Test (MPT) and the Multistate Essay Examination (MEE).
Step 7: Become an Associate Lawyer and Earn Work Experience
Judges often need five years or more of work experience as a practicing Lawyer. Look for work as a Lawyer after earning a license to practice. Most Lawyers start as Associate Lawyers at law firms and private practices.
Many law schools assist graduates with finding work after they pass the bar exams and become licensed in their state. Lawyers should use their school's resources to explore job opportunities. Individuals who completed an internship or volunteered during college may use their connections to seek employment.
Step 8: Apply for a Judgeship and Get Appointed or Elected
Judges are appointed or elected to their positions. Local Judges and state Judges typically earn their position by running in an election. 18 states currently hold partisan elections to elect judges for the state's supreme court, courts of appeals, circuit court, district court, or probate court. 21 states hold nonpartisan elections. Seven states do not hold elections. Judges are nominated by a nominating commission and appointed by the governor of the state.
Federal judges are nominated by the President and confirmed by the US Senate. They also typically have years of experience as Judges at state courts.
Aspiring Judges need to meet the minimum requirements for a judgeship in the jurisdiction where they are running for office. The requirements vary, but most states require applicants to be licensed to practice law. Individuals who fail to get appointed or elected should continue to practice law, as remaining licensed is a requirement for this job.
Many judgeships include four-year, six-year, or eight-year terms. Along with continuing to practice as a Lawyer, aspiring Judges may need to consider exploring opportunities in regions with Judges approaching the end of their terms.
Step 9: Seek Advancement
Advancing your career as a Judge typically means moving to a higher court with broader jurisdiction. Superior courts function at the county level and oversee trials. When a defendant appeals the verdict of a trial, the case moves to the state appellate courts.
The next level after the state appellate courts is the state supreme courts. After reaching the state supreme court, Judges may seek openings in the federal district courts. There are 94 US district courts.
What degree do most Judges and Magistrates have
Doctoral degree
We did a survey to ask other Judges and Magistrates what degree they had when they first became one. Here are the results.
Doctoral degree
---
High School Diploma
---
Post Baccalaureate certificate
---
How long does it take
12 years or longer
Becoming a Judge requires a Law Degree, which often takes seven years to earn. Judges also typically need five years or more of experience as a Lawyer before becoming eligible for a judgeship.
---
Learn more about Judges and Magistrates
Find a college with the major you want
---
---