How Long Does It Take, What Degree Do You Need, and More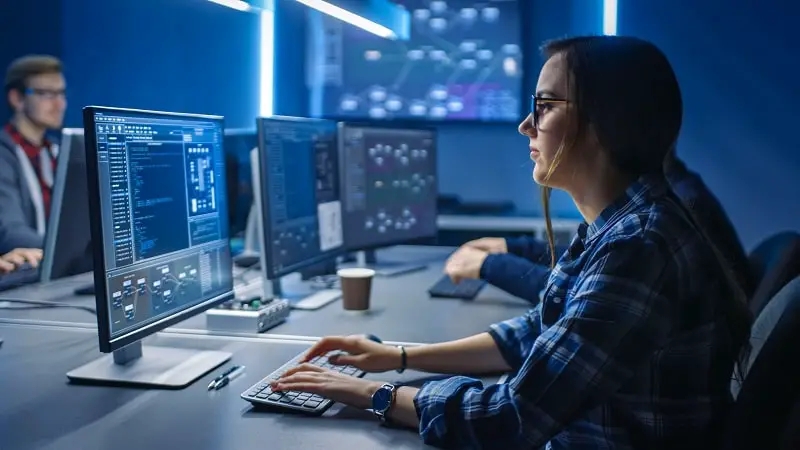 Intelligence Analysts gather, analyze, or evaluate information from a variety of sources, such as law enforcement databases, surveillance, intelligence networks or geographic information systems. Use intelligence data to anticipate and prevent organized crime activities, such as terrorism.
Education
Bachelor's degree
---
---
---
---
Table of contents
---
Summary
| | |
| --- | --- |
| Degree | Bachelor's degree |
| Degree field | Intelligence Studies, Political Science, Computer Science, and Programming |
| Duration to become one | Four to six years |
| Difficulty to become one | Hard |
Intelligence Analysts often need a Bachelor's degree to seek employment in this field. Common majors for aspiring Intelligence Analysts include Intelligence Studies, Political Science, Computer Science, and Programming. Several national organizations offer voluntary certifications for Intelligence Analysts who want to advance their careers.
---
Intelligence Analysts Requirements
Step 1: Take Computer and Programming Classes in High School
Intelligence Analysts use technology, computer software, and analytical skills to research and collect information. High school students can prepare for this career by taking Computer and Programming classes.
Step 2: Earn a Bachelor's Degree
Intelligence Analysts need at least a Bachelor's degree. Some colleges and universities offer Bachelor's degree programs in Intelligence Studies. These programs provide training in intelligence analysis, American foreign policy, intelligence ethics, counterterrorism, and politics.
Other common majors include Political Science, Computer Science, and Programming. Intelligence Analysts need strong computer skills, analytical skills, and knowledge of foreign policies and political issues.
Step 3: Complete an Internship
During your studies, you may have the chance to participate in an internship program. Several of the top federal agencies, including the NSA, FBI, and CIA, sponsor internship programs to help aspiring Intelligence Analysts gain practical experience. Agencies also use the internships for recruiting. The connections and experience that you gain may help you find a job with the sponsoring agency after you earn your degree.
Step 4: Find an Entry-Level Job in a Related Industry
Some federal and state agencies that hire Intelligence Analysts prefer applicants who have previous experience in a related industry. For example, the FBI and the NSA may prefer candidates who have worked in Information Security, Analytical Research, or Law Enforcement.
While many agencies prefer experienced Intelligence Analysts, some agencies may hire candidates directly out of college. Before seeking work in a related industry, review the requirements of your preferred employers for entry-level Intelligence Analysts. You may be able to immediately enter your chosen field instead of working in a separate industry.
Step 5: Apply for Intelligence Analyst Positions
If the employer that you plan on working for requires previous work experience, you can start applying for Intelligence Analyst positions after working for one to two years. Federal, state, and local agencies typically have extensive hiring processes that include a thorough background investigation and testing to assess your skills and knowledge.
Agencies review your criminal history, perform credit checks, and may even interview friends, family, and previous employers. Some agencies hire independent investigators, many of which are former law enforcement professionals. You must answer every question truthfully during the background investigation. This process may also take several months.
Step 6: Earn a Voluntary Certification
There is a wide range of voluntary certifications available for Intelligence Analysts. Many of the available certifications require several years of experience and are offered through government agencies such as the Department of Defense (DoD). For example, the DoD offers the Intelligence Fundamentals Professional Certification (IFPC). The IFPC covers the concepts, principles, history, and processes of Intelligence Analysis.
The certifications that you obtain depend on the agency that you work for and your role. If you work in Cybersecurity, you may benefit from the Certified Information Systems Security Professional (CISSP) certification. Those working in the Criminal Justice industry for a federal or state agency may consider obtaining the Criminal Intelligence Certified Analyst (CICA) certification.
The Certified Business Intelligence Professional (CBIP) certification is also a common certification for Intelligence Analysts. The CBIP certification requires two years of experience and the completion of three exams.
What degree do most Intelligence Analysts have
Bachelor's degree
We did a survey to ask other Intelligence Analysts what degree they had when they first became one. Here are the results.
Bachelor's degree
---
Associate's degree
---
High School Diploma
---
How long does it take
Four to six years
Most agencies prefer to hire applicants who have at least a Bachelor's degree, which typically takes four years to complete. However, you may also need two years or more of work experience in a related field, such as Information Security or Analytical Research.
---
Learn more about Intelligence Analysts