How Long Does It Take, What Degree Do You Need, and More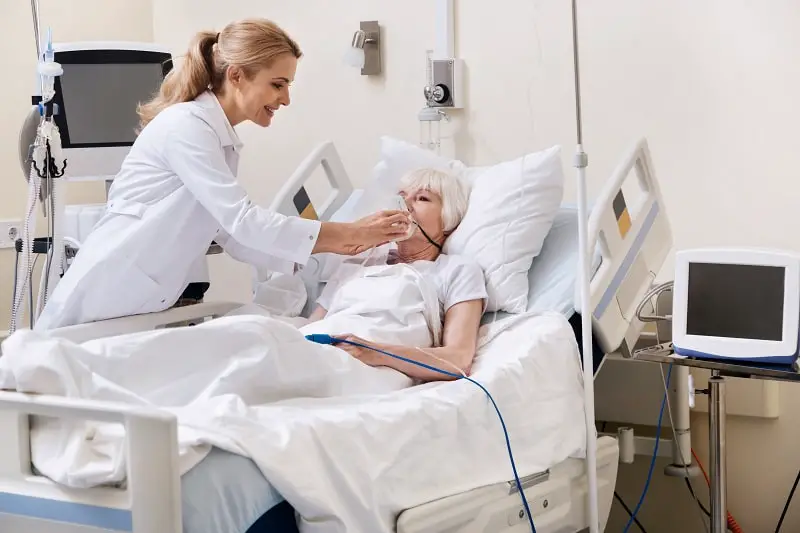 Hospitalists provide inpatient care predominantly in settings such as medical wards, acute care units, intensive care units, rehabilitation centers, or emergency rooms. Manage and coordinate patient care throughout treatment.
Education
Doctoral degree
---
---
---
---
Table of contents
---
Summary
| | |
| --- | --- |
| Degree | Medical Doctor (MD) or Doctor of Osteopathic Medicine (DO) degree |
| Duration to become one | 11 to 16 years |
| Difficulty to become one | Very Hard |
Hospitalists require a Medical Doctor (MD) or Doctor of Osteopathic Medicine (DO) degree from a medical school, which first requires an undergraduate degree. Aspiring Hospitalists often major in Biology or Chemistry before starting medical school. After finishing school, Hospitalists need to complete a residency program and become state-licensed.
---
Featured Schools
Hospitalists Requirements
Step 1: Take Advanced Science Courses in High School
Those interested in a career as a Hospitalist should focus on Science in high school. Most medical schools will require you to complete prerequisite courses in college, which often includes the Natural Sciences.
Take advanced placement (AP) courses such as AP Biology and AP Chemistry.
Step 2: Earn a Bachelor's Degree
Aspiring Hospitalists need an undergraduate degree before applying to medical school. While most medical schools accept students with any type of undergraduate degree, they often prefer applicants with degrees in Science.
The most common fields of study include Biology and Chemistry. No matter the field of study, students need to complete specific prerequisite courses. This often includes Biology, General Chemistry, Organic Chemistry, and Physics. Some medical schools may also require students to take courses in Genetics, Biochemistry, and the Principles of Sociology.
Step 3: Pass the MCAT
As with other Physicians, Hospitalists require a Medical degree after earning a Bachelor's degree. To get accepted into medical school, you need to pass the Medical College Admission Test (MCAT).
Medical schools are highly competitive and a good MCAT score is a necessary step. Students are encouraged to take practice tests and complete all recommended courses related to the topics covered by the exam.
The MCAT takes up to eight hours to complete. The exam only contains multiple-choice questions. If you fail the exam, you may retake it up to three times in one year or up to four times over two years. However, you can only take the MCAT up to seven times in your lifetime.
Step 4: Earn a Medical Degree
Hospitalists earn a Medical Doctor (MD) or Doctor of Osteopathic Medicine (DO) degree from a four-year medical school. The traditional Medical degree program is divided into two parts. The first two years are dedicated to classroom learning, such as labs and lectures.
The second two years of a traditional medical program focus on clinical work and hands-on training. However, some medical schools are starting to use programs that combine classroom learning and clinical rotations throughout the four years, providing a blended approach.
No matter the learning structure, a medical program provides students with the skills and knowledge needed for clinical work. This includes taking a patient's history, conducting a physical exam, and making diagnoses. Students also explore core scientific principles related to pharmacology, microbiology, biochemistry, and genetics.
Human anatomy and body systems are also major parts of the classroom learning portion of a typical medical program. Students learn about the body through dissection and lectures.
Step 5: Complete a Residency Program
After earning a Medical degree, Hospitalists begin their residency training. Residency programs may last three to six years, with three years being the most common timeframe. During residency training, Hospitalists select an area of specialization. While no specific specialization is required for this career, most Hospitalists specialize in Internal Medicine.
Residency training typically involves hands-on training at hospitals and health clinics. Residents diagnose and treat patients under indirect supervision. The level of independence and responsibility that you receive increases throughout the program.
After completing a residency program, some Hospitalists choose to continue their education in a sub-specialty, such as General Internal Medicine or Geriatrics. The optional programs for sub-specialties are called "fellowships" and often last one to two years.
Step 6: Become a State-Licensed Physician
Hospitalists need a Physician's license to practice medicine. The licensure requirements vary by state but typically include background checks and fees. After obtaining a state license, you can seek work as a Hospitalist. Hospitalists are Physicians who specialize in the care of patients that are hospitalized, making hospitals and other healthcare facilities with inpatient care the most common employers.
Step 7: Become Board-Certified
Along with a state license, most Hospitalists become certified by the American Board of Medical Specialties or the American Osteopathic Association. Becoming board-certified is an optional step that increases your career prospects in this field.
If you choose to obtain board certification, some organizations require you to submit your application within a specific time limit after completing your residency. For example, you may need to apply to the board within five to eight years.
The certifying organizations do not offer specific certification for Hospitalists. However, you may become board-certified in the specialty that you focused on during residency training, such as Internal Medicine. The process typically involves one or more exams and administrative fees.
What degree do most Hospitalists have
Doctoral degree
We did a survey to ask other Hospitalists what degree they had when they first became one. Here are the results.
Post-Doctoral Training
---
Doctoral degree
---
First Professional degree
---
How long does it take
11 to 16 years
The path to becoming a Hospitalist includes a four-year undergraduate degree, a four-year Medical degree, and the completion of a three- to six-year residency program. Some Hospitalists also complete one- to two-year fellowships.
---
Find a college with the major you want
---
---