How Long Does It Take, What Degree Do You Need, and More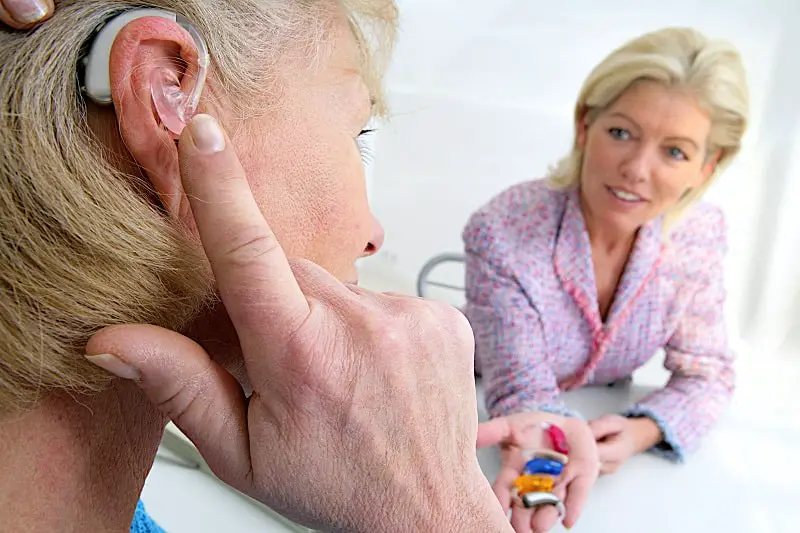 Hearing Aid Specialists select and fit hearing aids for customers. Administer and interpret tests of hearing. Assess hearing instrument efficacy. Take ear impressions and prepare, design, and modify ear molds.
Education
Bachelor's degree
---
---
---
---
Table of contents
---
Summary
| | |
| --- | --- |
| Degree | Bachelor's degree |
| Degree field | Hearing Instrument Specialist Training Program |
| Duration to become one | 2 years |
| Difficulty to become one | Medium |
Hearing Aid Specialists are required to have a high school diploma, but some employers will only hire those with a Bachelor's Degree.
There are two ways to get into this career. You can earn a degree in hearing instrument fitting and dispensing, which is available through a few different schools. The other way is through an apprenticeship program.
Some states have requirements for licensing before you can become a hearing aid specialist. You should check with the Licensing Board Contacts for Hearing Healthcare Professionals.
---
Hearing Aid Specialists Requirements
Step 1: Take Courses in High School to Prepare for This Career
When you are in high school, you can take courses such as chemistry, anatomy, community health, medical ethics, nutrition, and research methods. These courses will help you prepare for this career. If your school has a program of study in this career area, this can get you ahead of the game.
Step 2: Enter a Hearing Instrument Specialist Training Program
You are not required to earn a college degree, but some employers will prefer if you do. There are a few colleges that offer a Hearing Instrument Specialist Training Program. It usually takes two years, and you will earn an Associate's Degree. You can also find a distance learning program that takes a little longer than two years.
You will take classes, such as anatomy of the ear, acoustics, assessment and testing of hearing, hearing aid selection and fitting, hearing aid technology, counseling, and more. This program gives you everything you need so you are ready to start work once you graduate. This is one of two possible routes you can take. Your alternative is to take an apprenticeship where you can gain skills and learn what you need to know to pass the licensing exam.
Step 3: Get an Apprenticeship (Alternative Option)
Instead of going to school, you can get a registered apprenticeship to learn the skills for this career. It will combine instruction with on-the-job training. This is a great option for people who want to start working as they are training. You can start out earning an income in an entry level position while you gain experience and learn. You will get an increase in salary once you are licensed, so this is an opportunity to get started in your career while you are training.
In this career, you will perform hearing tests and then choose hearing projects that are appropriate for your patients. Your job is to find the best device for your client, but you do not diagnose or solve the hearing problem. When you take an apprenticeship, you will gain the skills you need to do this job.
Step 4: Take the Licensing Exam
You are required to take a licensing exam in many states, so you should check with the licensing board to find out if you are required to take it. The exam is offered by the International Hearing Society, and it is given in the different states. They often have both a written and a practical section for this exam, so your education and training will help you succeed.
Step 5: Apply for a Hearing Aid Specialist Job
Once you have your certification, you can apply for a job as a Hearing Aid Specialist. Another name for this career is a Hearing Instrument Specialist, and you will evaluate people who have hearing problems and determine which hearing aid is suited to correct the issue. Many people with hearing loss are older, but some younger people suffer from this condition. You may encounter people who suffer hearing loss from old age, loud noises, infections, a ruptured eardrum, tumors, or a build up of earwax.
It is estimated that more than 50% of people over the age of 75 suffer from hearing loss. This leads to a high demand for people in this field. Hearing Aid Specialists are able to help the elderly, and there are a lot of hearing aid instruments on the market that can meet their needs.
Step 6: Get Continuing Education Credits to Retain Your License
You will want to earn continuing education credits by attending seminars and taking online classes. It is important to stay current in this field because new technology is constantly leading to new hearing aid instruments to meet the needs of people who are suffering from hearing loss. Each state has its own continuing education requirements, but you will want to stay current in your field regardless of the requirements of your state.
What degree do most Hearing Aid Specialists have
Bachelor's degree
We did a survey to ask other Hearing Aid Specialists what degree they had when they first became one. Here are the results.
Bachelor's degree
---
Associate's degree
---
High School Diploma
---
How long does it take
2 years
It takes two years to get an Associate's Degree in a Hearing Instrument Specialist Training program. Once you complete your degree, you will be ready to take the licensing exam. You can also choose to gain your knowledge and experience through an apprenticeship. It will take the same amount of time.
---
Learn more about Hearing Aid Specialists