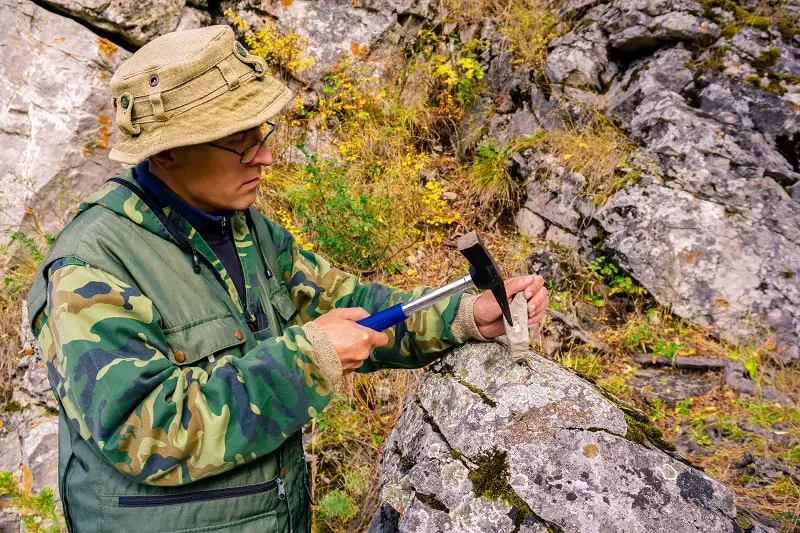 Geoscientists
study the composition, structure, and other physical aspects of the Earth. May use geological, physics, and mathematics knowledge in exploration for oil, gas, minerals, or underground water; or in waste disposal, land reclamation, or other environmental problems. May study the Earth's internal composition, atmospheres, oceans, and its magnetic, electrical, and gravitational forces. Includes mineralogists, crystallographers, paleontologists, stratigraphers, geodesists, and seismologists.
Education:
Bachelor's degree
---
Table of contents
| | |
| --- | --- |
| Degree | Bachelor's degree |
| Degree field | Geosciences, Earth Science, Geochemistry, or a related field |
| License or certification | A license is not required but if your job involves services to the public (e.g. civil engineering projects), you need a specific state license. |
| Duration to become one | 4 years |
| Difficulty to become one | Hard |
Featured Schools
Geoscientists Requirements
Step 1: Start Learning About Earth Sciences in High School
You can start preparing to become a Geoscientist in High School by taking challenging science classes. Biology, Physics, and Chemistry are essential for this career. If available in your school, you should also consider taking Environmental Science or Earth Science classes.
Geoscientists also require strong math and computer skills, as the job involves detailed research and data analysis. Other useful skills for Geoscientists include:
Observational skills
Organizational skills
Problem-solving skills
Communication skills
Analytical skills
You should also have a willingness to travel, as Geoscientists often need to physically visit the sites that they survey.
Step 2: Obtain a Bachelor's Degree in Geosciences
Geoscientists typically need a Bachelor's Degree in Geosciences, Earth Science, Geochemistry, or a related field to land entry-level positions after graduation.
A growing number of universities and colleges offer Geoscience degrees. However, Geoscience programs are not available everywhere. An alternative option is to major in a subset of Geosciences.
Geoscience is a broad field with many specializations. Some of the most common types of Geoscientists include:
Geologists
Petroleum Geologists
Geophysicists
Geochemists
Paleontologists
Seismologists
Earning a degree in any of these fields can lead to a career as a Geoscientist. The Geosciences often include courses in Petrology, Mineralogy, and Structural Geology. You may also complete courses in Math, Engineering, and Computer Science.
Step 3: Accept an Internship or Join a Summer Field Program
A Bachelor's Degree in Geosciences is the main requirement for Geoscientist jobs, but employers also tend to prefer candidates with work experience. Gaining experience in the field or a laboratory setting during college may increase your employability.
Look for student employment opportunities while completing your Bachelor's degree. Depending on the school that you attend, you may have access to internships with companies in the gas industry. You may also find open positions for research assistants, allowing you to work with professors and other students to further your education.
If you cannot find internship opportunities through your school, check with the American Geological Institute (AGI). The AGI Workforce Program offers a 12-week paid internship during the summer semesters in their headquarters in Alexandria, Virginia. You can also find a list of additional internships and fellowships on the AGI website.
Step 4: Apply for Entry-Level Geoscientist Positions
After graduation, you can start applying for entry-level positions in the Geosciences field. Companies in the oil and gas industry are the main employers for Geoscientists. These companies often require geological surveys to examine existing fossil-fuel reserves and to find new ones.
You may also explore career opportunities with environmental agencies and nonprofits that look for ways to protect the earth. Other options include local, state, and federal agencies. You can also explore job opportunities at architectural and engineering firms.
No matter the industry, entry-level Geoscience jobs often involve field monitoring. You may need to visit the sites of engineering projects to assess the geological impact. Other job duties include data collection and analysis.
Step 5: Obtain a Geology License in Your State
The National Association of State Boards of Geology states that 31 states currently have licensing requirements for Geoscientists. Typically, if your job involves services that are available to the public, you need to obtain a specific state license.
The requirements vary from state to state. The most common requirements include a Bachelor's Degree in Geoscience or Geology and three to five years of work experience. In some states, a Master's Degree or a PhD may count toward your work experience.
If your state requires licensing, the process is administered by the ASBOG. Licensing exams are held twice per year. However, each state has a separate regulatory agency for handling the application for the exam and the approval of the license.
Step 6: Join a Professional Organization
Joining a professional organization is not a requirement to become a Geoscientist. However, membership with a Geosciences organization can lead to new career opportunities and useful resources for staying aware of developments in the field.
The main professional organization for Geoscientists in the United States is the American Geosciences Institute (AGI). The AGI is a nonprofit federation that includes over 50 organizations that represent Geoscientists.
Becoming an AGI member exposes you to various programs that may further your career. For example, you may find research positions, fellowships, and scholarships for continuing your education.
The Geological Society of America (GSA) is another major professional association. As with the AGI, the GSA is open to all subsets of the Geoscientist career, including Geologists and Geochemists. The association has 18 divisions to cater to the various Geoscientist specializations.
Step 7: Obtain a Doctorate or a PhD in Geosciences
As with many research-based careers, advancing in this field may require an advanced degree. You may need to obtain a Master's Degree or PhD in Geosciences for senior-level positions.
Instead of obtaining a Graduate degree in Geosciences, you may choose to focus on a specific area. There are many types of Geoscientists and subgroups with separate degree programs. Related degrees include:
Geology
Geochemistry
Geophysics
Oceanography
Paleontology
Seismology
Depending on your specialization, you may gain more specialized knowledge by majoring in one of these fields of study.
Advanced education also opens the doors to an alternative career path, working as an Academic Researcher or a Geosciences Professor. These jobs typically require a PhD in the field that you want to research.
What degree do most Geoscientists have
Bachelor's degree
We did a survey to ask other Geoscientists what degree they had when they first became one. Here are the results.
Bachelor's degree
---
Master's degree
---
Doctoral degree
---
How long does it take
4 years
As entry-level Geoscientist positions typically require a Bachelor's Degree in Geosciences or a related field, the path to becoming a Geoscientist should take about four years. Many Geoscientists also choose to join professional organizations for networking and career opportunities. There are over 50 organizations associated with the American Geosciences Institute and the membership requirements often include a minimum of four years of work experience.
---
Find a college with the major you want
---
---