How Long Does It Take, What Degree Do You Need, and More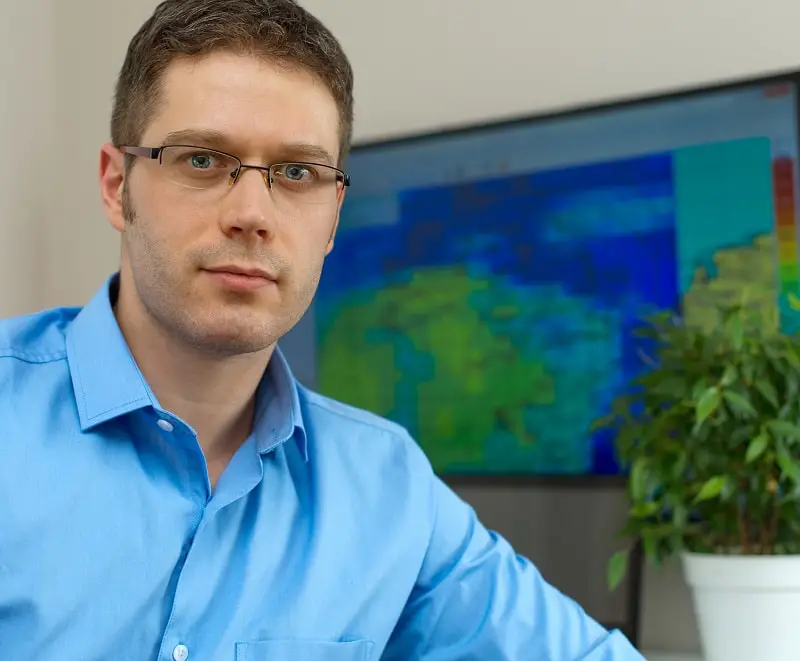 Geographers study the nature and use of areas of the Earth's surface, relating and interpreting interactions of physical and cultural phenomena. Conduct research on physical aspects of a region, including land forms, climates, soils, plants, and animals, and conduct research on the spatial implications of human activities within a given area, including social characteristics, economic activities, and political organization, as well as researching interdependence between regions at scales ranging from local to global.
Education
Bachelor's degree
---
---
---
---
Table of contents
---
Summary
| | |
| --- | --- |
| Degree | Bachelor's degree |
| Degree field | Geography or a related field of study |
| License or certification | Many Geographers earn voluntary certifications, including the GIS Professional (GISP) certification. |
| Duration to become one | 4 to 6 years |
| Difficulty to become one | Very Hard |
Geographers may need a Bachelor's degree for government jobs and a Master's degree for jobs outside of the federal government.
Geographers typically earn degrees in Geography or a related field of study.
Many Geographers earn voluntary certifications, including the GIS Professional (GISP) certification.
---
Featured Schools
Geographers Requirements
Step 1: Take Geography Classes in High School
Most states require high school students to complete two to three years of science classes, which typically covers Biology and Chemistry. Aspiring Geographers should try to complete additional science courses, such as Physics or Advanced Placement (AP) Geography.
Some high schools may also offer AP Human Geography, Physical/Earth Science, and Environmental Science. These classes provide relevant knowledge for those who go on to pursue Geography degrees.
Step 2: Earn a Bachelor's Degree
A Bachelor's degree in Geography is the minimum requirement for most entry-level jobs and federal government jobs. Geography is the most common major for aspiring Geographers.
Geography programs provide training in both human and physical Geography. Students also complete coursework in Statistics, Remote Sensing, and Geographic Information Systems (GIS).
As the field of Geography is broadening, many Geography students take a variety of courses outside of the Geography program. Along with Geography-related courses, you may take classes in Business, Economics, and Real Estate.
Step 3: Complete an Internship
Many Geographer students have the chance to participate in internships during or after their undergraduate studies. An internship provides practical experience, which can help when looking for employment after college.
Step 4: Earn a Master's Degree
If you plan on working in the private sector and want to progress beyond entry-level jobs, you will likely need a Master's degree. It is the minimum educational requirement for a variety of careers, including Environmental Consultant, Cartographer, Town Planner, and Senior GIS Officer.
A Master of Science (MS) in Geography typically combines academic study with fieldwork and lab work. You may travel to remote sites to collect data and develop your field techniques. Before graduating, you will need to submit a thesis that demonstrates your proficiency in Geography.
Some Master's programs may also allow you to narrow your focus to specific areas of Geography, such as Technical, Behavioral, Regional, Environmental, or Human Geography.
Step 5: Look for Entry-Level Work
You can wait until you finish your education or start looking for work during your graduate studies. Start with entry-level positions in the field of Geography. About 61% of Geographers work for the federal government. Other common employers include engineering firms and architectural firms.
Common first jobs for Geographers include GIS Officer, Surveyor, Geospatial Technician, and Entry Level Consultant.
Step 6: Earn a Voluntary Certification
Voluntary certifications can help Geographers gain new skills and improve their career prospects. Many Geographers earn the GIS Professional (GISP) certification offered by the GIS Certification Institute.
The American Society for Photogrammetry and Remote Sensing is another source for GIS certification. The requirements include three years of experience working with geographical information systems, at least four professional references, and the passing of an exam.
Step 7: Consider Earning a Doctoral Degree
If you plan on working in academia or research positions, you are likely to need a PhD in Geography. A Doctoral degree may take an additional three to four years of study and research. PhD candidates often need to submit original research and apply for grants or endowment to fund their projects.
What degree do most Geographers have
Bachelor's degree
We did a survey to ask other Geographers what degree they had when they first became one. Here are the results.
Bachelor's degree
---
Master's degree
---
Doctoral degree
---
How long does it take
4 to 6 years
Before finding entry-level work as a Geographer, you may need to earn a Bachelor's degree or a Master's degree. Bachelor's degrees are often needed for government jobs while jobs in the public sector often require a Master's degree.
---
Find a college with the major you want
---
---