How Long Does It Take, What Degree Do You Need, and More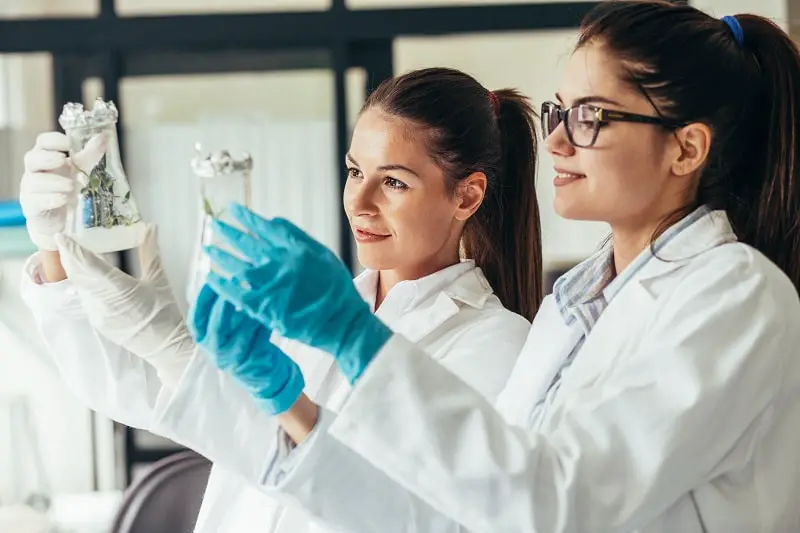 Geneticists research and study the inheritance of traits at the molecular, organism or population level. May evaluate or treat patients with genetic disorders.
Education
Doctoral degree
---
---
---
---
Table of contents
---
Summary
To become a Geneticist, you will need a Bachelor's Degree in Genetics, Biology, Chemistry, or a related field. You can get a job as a researcher once you have a Bachelor's Degree.
If you want to work in a management or teaching position in Genetics, you will need to go to graduate school to earn a Master's or Doctorate Degree in Genetics.
In graduate school, you can specialize in the branch of Genetics that is most interesting to you. You can specialize in Ecological Genetics, Medical Genetics, Behavioral Genetics, and more.
---
Featured Schools
Geneticists Requirements
Step 1: Study the Sciences in High School
Genetics is a field of science, so you will want to develop a strong foundation in sciences in high school. You should focus on Biology, Chemistry, and other science classes so that you are prepared for college level courses.
Step 2: Earn a Bachelor's Degree
If you want to become a Geneticist, you need to earn your Bachelor's Degree in Genetics, Biology, or Chemistry. You will take a lot of science courses in addition to your General Studies requirements. During this time, you should develop an idea of what branch of Genetics interests you. If you only obtain the Bachelor's Degree, your employment opportunities are limited to research as a laboratory assistant, and there is very little opportunity for advancement in your career.
You need to decide which brand of Genetics you want to pursue so that you can prepare for graduate school. Your courses will help you learn enough about Genetics to determine which field is most interesting to you. You will take courses such as Zoology, Botany, Biochemistry, Molecular Chemistry, Microbiology, and more. You will need to decide whether you want a career that deals with people, plants, or animals, and you can narrow this down as you advance through college.
Step 3: Earn Your Graduate Degree
The type of graduate degree you pursue is dependent on the type of Geneticist you aspire to become. You can pursue a Master's Degree, which takes approximately two years. If you earn your Master's Degree in an accredited program, you can become a Genetics Counselor. You can specialize in prenatal counseling or work with people who have rare genetic disorders.
If you are looking for greater opportunities for career advancement, you will want to earn a PhD or a Medical Degree. If you earn your PhD, you will be able to get a job teaching at a college and heading up a research team. You can specialize in any field of Genetics and pursue your career.
If you are interested in becoming a Medical Geneticist, you will need to go to Medical School. There are two different types of degrees offered by Medical Schools, including the DO and the MD. You can choose either one to become a Geneticist. A DO is a Doctor of Osteopathic Medicine, and it takes a more holistic approach to medicine by considering nutrition, environment, and the body system as a whole. An MD is a Doctor of Medicine, and it is designed to help people improve their health.
Medical Geneticists treat patients who have genetic disorders. They begin Medical School with two years of science and laboratory training. Then, they move to two years of supervised clinical experience in various medical fields. In the fourth year of Medical School, students take a Medical Licensing exam and apply for residency positions.
Step 4: Secure a Residency
Once students complete Medical School, they move on to their residency training. They spend the first two years in a general medical field such as internal medicine, obstetrics and gynecology, or pediatrics. After two years, they can move into a genetics subspecialty.
Clinical Genetics is a primary specialty, and students take the board exam after two years of experience in residency. If you want to specialize further, you can continue training in subspecialties, including molecular genetics, medical biochemical genetics, and more.
Step 5: Become Board Certified
Step 6: Maintain Your Certification
You will need to maintain your certification with continuing education courses and seminars. It is important to stay current in the field so that you can provide the latest treatments and tests to your patients.
What degree do most Geneticists have
Doctoral degree
We did a survey to ask other Geneticists what degree they had when they first became one. Here are the results.
Post-Doctoral Training
---
Doctoral degree
---
Bachelor's degree
---
How long does it take
8 to 12 years
If you want to earn your PhD in Genetics, it will take you approximately eight or nine years of school before you earn your PhD in Genetics. Once you complete your Doctorate Degree, you can apply for jobs in a University setting.
If you are pursuing a career as a Medical Geneticist, you will need to attend Medical School followed by your residency. You will spend four years earning your Bachelor's Degree followed by four years of Medical School. Then, you will spend three or four years completing your residency before you become a Medical Geneticist.
---
Find a college with the major you want
---
---