How Long Does It Take, What Degree Do You Need, and More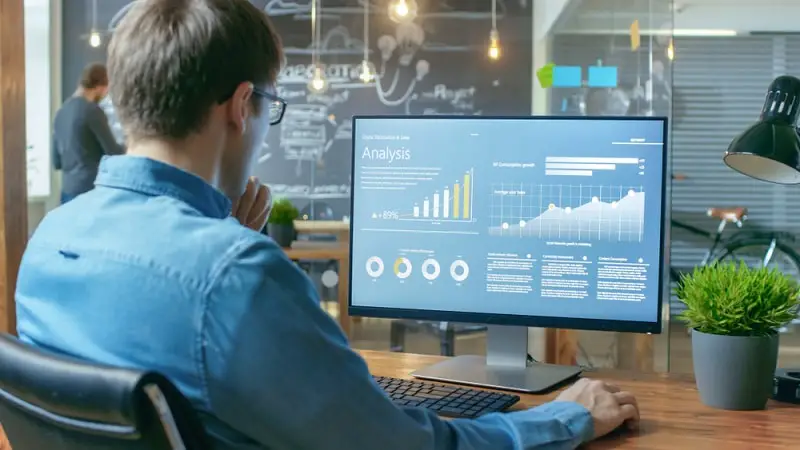 Financial Analysts conduct quantitative analyses of information involving investment programs or financial data of public or private institutions, including valuation of businesses.
Education
Bachelor's degree
---
---
---
---
Table of contents
---
Summary
| | |
| --- | --- |
| Degree | Bachelor's degree |
| Degree field | Finance, Accounting, Business, and related fields of study |
| License or certification | Required if providing services directly to the public such as selling securities to the public |
| Duration to become one | 4 to 6 years |
| Difficulty to become one | Hard |
Financial Analysts typically need a Bachelor's Degree, but a Master's Degree may be necessary for advancement to Portfolio Manager and other senior positions. Common majors include Finance, Accounting, Business, and related fields of study.
Financial Analysts do not need a license for entry-level jobs but typically need to obtain a license before providing services directly to the public. Financial Analysts are also often encouraged to earn voluntary certifications to demonstrate their skills and knowledge.
---
Featured Schools
Financial Analysts Requirements
Step 1: Look for Classes in Accounting and Economics in High School
Aspiring Financial Analysts should take classes in Accounting and Economics if available, as both subjects are essential to this profession. Students should also excel at math, as the responsibilities of this job involve analyzing figures and statistics.
Taking computer classes is helpful for those who are not familiar with spreadsheets and word processing programs. Financial Analysts often rely on computer programs to help review financial plans, making computers another important subject for high school students.
Step 2: Earn a Bachelor's Degree
Financial Analysts typically need a Bachelor's Degree for entry-level positions. The most common majors include Finance and Accounting. However, employers may accept candidates with degrees in a variety of fields. Other suitable majors for Financial Analysts include Economics, Business, Mathematics, and Statistics.
Step 3: Look for Internship Opportunities
Many Financial Analysts complete internships during or immediately after college to gain valuable skills. Internships also allow students to network and build connections that may lead to employment. Many college programs help students find suitable internships and co-op programs.
In regions with a competitive job market, candidates with experience gained through internships or co-op programs are more likely to get hired. Employers tend to prefer hiring those who show a higher level of dedication to learning and development.
Step 4: Consider Earning a Master's Degree
A Master's Degree may be required for career advancement. Some employers may also prefer to hire candidates with a graduate degree for Financial Analyst positions.
Universities and colleges offer a variety of Master's degrees intended for Financial Analysts, such as Financial Analysis, Investment Analysis, Financial Markets, Business Analytics, Forensic Analysis, and Economic Analysis.
Along with Financial Analyst degrees, universities offer other suitable fields of study. For example, many Financial Analysts hold a Master's of Business Administration (MBA) Degree. An MBA covers all key areas of running a business, including Accounting, Human Resources, Applied Statistics, Ethics, Business Law, Finance, Marketing, and Business Communications.
Step 5: Look for Entry-Level Work in the Financial Industry
Most financial companies that hire Financial Analysts use an apprenticeship model to train new hires. Employees often start as Junior Financial Analysts and work under the supervision of a senior employee.
The largest employers include banks, financial planning companies, investment firms, insurance companies, and government regulatory firms.
The most common path often involves working for a large brokerage firm that offers investment services to the public. Major investment companies employ thousands of Junior Financial Analysts.
Junior Financial Analysts are often required to make cold calls and follow up with potential customers, instead of directly soliciting investment products. As they gain experience, Junior Analysts gradually receive more responsibilities and greater independence until they become "Financial Analysts."
Individuals who cannot find Junior Financial Analyst positions may try looking for related work to gain experience. Potential alternatives include Insurance Underwriter and Junior Budget Analyst.
Step 6: Obtain Voluntary Financial Analyst Certifications
Voluntary certifications often lead to greater job prospects and may be required for senior positions. Most certifications require a Bachelor's Degree and at least a few years of experience.
The Chartered Financial Analyst (CFA) credential is the most common certification for Financial Analysts. It is offered by the CFA Institute and available after four years of qualifying work experience. Candidates also need to pass three exams.
Along with the CFA credential, the CFA Institute offers several professional programs for Financial Analysts, including the Certificate in Investment Performance Measurement (CIPM) program. The CIPM program is for those who plan on becoming Portfolio Managers or Investment Consultants.
Step 7: Earn a General Securities Representative License
Financial Analysts who want to eventually work as Financial Advisors or Portfolio Managers need to obtain a license to sell securities to the public. The Series 7 (General Securities Representative) license is administered by the Financial Industry Regulatory Authority (FINRA).
Obtaining a license allows Financial Analysts to sell stocks, options, mutual funds, and other securities. The prerequisites for applying for a license include sponsorship by a FINRA member firm and a passing score on the Securities Industry Essentials (SIE) exam.
Sponsorship by a FINRA member firm means that you need to be currently employed by a firm that is a FINRA member and your employer needs to sponsor your application.
Qualifying applicants can then take the Series 7 – General Securities Representative Exam. The exam covers all regulations and best practices for the solicitation and sale of securities products.
Step 8: Consider Earning a Certified Financial Planner Credential
Financial Analysts who do not directly sell financial products may decide to seek job advancements that lead to the position of Financial Planner. Instead of a securities license, Financial Planners typically need the Certified Financial Planner (CFP) credential.
The CFP credential requires 6,000 hours (about three years) of professional experience or 4,000 (about two years) hours of apprenticeship experience. Financial Analysts should meet these requirements after ending their apprenticeship as a Junior Analyst.
A Certified Financial Planner may qualify for a variety of job positions, including Senior Financial Analyst, or Personal Financial Advisor.
Step 9: Seek Advancement in the Financial Analyst Field
Financial Analysts often hope to climb the corporate ladder and take on additional responsibilities. Some of the potential paths for this career include Portfolio Manager, Fund Manager, Rating Analyst, and Risk Analyst. Each of these jobs requires a FINRA license and an average of five to ten years of work experience.
What degree do most Financial Analysts have
Bachelor's degree
We did a survey to ask other Financial Analysts what degree they had when they first became one. Here are the results.
Bachelor's degree
---
Master's degree
---
Associate's degree
---
How long does it take
4 to 6 years
Financial Analysts often find entry-level jobs after graduating with a Bachelor's Degree, which typically takes four years. However, some Financial Analysts earn a Master's Degree to broaden their job prospects, which often requires two additional years of schooling.
---
Find a college with the major you want
---
---