How Long Does It Take, What Degree Do You Need, and More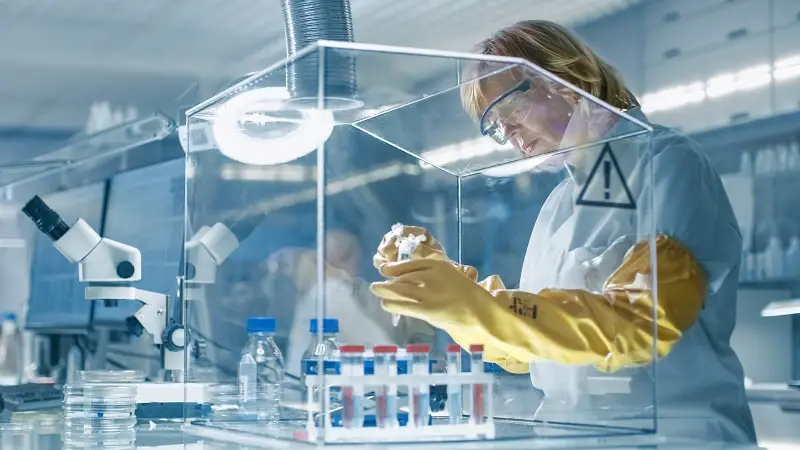 Epidemiologists investigate and describe the determinants and distribution of disease, disability, or health outcomes. May develop the means for prevention and control.
Education
Master's degree
---
---
---
---
Table of contents
---
Summary
| | |
| --- | --- |
| Degree | Master's degree |
| Degree field | Epidemiology |
| License or certification | Not required |
| Duration to become one | 6 to 12 years |
| Difficulty to become one | Very Hard |
Epidemiologists typically need to earn a Bachelor's degree followed by a Master's degree.
Aspiring Epidemiologists may obtain a Bachelor's degree in any related science field, such as Nutrition, Public Health, or Biostatistics, along with a Master's degree in Epidemiology.
While not required, many Epidemiologists earn voluntary certifications to increase their employability.
---
Featured Schools
Epidemiologists Requirements
Step 1: Study Science In High School
Epidemiology is a scientific field that requires a foundation in the sciences. Take Science courses each year throughout your high school education.
Many states only require high school students to complete three years of Science. This may include Biology, Physics, and Chemistry. After completing these courses, look for Advanced Placement (AP) courses in Earth Science or AP Physics.
Step 2: Earn a Bachelor's Degree In the Field Of Science
Step 3: Earn a Master's Degree In Epidemiology
You will need to earn a Master's degree from an accredited university or college. Earning a Master's degree in Epidemiology provides you with the necessary skills and knowledge for this career. Unfortunately, there are not a lot of Epidemiology Master's programs.
If an Epidemiology program is not available at your school of choice, you may major in Public Health. Public Health was the traditional choice for this career before the creation of Epidemiology programs.
Public Health programs typically include coursework in the Biological and Physical Sciences, Math, and Statistics. During your final year of study, you may take courses in Medical Informatics, Biomedical Research, and Multiple Regression.
Step 4: Complete an Internship
During your graduate studies, you should start looking for internship opportunities. If you are enrolled in an Epidemiology or Public Health program, your university may help find suitable internships in your area.
In some cases, Epidemiologists complete fellowships. A fellowship typically involves advanced work compared to the entry-level tasks completed in an internship. This provides hands-on training and may lead to a permanent position.
Step 5: Earn a Doctor of Medicine (MD) Degree
Earning a Medical degree is not required for most Epidemiology positions. However, those that work in clinical settings may need a Doctor of Medicine (MD) degree.
If you plan on working in a clinical setting and treating patients, you will need to enroll in an MD program at a medical school. This typically includes four years of study and the completion of a residency program.
You may shorten your educational path by skipping the Master's degree. Most medical schools require applicants to hold a Bachelor's degree in Pre-Med or the Biological Sciences, such as Biology. You also need to pass the Medical College Admission Test (MCAT).
Step 6: Become Licensed to Practice Medicine
If your Epidemiology career path requires a Medical degree, you will likely need to become licensed and board-certified to practice medicine.
Licenses are available through the state where you plan on practicing medicine. The requirements vary, but you often need to hold an MD degree and complete a residency program.
Board certification is not a legal requirement for practicing medicine. However, some employers may require Epidemiologists in clinical roles to become board certified through the American Medical Association (AMA).
Step 7: Earn a Professional Certification
What degree do most Epidemiologists have
Master's degree
We did a survey to ask other Epidemiologists what degree they had when they first became one. Here are the results.
Master's degree
---
Doctoral degree
---
Bachelor's degree
---
How long does it take
6 to 12 years
Becoming an Epidemiologist may take 6 to 12 years, depending on the type of Epidemiology jobs that you seek. You may only need a Master's degree, which often takes two years to earn after earning a four-year Bachelor's degree. If your job will involve treating patients in clinical settings, you may need an MD degree, which requires four years of study and a three-year or four-year residency program.
---
Find a college with the major you want
---
---