How Long Does It Take, What Degree Do You Need, and More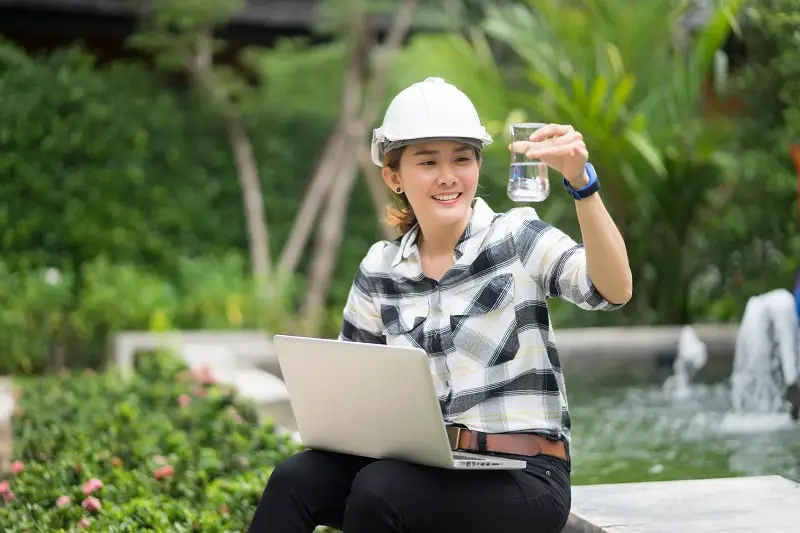 Environmental Engineers research, design, plan, or perform engineering duties in the prevention, control, and remediation of environmental hazards using various engineering disciplines. Work may include waste treatment, site remediation, or pollution control technology.
Education
Master's degree
---
---
---
---
Table of contents
---
Summary
| | |
| --- | --- |
| Degree | Master's degree |
| Degree field | Environmental, Civil, or Chemical Engineering |
| Duration to become one | 8 years |
| Difficulty to become one | Hard |
Environmental Engineering is a field that is devoted to the protection of the environment through the reduction of waste and pollution. People who work in this field focus on the design of technologies and processes that help reduce contamination and control pollution.
Environmental Engineers need a Bachelor's of Science in Environmental Engineering, Civil Engineering, or Chemical Engineering. You will want to concentrate your studies on Environmental Engineering so that you can work in this field.
---
Environmental Engineers Requirements
Step 1: Take Math and Science Courses in High School
When you are in high school, you should pay attention to your math and science courses. You should take Algebra, Trigonometry, and Calculus. You will also want to take science classes, such as chemistry, biology, and physics. If your school offers it, you can take Computer Applications and Geology. In addition, Natural Resources Management is helpful. Make sure that you meet the requirements for graduation, and you can find an organization in the area where you can volunteer.
Step 2: Earn a Bachelor's Degree
Most positions require a minimum of a Bachelor's Degree in Environmental, Civil, or Chemical Engineering. You will study basic engineering principles, alternative energy technologies, air control technologies, computer-aided design, mathematics, and more. You will often get to participate in lab and field work as part of your program.
You might be able to get an internship or other experience while you are earning your degree. You should make sure that your program is an ABET accredited program so that you can get licensed if you choose a job that requires licensing.
Step 3: Earn Your Master's Degree (Optional)
If you earn your Master's Degree in Environmental Engineering, you will have more job opportunities. Some programs offer a five-year course of study where you can earn your Bachelor's degree and your Master's degree.
Step 4: Take the Fundamentals of Engineering (FE) Exam
As soon as you earn your degree, you can take the Fundamentals of Engineering (FE) Exam.
Step 5: Become an Engineer in Training or Engineer Intern
Once you pass the FE exam, you will become an Engineer in Training (EIT) or EngineerIntern (EI). You will need to work in this position for four years. Then, you can take the Principles and Practice of Engineering Exam to qualify for your license.
Step 6: Get Certified
Once you earn your license, you can get certified by the American Academy of Environmental Engineers and Scientists. When you receive certification, it shows that you have expertise in your field.
Step 7: Apply for a Job
As an Environmental Engineer, you will use your knowledge of the principles of engineering, biology, chemistry, and geology to solve environmental problems. You can help improve recycling, air pollution, waste disposal, or public health on a local level, or you can work with a larger organization on issues of climate change, unsafe drinking water, or environmental sustainability.
You might perform tasks such as creating reports, designing projects, analyzing scientific data, and more. You can get a job as an advisor to a corporation, or you can work on a government project. There are a number of careers that you can have if you get this degree. You can specialize in one type of environmental engineering, such as Air Pollution Control Engineer, Environmental Remediation, Hazardous Substances Engineer, Soil Engineers, Water Treatment Plant Engineers, Pollution Control Engineers, and more. There are a lot of options for a career in this field.
Step 8: Maintain Your Certification
You need to maintain your certification with continuing education classes. You should contact your state licensing department to find out the exact requirements, but it is important to make sure that you take the necessary classes on time.
It is also important to know that you will support students and professionals for the duration of your career. Everyone needs the experience to earn certification, so once you have become an expert, you can take on EITs or EIs. This is a critical part of the process.
What degree do most Environmental Engineers have
Master's degree
We did a survey to ask other Environmental Engineers what degree they had when they first became one. Here are the results.
Master's degree
---
Bachelor's degree
---
Post Baccalaureate certificate
---
How long does it take
8 years
It takes close to eight years to become a certified Environmental Engineer. You need to start by going to college. You will earn a Bachelor's degree from an ABET accredited program in Environmental, Civil, or Chemical Engineering. Some programs allow you to earn both a Bachelor's Degree and a Master's Degree in just five years.
Once you get your degree, you can take your FE exam. This will make you eligible to work as an EIN or an EI. Once you do this, you will need four years on the job before you are eligible for certification. At this point, you will take the exam for your license, and you can become a full Environmental Engineer. There are many specialties to choose from, and your training time will help you determine the area where you want to work.
---
Learn more about Environmental Engineers