How Long Does It Take, What Degree Do You Need, and More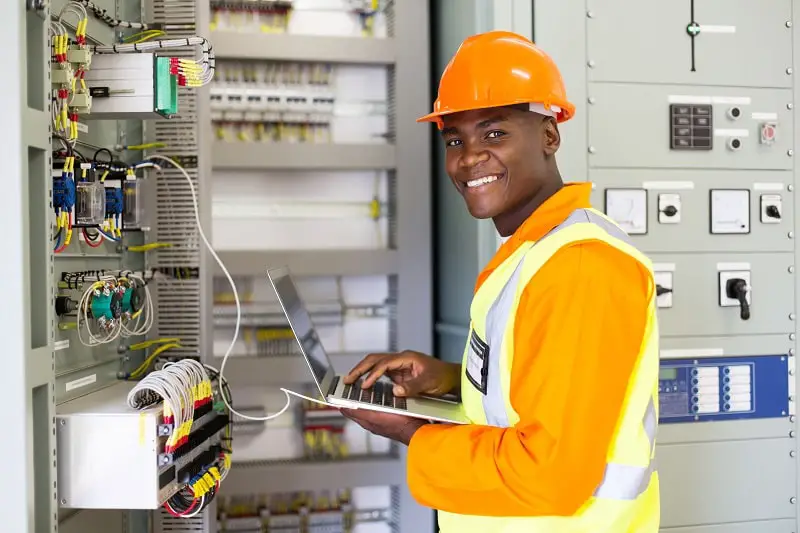 Electrical Engineers research, design, develop, test, or supervise the manufacturing and installation of electrical equipment, components, or systems for commercial, industrial, military, or scientific use.
Education
Bachelor's degree
---
---
---
---
Table of contents
---
Summary
| | |
| --- | --- |
| Degree | Bachelor's degree |
| Degree field | Electrical Engineering |
| License or certification | Depends on the industry you work in |
| Duration to become one | 4 to 5 years |
| Difficulty to become one | Hard |
A Bachelor's degree is needed to become an Electrical Engineer. While a Bachelor of Science in Electrical Engineering (BSEE) is the most common major, suitable fields of study include Engineering Science, Materials Engineering, Engineering Mechanics, and Engineering Technology.
Electrical Engineers in many industries require a license, which involves passing the Fundamentals of Engineering (FE) exam.
---
Electrical Engineers Requirements
Step 1: Study Electronics in High School
High school students who are interested in Electrical Engineering should take classes in physics and math, including calculus, algebra, and trigonometry. If electronics courses are not available, students can study electronics through various extracurricular programs, such as Engineering Summer Camps.
These camps provide more insight into an Electrical Engineering career while helping students learn more about the required skills. Attending a camp may also improve your college application.
Step 2: Obtain a Bachelor's Degree
Electrical Engineers require at least a Bachelor's degree. The most common major is Electrical Engineering. However, some Engineers choose to major in Engineering Technology or a related field.
The programs typically last four years and include courses in digital system design, electrical circuit theory, and differential equations.
Students should only look for Engineering programs that are accredited by the Accreditation Board for Engineering and Technology (ABET). States require the completion of an ABET-accredited program to obtain an Engineering license.
Many Engineering programs provide access to cooperative programs and internships. These opportunities provide practical experience while completing your education.
Step 3: Earn a Master's Degree to Specialize in a Subfield
Earning a Master's degree is not a requirement for becoming an Electrical Engineer. However, it does provide the technical skills and knowledge needed to specialize in specific fields of Electrical Engineering such as:
Energy Systems
Data Networks
Quantum Computing
Wireless Communications
Photonics
Telecommunications
Microelectronics
A Master's degree is also necessary for those who plan to seek careers in teaching or research. Most Master's programs will add two years to your education. However, some schools offer five-year Engineering programs that lead to the completion of a Bachelor's degree and a Master's degree.
Step 4: Pass the Fundamentals of Engineering Exam
Entry-level Electrical Engineering jobs will require you to have a passing score on the Fundamentals of Engineering (FE) exam. The FE exam is for recent graduates and students who have almost completed their Engineering degrees.
The exam is available year-round through NCEES-approved testing centers. You have six hours to complete 110 questions.
Step 5: Obtain Entry-Level Work as an Electrical Engineer
After passing the FE exam, you look for entry-level positions as an Electrical Engineer or Electronics Engineer. Engineers who pass the FE exam are called Engineer Interns (EIs) or Engineers in Training (EITs). Some states also refer to the FE exam as the EIT exam.
You may continue to work as an EI or EIT. However, advancing in this career requires a Professional Engineering (PE) license.
Step 6: Pass the Professional Engineering (PE) Exam
The requirements for earning the PE license include a degree from an accredited Engineering program, a passing score on the FE exam, and four years of work experience as an EI or EIT.
If you meet the requirements, you can take the Principles and Practice of Engineering (PE) exam. The exam contains fewer questions compared to the FE exam with a total of 80 questions. However, it takes eight hours to complete instead of six. Unlike the FE exam, the PE exam is not held year-round. You must apply to take the exam in April or October.
Step 7: Obtain a State License to Work as a Professional Engineer
A Professional Engineer license allows you to accept higher positions. A PE license is needed to oversee the work of other Engineers and sign off on projects. You also need a PE license to offer services to the public. Each state issues its own licenses. However, most states accept licenses from other states.'
You may also need to continue your education to keep your license. The continuing education requirements typically involve the completion of a specific number of credit hours of college courses or lectures.
Step 8: Join a Professional Organization for Electrical Engineers
What degree do most Electrical Engineers have
Bachelor's degree
We did a survey to ask other Electrical Engineers what degree they had when they first became one. Here are the results.
Bachelor's degree
---
Master's degree
---
High School Diploma
---
How long does it take
4 to 5 years
Gaining an entry-level Electrical Engineering position may take four to five years, depending on the duration of the Engineering program. Becoming a Professional Electrical Engineer may take an additional four years as you need four years of work experience before taking the PE exam.
---
Learn more about Electrical Engineers