How Long Does It Take, What Degree Do You Need, and More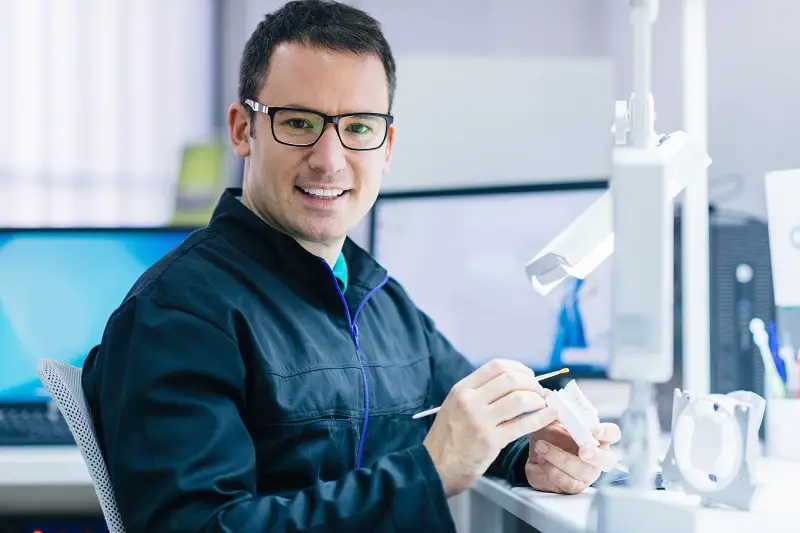 Dental Laboratory Technicians construct and repair full or partial dentures or dental appliances.
Education
No degree required
---
---
---
---
Table of contents
---
Summary
Dental Laboratory Technicians typically need a certificate or an Associate's degree. Aspiring Technicians often complete Dental Laboratory Technology programs. Dental Laboratory Technicians may earn voluntary certifications to demonstrate their competencies with different dental technologies.
---
Featured Schools
Dental Laboratory Technicians Requirements
Step 1: Study Chemistry and Biology in High School
High school students should study chemistry and biology to gain basic knowledge of the biological sciences. Science is an essential subject for those in the medical field, including Dental Laboratory Technicians.
Step 2: Complete a Dental Technology Program
The most common path to becoming a Dental Laboratory Technician involves completing a Dental Technology program. The program should be accredited by the Commission on Dental Accreditation of the American Dental Association.
There are currently about 24 accredited Dental Technology programs in the United States. The programs last two years and are available through a variety of educational institutions. Students may enroll in Dental Technology programs at community colleges, universities, dental schools, and vocational schools.
Dental Technology programs typically require students to have a high school diploma or a GED. Students learn how to make dentures, crowns, bridges, veneers, and various orthodontic appliances, such as splints.
Along with learning how to make dental appliances, students take courses in dental anatomy, dental instruments, and the various materials used to make dental devices, such as plaster, porcelain, and acrylic paste.
Dental technology programs often last two years. After finishing the program, you may be awarded an Associate's degree in Dental Technology or a certificate of completion.
Step 3: Earn a Bachelor's Degree
Earning a Bachelor's degree is an alternative option instead of completing a Dental Technology program. Several colleges offer Bachelor's degrees in Dental Laboratory Technology, which offers additional training compared to the two-year programs.
While a Bachelor's degree is not required for this career, it may provide increased career opportunities. Employers tend to favor a candidate with a Bachelor's degree over a candidate with a certificate or an Associate's degree.
A Bachelor of Science in Dental Technology includes extra skills and knowledge for this career. During the first year of the college program, students typically take general education courses, such as English, biology, and chemistry. The final three years of the program often focus on professional dental technology courses.
Step 4: Look for Internship Opportunities
Students may receive the opportunity to participate in an internship while completing a Dental Technology program. Internships give students a chance to receive real-world experience and may result in job opportunities after college.
Step 5: Start Looking for Technician Jobs
After finishing college, aspiring Dental Lab Technicians should begin looking for work. Some dental labs may advertise open positions for "Entry-Level Dental Lab Technicians" or "Junior Technician."
The most common employers include private dental laboratories that specialize in the creation of orthodontic devices and dentures. When entering the field, Technicians may need to start with part-time jobs. With experience, it becomes easier to find full-time employment.
Step 6: Obtain Voluntary Certification
Dental Lab Technicians often obtain voluntary certifications to increase their career prospects. The National Board for Certification in Dental Laboratory Technology (NBC) offers six certifications.
The six options include certification in implants, removable partial dentures, complete dentures, crowns and bridges, ceramics, and orthodontics. After earning a certification in one of these areas, you receive the Certified Dental Technician (CDT) credential.
The requirements for earning the CDT credential vary depending on whether you have completed a Dental Technology program. Those who have not completed an accredited program need at least five years of work experience with dental technology. Those who have completed a Dental Technology program may start taking certification exams immediately after finishing school.
Earning the CDT credential requires the passing of three exams within four years. The exams include a written comprehensive exam, a written specialty exam, and a hands-on practical exam. Each exam is focused on one of the six specialties available to Dental Lab Technicians. Individuals who earn the CDT credential in five of the six specialties receive the Master CDT designation.
The NBC also offers a CDT Technologist designation for those with extensive experience with Dental Lab Technology. To earn the Technologist designation, you need at least three years of practical experience and a Bachelor's degree or at least five years of experience and an Associate's degree. If you do not have a degree, you need at least seven years of practical experience.
Step 7: Continue Your Education
After working for several years, some Dental Lab Technicians choose to expand their career opportunities by going back to college. The skills and knowledge obtained on the job are useful for related careers, such as becoming an Orthotist or Prosthetist.
What degree do most Dental Laboratory Technicians have
High School Diploma
We did a survey to ask other Dental Laboratory Technicians what degree they had when they first became one. Here are the results.
High School Diploma
---
Post-secondary certificate
---
Associate's degree
---
How long does it take
Two to four years
Most Dental Laboratory Technicians complete two-year programs from community colleges, universities, dental schools, and vocational schools. However, some Technicians choose to earn Bachelor's degrees in Dental Technology, which may take four years.
---
Learn more about Dental Laboratory Technicians
Find a college with the major you want
---
---