How Long Does It Take, What Degree Do You Need, and More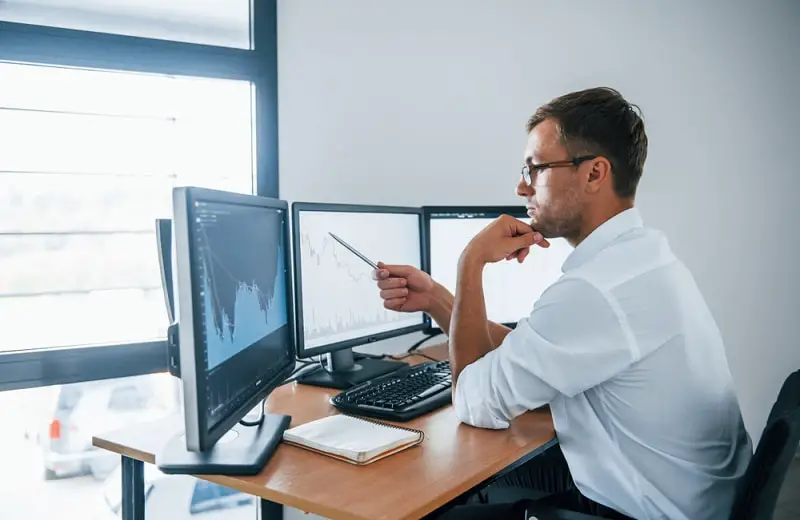 Credit Analysts analyze credit data and financial statements of individuals or firms to determine the degree of risk involved in extending credit or lending money. Prepare reports with credit information for use in decisionmaking.
Education
Bachelor's degree
---
---
---
---
Table of contents
---
Summary
| | |
| --- | --- |
| Degree | Bachelor's degree |
| Degree field | Finance, Accounting, Statistics, Economics, and related fields of study |
| License or certification | Not required |
| Duration to become one | 4 to 5 years |
| Difficulty to become one | Hard |
Credit Analysts typically need at least a Bachelor's degree. Common majors for Credit Analysts include Finance, Accounting, Statistics, Economics, and related fields of study.
Many Credit Analysts need licensing from the Financial Industry Regulatory Authority (FINRA), which is arranged through the employers after starting a job.
---
Featured Schools
Credit Analysts Requirements
Step 1: Take Economics and Math Classes in High School
Credit Analysts require strong math skills and education in economics. If possible, take AP math classes. Completing the highest level of math classes available may help prepare you for a college education while increasing your ability to get accepted into a competitive program.
Step 2: Obtain a Bachelor's Degree in a Relevant Field
Most employers seek Credit Analysts with at least a Bachelor's degree. However, a small number of employers may accept an Associate's degree if a candidate has enough work experience.
The most common majors for Credit Analysts include Finance, Accounting, and Statistics. If you choose to major in Economics, Business Administration, or another field that is not directly related to finance, take additional finance courses. You should understand capital budgeting, capital markets, fiscal policy, monetary policy, financial management, portfolio management, and financing investment analysis.
Step 3: Gain Industry Experience
Many banks and credit providers prefer to hire Credit Analysts who have existing work experience. When choosing a Bachelor's program, look for programs that provide opportunities for internships or work-study programs.
If you cannot find a suitable internship or work-study program, obtain an entry-level position in the financial sector. This may include working as a Teller or accepting a Data Entry position. Many Credit Analysts work as Customer Service Representatives (CSRs) at banks or investment companies before starting their chosen profession.
Step 4: Obtain Entry-Level Credit Analyst Certifications
After obtaining a degree and some relevant work experience, obtain the Credit Analyst certification. This is a voluntary certification for new Credit Analysts. To receive the Credit Analyst certification, you need to take a test administered by the National Association of Credit Analysts (NACA). You also need to pass a background test and complete a specific number of hours of online classes that cover credit analysis. The NACA offers three levels of certification. The first level requires 12 hours of online training, the second level requires 24 hours of training, and the third level requires 36 hours of training.
Another common certification for those entering this field is the Certified Credit and Risk Analyst (CCRA) credential. The CCRA does not require work experience. It is administered by the National Association of Credit Management (NACM) and demonstrates your mastery of credit analysis and credit risk assessments.
Step 5: Seek Entry-Level Credit Analyst Positions
With an entry-level certification from NACA and work experience, you can start looking for Credit Analyst positions. Entry-level positions may include working as a Finance Analyst for a Credit and Collection department or working as an Underwriter.
Common employers include banks, credit card companies, and other lenders. You may also seek employment at investment companies and credit rating agencies.
Step 6: Obtain Advanced Industry Certifications
Advancing in this career typically requires additional industry certifications. Along with the CCRA certification, the NACM offers the following levels of certification:
Credit Business Fellow (CBF)
Certified Credit Executive (CCE)
Certified International Credit Professional (CICP)
International Certified Credit Executive (ICCE)
These certifications typically require several years of experience and the completion of additional online courses.
The American Academy of Financial Management (AAFM) also offers industry certifications, including the Chartered Financial Analyst (CFA) certification. The CFA certification is for professionals with at least four years of experience.
Another certification for experienced Credit Analysts is the Certified Risk Analyst (CRA) certification offered by the Global Academy of Finance and Management (GAFM). You need at least three years of experience and a Master's degree in Finance or Accounting.
Step 7: Join a Professional Association
Joining a professional association is a great way to network with other Credit Analysts, explore job opportunities, and gain access to various resources.
Two of the largest professional associations for Credit Analysts include the Association for Financial Professionals (AFP) and the National Association of Credit Management (NACM), which also oversees many of the industry certifications.
Step 8: Continue Your Education
Continuing your education is not a requirement for Credit Analysts. However, continuing to explore financial and accounting skills can improve your job performance and chances of promotion.
For example, you may choose to earn a Master's degree in Finance or Accounting and broaden your career prospects. A Master's degree may also lead to managerial positions. A Master's degree in Finance or Accounting is also necessary for the Certified Risk Analyst (CRA) credential.
What degree do most Credit Analysts have
Bachelor's degree
We did a survey to ask other Credit Analysts what degree they had when they first became one. Here are the results.
Bachelor's degree
---
Associate's degree
---
High School Diploma
---
How long does it take
4 to 5 years
Becoming a Credit Analyst may take four to five years. While many employers hire entry-level Credit Analysts directly after earning a Bachelor's degree, those with an Associate's degree may need to obtain several years of related work experience.
---
Find a college with the major you want
---
---