How Long Does It Take, What Degree Do You Need, and More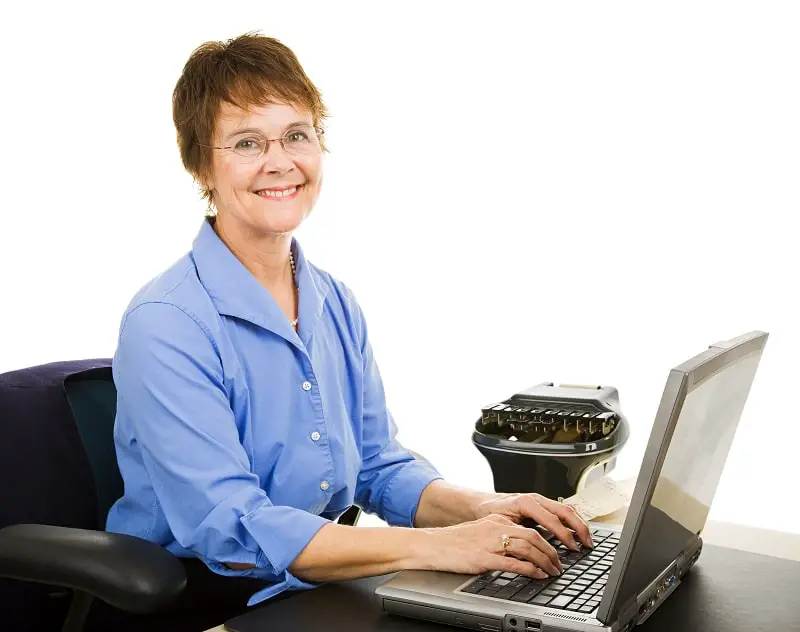 Court Reporters use verbatim methods and equipment to capture, store, retrieve, and transcribe pretrial and trial proceedings or other information. Includes stenocaptioners who operate computerized stenographic captioning equipment to provide captions of live or prerecorded broadcasts for hearing-impaired viewers.
Education
Post-secondary certificate
---
---
---
---
Table of contents
---
Summary
| | |
| --- | --- |
| Degree | Certificate |
| Degree field | Court Reporting |
| License or certification | You need to be certified and in most states, you will also need a license. |
| Duration to become one | 2 years |
| Difficulty to become one | Medium |
To become a Court Reporter, you are not required to earn a four-year Bachelor's Degree, but you need to be certified. In most states, you will also need a license.
You can earn an Associate's Degree at a community college or take classes to obtain post-secondary certification.
Some people choose to earn a Bachelor's Degree in Criminal Justice or a related field. Some states require a professional license. Court Reporters must pass a written exam to earn the license.
---
Featured Schools
Court Reporters Requirements
Step 1: Focus on English and Writing Classes in High School
To be a Court Reporter, it is important to have excellent grammar and vocabulary skills. English classes throughout high school offer an opportunity to develop these skills. Learning how to write well and increasing vocabulary and spelling skills are going to make it easier to be successful as a Court Reporter.
Step 2: Complete a Formal Court Reporter Program
It is necessary to obtain a formal education to become a Court Reporter, but there are choices. Court Reporter programs are offered through Community Colleges where you can earn an Associate's Degree in Court Reporting. In addition, there are Technical Schools and Court Reporter schools that offer professional certificates or diplomas.
Many of these programs follow the standards of the National Court Reporter Association. The students will earn credit hours in machine shorthand, and they have an opportunity to pass dictation tests with an accuracy of at least 95%, which is necessary before becoming a Court Reporter.
In addition, students will take courses in Communications, Language, Writing, Word Processing, Medical Terminology, Foundations of Law, Vocabulary and Usage, Captioning, Court Reporting Procedures, and Court Reporting Transcript Preparation.
Some programs will also offer students an opportunity to work as an intern to gain experience in this field, and they will prepare them for the Certification test.
Step 3: Pass the Certification Exam
The requirement for certification varies from state to state. Some states make it mandatory to pass a certification exam. Other states do not require it, but students have a better opportunity to get a job if they are certified, and they will often earn higher pay. In some states, it is voluntary to get certified.
States with requirements might expect students to pass a state exam, and others will expect them to pass an NCRA sanctioned exam. States can also have requirements for how many words per minute students can type. There are states that have no requirements, such as Delaware and Montana among others. It is important for students to know the requirements in their states before they make a plan.
Step 4: Join the National Court Reporters Association and the State Association
Joining the National Court Reporters Association is a good idea because it provides its members with information on professional opportunities as well as employment and networking opportunities.
Step 5: Find a Job
There are different ways to find a job as a Court Reporter. One option is to find a job through the court system. Courts hire some Court Reporters directly. There are different courts, including Supreme Courts, District Courts, Circuit Courts, and County Courts.
Another option is to get a job with a private court reporting agency. Having certification and credentials will provide a leg up on the competition in this type of job.
Some Court Reporters choose to freelance. They are hired by law firms and build a list of clients over time. It is a good idea to gain some experience before going this route. Many Court Reporters start out with the Courts or with a Private Agency to build a reputation and a client list.
Court Reporters start out at a starting salary, and it can increase as they gain experience. Court Reporters with certification will make the most money. 
Court Reporters usually work 40 hours a week if they work for a private agency or a court. Freelancers can set their own schedules, and some will work fewer than 40 hours, while others will work longer. The work environment can be somewhat stressful because they need to keep very accurate transcripts of what happens in the courtroom or during depositions.
According to the US Department of Labor Statistics, employment in this field is expected to grow around 3% per year. Court Reporters need to have excellent listening and writing skills. They need good reading comprehension skills as well so that they can read and understand legal documents. In addition, they need to have a knack for details and be capable of concentrating for long periods of time.
Step 6: Advance Your Career
The states that require certification might also require continuing education classes. Some states require certain continuing education credits at specific intervals. Court Reporters need to maintain their certification.
As they gain experience, some Court Reporters decide to freelance. This offers a Court Reporter more control over the salary and the hours that they work. After gaining experience in the field, a Court Reporter can start to develop a good reputation for accuracy and speed. This will be beneficial if they want to freelance.
What degree do most Court Reporters have
Post-secondary certificate
We did a survey to ask other Court Reporters what degree they had when they first became one. Here are the results.
Post-secondary certificate
---
Associate's degree
---
Certificate
---
How long does it take
2 years
It takes two years to become a Court Reporter. Most of the Court Reporting programs, whether through a technical program or through a community college that offers an Associate's Degree, can be completed in this time.
It is important to complete coursework in legal procedures, terminology, court reporting procedures, technical dictation, and voce writing technology. All of this coursework helps to develop the skills that are necessary to perform this job well.
Some programs have an internship program so that students can gain some experience before completing the program. It is important that students realize that these programs are intense and demanding. Court Reporters have to be able to transcribe what they hear accurately to ensure that court transcripts are accurate. It is important to be committed to the process. This will create a likelihood of success in this career. It can be a rewarding career for those who enjoy it.
---
Find a college with the major you want
---
---