How Long Does It Take, What Degree Do You Need, and More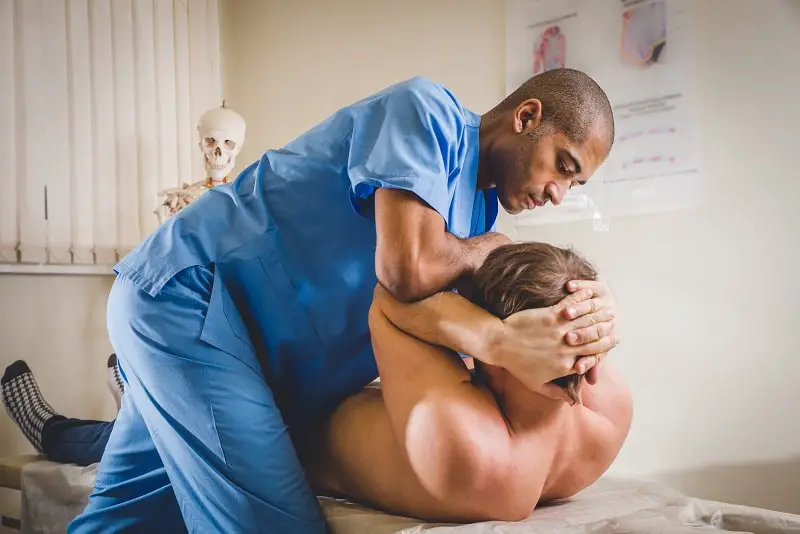 Chiropractors assess, treat, and care for patients by manipulation of spine and musculoskeletal system. May provide spinal adjustment or address sacral or pelvic misalignment.
Education
Doctoral degree
---
---
---
---
Table of contents
---
Summary
| | |
| --- | --- |
| Degree | Doctoral degree |
| Degree field | Aspiring Chiropractors must complete a Doctor of Chiropractic (DC) program. |
| License or certification | All states require Chiropractors to obtain a license by passing the National Board of Chiropractic Examiners (NBCE) exam. |
| Duration to become one | 8 years |
| Difficulty to become one | Very Hard |
Chiropractors require a Doctoral Degree. Aspiring Chiropractors must complete a Doctor of Chiropractic (DC) program.
All states require Chiropractors to obtain a license by passing the National Board of Chiropractic Examiners (NBCE) exam.
---
Featured Schools
Chiropractors Requirements
Step 1: Study Biology in High School
Aspiring Chiropractors should study Biology in high school. Chiropractors manipulate the spine and other parts of the body, which requires knowledge of human anatomy and biology.
Unfortunately, the availability of relevant electives varies from high school to high school. If possible, students should take courses in anatomy, physiology, first aid, and health education. Those planning on opening their own practices someday may also want to take an accounting course or an introduction to business class.
Step 2: Earn a Bachelor's Degree
Most DC programs require applicants to have completed at least 90 hours of undergraduate study. However, most Chiropractors earn a Bachelor's degree instead of meeting the minimum hours of study. Some programs also require a Bachelor's degree.
Doctoral programs for Chiropractors do not require a specific undergraduate major. Many Chiropractors earn Liberal Arts degrees while completing the required prerequisite courses.
Students should also check the admission requirements for their top choices of Chiropractic programs. While Chiropractic programs may not require a specific major, most programs require you to complete specific courses.
Common prerequisites include Physics, Chemistry, and Biology. Kinesiology and Exercise Science also provides a good foundation for aspiring Chiropractors.
Instead of four years of undergraduate study, some Chiropractors choose to enroll in dual-degree programs. These programs lead to both a Bachelor's degree and a Doctor of Chiropractic (DC) degree.
The last year of the Bachelor's program overlaps with the first year of the DC program. This allows students to complete their educational requirements sooner.
Dual-degree programs often include three years of undergraduate study and three years of doctoral coursework. However, the dual-degree programs can be challenging due to the increased coursework.
Step 3: Earn a Doctor of Chiropractic Degree
Chiropractors need a Doctor of Chiropractic (DC) degree to offer chiropractic services and earn a state license. DC programs typically take three to four years to complete.
The program must be accredited by the Council on Chiropractic Education. Sixteen programs are currently accredited in the United States while another nine programs are accredited in other countries.
Due to the limited number of accredited Chiropractic programs, only a limited number of students can enroll each year. This leads to increased competition, especially among the most popular programs.
To increase their chance of getting accepted, students should ensure that they maintain a positive GPA in high school and during their undergraduate studies.
Chiropractic programs are often divided into three phases. Students first study the basic sciences, including Biology, Anatomy, and Physiology.
The second phase of the program focuses on clinical sciences and Chiropractic principles. Students study physician-patient interaction and how to perform physical examinations. The second phase is when students typically begin learning hands-on Chiropractic techniques.
The final phase of the program consists of a clinical internship. Students complete internships at hospitals, clinics, and other real-world settings where they get to interact with patients and apply the techniques that they have learned.
Step 4: Pass the NBCE Exam
Before earning a state license to practice chiropractic medicine, Chiropractors must pass all four parts of the National Board of Chiropractic Examiners (NBCE) exam.
The NBCE exam is given twice per year. The first part consists of 50 multiple-choice questions and focuses on the basic sciences, including Chemistry, Physiology, and Anatomy. The second part also includes 50 questions. It covers six areas of clinical science, including General Diagnosis and the Principles of Chiropractic.
Part three consists of 110 questions and delves deeper into clinical work. Students are tested on the best practices for case management, diagnostic imaging, and patient case history.
The final part of the exam requires students to demonstrate their practical skills and knowledge by employing Chiropractic techniques. Students can take the fourth part of the exam when they are within six months of graduation.
Step 5: Obtain a State License
The licensing requirements for Chiropractors vary from state to state. However, Chiropractors typically need to pass the NCBE exam and a background check.
Many states also have state-specific law exams, which are called jurisprudence exams. The jurisprudence exam ensures that practicing Chiropractors are aware of their legal responsibilities.
Step 6: Earn a Diplomate Credential
Earning a diplomate credential is an optional step for those who want to specialize in a specific area of chiropractic medicine. Students may receive training in Orthopedics, Pediatrics, Rehabilitation, and other areas of specialization.
The American Chiropractic Association is affiliated with a variety of boards that offer diplomate credentials. Most of the diplomate programs involve three years of post-doctoral study followed by an exam administered by the NBCE.
Step 7: Look for Work in Your Field
After obtaining a state license, Chiropractors can begin looking for work in their chosen field. Employment of Chiropractors is expected to increase over the next decade, providing new Chiropractors with a variety of employment opportunities throughout the country.
Those with specializations, such as a diplomate credential, may find it easier to gain employment after college.
Most Chiropractors work for private practices established by experienced Chiropractors. Group practices are the most common, as they employ a team of Chiropractors. Chiropractors may also find employment through the clinics or practices where they completed their internships.
Along with private practices, Chiropractors may find work at health clinics, sports rehabilitation facilities, and Veterans Affairs (VA) hospitals. Public hospitals rarely staff Chiropractors anymore.
Step 8: Continue Your Education
All states require Chiropractors to meet specific continuing education (CE) requirements to maintain their state licenses. As with the other licensing details, the CE requirements vary, requiring Chiropractors to check with their state's board of Chiropractic examiners for more information.
Chiropractors typically earn CE credits by attending lectures, seminars, or college courses.
What degree do most Chiropractors have
Doctoral degree
We did a survey to ask other Chiropractors what degree they had when they first became one. Here are the results.
Doctoral degree
---
First Professional degree
---
Post-secondary certificate
---
How long does it take
8 years
Chiropractors typically earn a Bachelor's degree, which takes four years to complete, before earning a Doctor of Chiropractic (DC) degree. The DC degree also takes four years.
---
Find a college with the major you want
---
---