How Long Does It Take, What Degree Do You Need, and More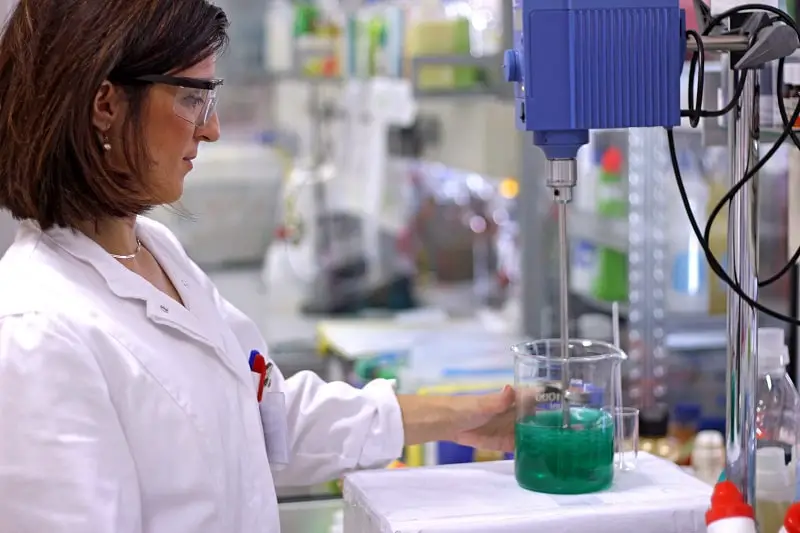 Chemical Engineers design chemical plant equipment and devise processes for manufacturing chemicals and products, such as gasoline, synthetic rubber, plastics, detergents, cement, paper, and pulp, by applying principles and technology of chemistry, physics, and engineering.
Education
Bachelor's degree
---
---
---
---
Table of contents
---
Summary
| | |
| --- | --- |
| Degree | Bachelor's degree |
| Degree field | Chemical Engineering, Chemistry, Biochemistry, and related fields of study |
| License or certification | Not required |
| Duration to become one | 4 to 6 years |
| Difficulty to become one | Hard |
Chemical Engineers need at least a Bachelor's Degree, but research and development positions may require a Master's Degree. Common majors for Chemical Engineers include Chemical Engineering, Chemistry, Biochemistry, and related fields of study.
Chemical Engineers do not typically need a professional license or certification but may benefit from a Professional Engineering (PE) license.
---
Featured Schools
Chemical Engineers Requirements
Step 1: Study Chemistry and Math in High School
High school students should excel at Chemistry and Math, as these subjects are an essential part of the college coursework for Chemical Engineers. Physics and Biology are also essential subjects.
Step 2: Earn a Bachelor's Degree
According to the Bureau of Labor Statistics (BLS), Chemical Engineers need at least a Bachelor's Degree. Chemical Engineering is the most common major for this profession.
Chemical Engineering is not the only option. Yet, the major should be related to Chemistry or Engineering. For example, some Chemical Engineers major in Chemistry, Biochemistry, or Forensic Chemistry while taking additional Engineering courses.
Other useful courses include Computer Programming, Instrumentation Lab, Statistics, Fluid Dynamics, and Engineering Thermodynamics.
When choosing any type of Engineering program, including Chemical Engineering, look for programs accredited by the Accreditation Board for Engineering and Technology (ABET). Completing an ABET-accredited program looks good on resumes and is required for earning a Professional Engineer (PE) license.
Step 3: Consider Earning a Master's Degree
A Master's Degree may be required for research and development (R&D) positions or working as a postsecondary teacher. Earning a Master's Degree can also lead to greater job prospects and earning potential for Chemical Engineers.
Some universities offer five-year Chemical Engineering programs that lead to both a Bachelor's Degree and a Master's Degree. These dual programs typically reduce the time needed to earn both degrees by about one year.
Step 4: Apply for an Internship
Aspiring Chemical Engineers should look for internship opportunities or cooperative programs during college. Many colleges and universities establish relationships with local industry partners. These partnerships give students the chance to receive hands-on experience and network with professionals.
When exploring internships and work-study programs, students should think about the industry that they would like to work in. For example, Chemical Engineers may work in the food, pharmaceuticals, petrochemicals, manufacturing, or environmental industries.
Students can find internships and work-study programs through their university or college. The American Chemical Society also maintains a list of available opportunities.
Step 5: Consider Earning a Phd
A PhD in Chemical Engineering is typically only needed for teaching at a collegiate level or working at the highest levels of research and development. It often takes several years to complete after earning a Master's Degree.
Before enrolling in a PhD program, students must choose between earning a Doctor of Philosophy or a Doctor of Science. The degrees are virtually identical. However, a Doctor of Science degree is typically pursued by those who plan on working in research and development while a Doctor of Philosophy is often needed for teaching jobs.
Students earning a PhD may also choose an area of specialization, such as Biomedical Engineering or Chemical Physics.
Step 6: Look for Entry-Level Chemical Engineering Jobs
After finishing college, apply for entry-level Chemical Engineering jobs as soon as possible. Employers prefer to hire candidates with minimal gaps in education or employment.
Job titles may include Entry-Level Chemical Engineer, Support Engineer, or Junior Engineer. Entry-level workers typically receive on-the-job training and work under the supervision of senior Chemical Engineers.
Step 7: Join One or More Professional Organizations
Joining one or more professional organizations can help with job searches. For example, the American Institute of Chemical Engineers (AIChE) provides resources for job seekers, including a job board, career fairs, and networking opportunities.
Many Chemical Engineers also join the National Society of Professional Engineers. The NSPE also has a job board and offers a variety of resources for helping with a career in Chemical Engineering.
Step 8: Become a Professional Engineer
Chemical Engineers do not typically need a Professional Engineer (PE) license in their line of work. However, earning a PE license can lead to higher levels of leadership and more job opportunities.
Earning a PE license involves several steps. You first need to pass the Fundamentals of Engineering (FE) exam. The exam is administered by the National Council of Examiners for Engineering and Surveying (NCEES).
The NCEES offers the FE exam in seven different disciplines. Chemical Engineers typically take the FE Chemical exam, which includes 110 questions. The topics covered include materials science, thermodynamics, mathematics, chemistry, and more. The chemistry portion of the exam includes questions in each of the main subdisciplines, such as inorganic and organic chemistry.
After passing the FE exam and completing at least four years of relevant work experience, you may apply to take the PE exam. As with the FE exam, Chemical Engineers typically take the PE Chemical exam, which covers Engineering and Chemistry topics.
The PE Chemical exam includes 80 questions. Applicants who pass the exam receive a Professional Engineer license. Some laboratories may require a PE license before allowing employees to supervise others in the lab.
Step 9: Consider Pursuing Related Jobs
Many Chemical Engineers gradually transition to other roles within the manufacturing industry. For example, Chemical Engineers may use their knowledge to become Sales Engineers or Engineering Managers.
What degree do most Chemical Engineers have
Bachelor's degree
We did a survey to ask other Chemical Engineers what degree they had when they first became one. Here are the results.
Bachelor's degree
---
Master's degree
---
Doctoral degree
---
How long does it take
4 to 6 years
Most Chemical Engineers hold Bachelor's Degrees, which often require four years of coursework. Some jobs may require a Master's Degree, adding two more years of education.
---
Find a college with the major you want
---
---