How Long Does It Take, What Degree Do You Need, and More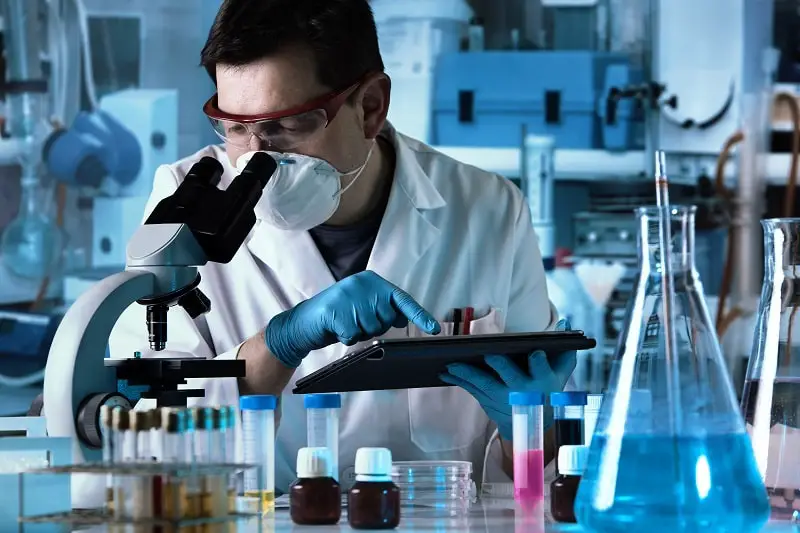 Biochemical Engineers develop usable, tangible products, using knowledge of biology, chemistry, or engineering. Solve problems related to materials, systems, or processes that interact with humans, plants, animals, microorganisms, or biological materials.
Education
Bachelor's degree
---
---
---
---
Table of contents
---
Summary
| | |
| --- | --- |
| Degree | Bachelor's degree |
| Degree field | Biochemical Engineering, Bioengineering, or a related Engineering degree with a minor in the Biological Sciences |
| License or certification | Not required |
| Duration to become one | Four to five years |
| Difficulty to become one | Hard |
Biochemical Engineers need to hold a Bachelor's Degree for most jobs in this field, but some advanced positions may require a Master's Degree. Employers typically look for candidates with degrees in Biochemical Engineering, Bioengineering, or a related Engineering degree with a minor in the Biological Sciences.
Certifications and licenses are not required to become a Biochemical Engineer but may lead to increased job opportunities.
---
Biochemical Engineers Requirements
Step 1: Study Science and Math in High School
High school students should excel at Science and Math if they want to become Biochemical Engineers. Chemistry and Biology are especially important subjects for understanding how chemical reactions can impact biological processes.
Step 2: Earn a Bachelor's Degree
Biochemical Engineers need at least a Bachelor's Degree. Biochemical Engineers may choose to major in Biochemical Engineering or Bioengineering. These programs often include classes in Biology, Chemistry, Chemical Engineering, Biotechnology, Mathematics, and Computer Programming.
Biochemical Engineering and Bioengineering programs often come with a long list of prerequisite courses. You may need to take Algebra, Geometry, Calculus, Biology, Chemistry, and Physics before declaring your major and getting accepted into a program.
General Engineering degrees are also acceptable for this career. Students who complete a traditional Engineering program should supplement their education with courses in the biological sciences. Engineering programs should be accredited by the Accreditation Board for Engineering and Technology (ABET). ABET has accredited over 4000 Engineering programs in 32 countries.
Students may also major in Biology or Chemistry. However, those who major in a field of science should also take Engineering courses.
Step 3: Complete an Internship or Research Project
Employers often expect candidates for entry-level jobs to have some form of work experience, typically through internships, research projects, or cooperative programs completed during college. Many degree programs help students find suitable internships and cooperative programs.
Most internships and cooperative programs are completed in laboratory settings. The interns are often responsible for assisting Biochemical Engineers and other professionals. They may prepare and maintain equipment, perform basic research, and handle various administrative and data entry tasks.
Step 4: Consider Earning a Master's Degree
A Master's Degree may be necessary for advanced Biochemical Engineering positions, including research positions and management roles. Students may major in Biochemical Engineering, a related field of study, or Chemistry.
Biochemical Engineers who earn a Master's in Biochemical Engineering may choose to specialize in a certain area of their profession. Some of the common subfields for this career include Enzyme Engineering, Metabolic Engineering, and Tissue Engineering.
Enzyme Engineering focuses on the production of chemicals through enzymes. Metabolic Engineering involves the production of metabolites using molecular genetics. Tissue Engineering is the process of treating a disease or damaged tissues with living cells.
Biochemical Engineers may also choose to go back to college after starting their careers. Many Master's programs allow students to enroll part-time, making it easier to balance work and school. Most Master's programs take 18 to 24 months to complete. However, individuals that enroll part-time may spend an extra 6 to 12 months earning their degree.
Biochemical Engineers who want to advance their careers may also earn Master's Degrees in different fields, such as a Master's of Business Administration (MBA) Degree or a program related to the industry that they work. For example, a Biochemical Engineer that works in food production may obtain a degree in Food Production Management to further their career.
Step 5: Look for Entry-Level Biochemical Engineer Jobs
Biochemical Engineers do not typically start in other positions. They often apply for positions labeled as "Entry-Level Biochemical Engineer" or "Junior Biochemical Engineer." Some employers may also offer a position called Biochemical Technician, which is also a common path to the position of Biochemical Engineer.
Newly hired employees often work under the supervision of experienced Biochemical Engineers. They receive on-the-job training and gradually receive more complex projects and less direct supervision.
Step 6: Consider Earning a Doctorate
Doctorates are less common for Biochemical Engineers. Earning a Ph.D. is typically only required for the highest levels of research, such as leading a large research project at a major corporation. A Ph.D. is also necessary for those who want to become professors of Biochemical Engineering.
Step 7: Join a Professional Organization
Biochemical Engineers can keep track of the latest developments in their industry by joining the Society for Biological Engineering (SBE). The SBE gives professionals access to resources, education, and events.
Members also receive discounts on upcoming Biological Engineering conferences. The networking opportunities are also useful for those who want to explore career options in other regions.
What degree do most Biochemical Engineers have
Bachelor's degree
We did a survey to ask other Biochemical Engineers what degree they had when they first became one. Here are the results.
Bachelor's degree
---
Doctoral degree
---
Master's degree
---
How long does it take
Four to five years
Biochemical Engineers often need at least a Bachelor's Degree, which is typically a four-year process. However, due to the variety of coursework and prerequisites, a Biochemical Engineering program may occasionally take five years to complete. After graduating, Biochemical Engineers often find entry-level work and receive on-the-job training.
---
Learn more about Biochemical Engineers