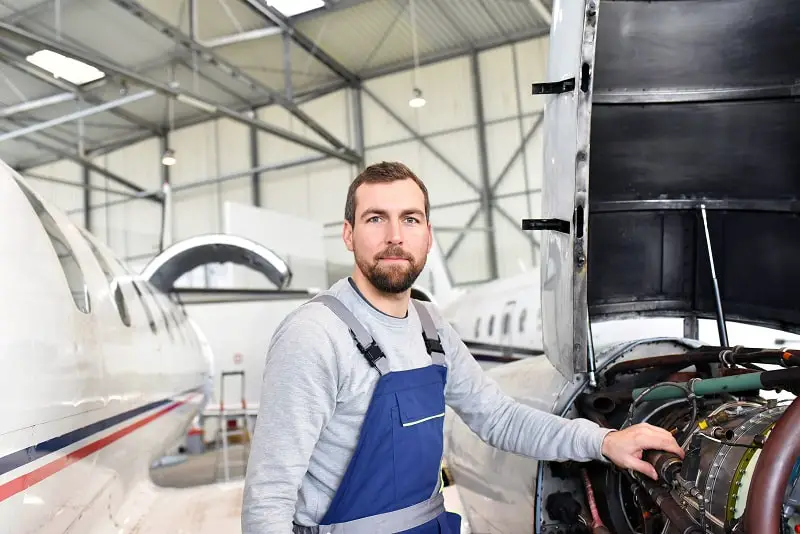 Avionics Technicians
install, inspect, test, adjust, or repair avionics equipment, such as radar, radio, navigation, and missile control systems in aircraft or space vehicles.
Education:
Post-secondary certificate
---
Table of contents
| | |
| --- | --- |
| Degree | Post-secondary certificate |
| Degree field | Specialized training program from an FAA-approved institution |
| License or certification | Many Avionics Technicians earn voluntary certifications from the FAA or FCC to advance their careers. |
| Duration to become one | 4 years |
| Difficulty to become one | Medium |
Featured Engineering Schools
Avionics Technicians Requirements
Step 1: Learn More About Electronic Systems in High School
Aspiring Avionics Technicians can start developing relevant skills in high school by working with electronic systems. Learn about the basics of electronics, including electrical currents, voltage, resistance, inductance, and capacitance. Electronics classes or online learning can prepare you for the courses you will need to take after high school.
Step 2: Complete an Avionics Technician Program
The minimum educational requirement for Avionics Technicians is the completion of a specialized training program from an FAA-approved institution. These programs are typically offered through vocational schools and may last 18 to 24 months.
Some vocational institutions offer accelerated training programs for those who already have some training or experience with electronics repair or aircraft maintenance. These programs may last six to eight months.
Avionics Technician programs teach students the basics of operating and maintaining the electrical systems on an aircraft. This includes all avionics, radar, and communication systems.
After completing the program, you receive an Avionics Technician certificate. The certificate may also be called an "Applied Science in Avionics" certificate.
Step 3: Earn an Associate's Degree
Earning an Associate's degree is not a requirement for Avionics Technicians. However, a college degree can help with employment and provide additional training before starting your career.
Many Avionics Technicians choose to earn an Associate's degree in Avionics Maintenance Technology (AMT). An AMT program provides additional training for testing, inspecting, and repairing aircraft engines and all related systems.
The certificate programs tend to focus on the electrical components while AMT programs focus on the powerplant of the aircraft. You also learn more about working with related components, such as the wings, fuselage, fuel system, and hydraulic and pneumatic systems. Common courses include Engine Overhaul, Electrical Systems, Assembly and Rigging, Aircraft Welding, and Propulsion Theory.
While some Avionics Technicians may choose to pursue a Bachelor's degree, an Associate's degree is often the highest level of education achieved by those in this field.
Step 4: Seek Entry-Level Work
Avionics Technicians are primarily employed in the Aerospace industry. They often work for companies that design and manufacture aerospace products and parts. However, they are also employed by airline companies, private airports, and other aircraft facilities.
The minimum requirement is typically the completion of a two-year Avionics Technician program. However, some employers may prefer to hire candidates with an Associate's degree.
Step 5: Earn Voluntary Professional Certifications
There is a wide range of voluntary certifications for completing aircraft maintenance duties. Many of the certifications obtained by Avionics Technicians are administered by the Federal Aviation Administration (FAA) and the Federal Communications Commission (FCC).
One of the most common certificates for Avionics Technicians is the combined Airframe & Power Plant (A&P) certificate. The A&P certificate has become the industry standard for Avionics Technicians. Many Avionics Technicians also obtain the General Radiotelephone Operator license from the FCC.
The National Center for Aerospace and Transportation Technologies (NCATT) worked with the FAA to develop the Aircraft Electronics Technician (AET) standard. Becoming AET certified demonstrates your fundamental knowledge of aircraft repair and maintenance.
You typically need experience repairing and maintaining aircraft before becoming eligible for one of these professional certificates. Many employers assist newly hired Avionics Technicians with the necessary training and may provide time off for testing.
What degree do most Avionics Technicians have
Post-secondary certificate
We did a survey to ask other Avionics Technicians what degree they had when they first became one. Here are the results.
Post-secondary certificate
---
High School Diploma
---
Associate's degree
---
How long does it take
4 years
Most Avionics Technicians complete a two-year vocational program and a two-year Associate's degree before seeking work in this field.
Mechanical Engineering Technicians

apply theory and principles of mechanical engineering to modify, develop, test, or calibrate machinery and equipment under direction of engineering staff or physical scientists.

Salary

$58240

Commercial Divers

work below surface of water, using scuba gear to inspect, repair, remove, or install equipment and structures. May use a variety of power and hand tools, such as drills, sledgehammers, torches, and welding equipment. May conduct tests or experiments, rig explosives, or photograph structures or marine life.

Salary

$59470

Telecom Equipment Technicians

install, set-up, rearrange, or remove switching, distribution, routing, and dialing equipment used in central offices or headends. Service or repair telephone, cable television, Internet, and other communications equipment on customers' property. May install communications equipment or communications wiring in buildings.

Salary

$57080

Helpers of Technicians

help installation, maintenance, and repair workers in maintenance, parts replacement, and repair of vehicles, industrial machinery, and electrical and electronic equipment. Perform duties such as furnishing tools, materials, and supplies to other workers; cleaning work area, machines, and tools; and holding materials or tools for other workers.

Salary

$31390

Security and Fire Alarm Installers

install, program, maintain, or repair security or fire alarm wiring and equipment. Ensure that work is in accordance with relevant codes.

Salary

$48540
---
---
Find a college with the major you want
---
---