How Long Does It Take, What Degree Do You Need, and More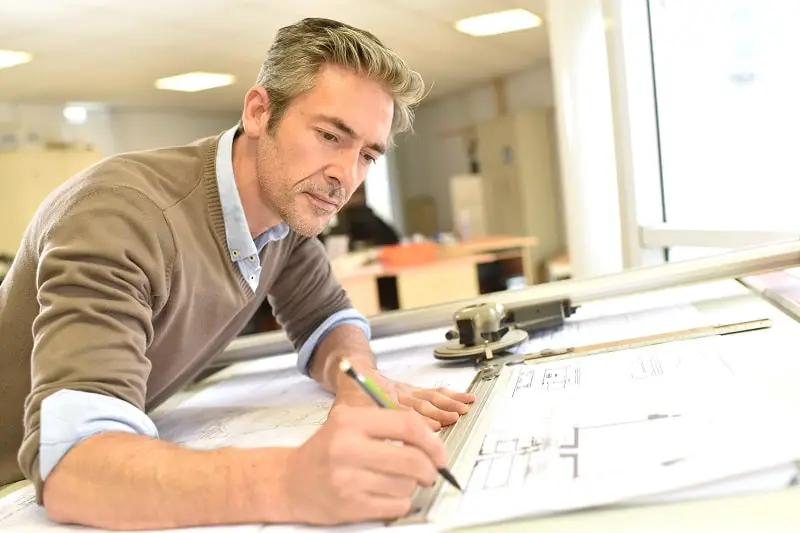 Architects plan and design structures, such as private residences, office buildings, theaters, factories, and other structural property.
Education
Bachelor's degree
---
---
---
---
Table of contents
---
Summary
| | |
| --- | --- |
| Degree | Bachelor's degree |
| Degree field | Architecture |
| License or certification | All states require Architects to be licensed. |
| Duration to become one | 8 years |
| Difficulty to become one | Hard |
Architects need to hold at least a Bachelor's degree. Most states require Architects to obtain a Bachelor's degree in Architecture through one of the more than 120 schools accredited by the National Architectural Accrediting Board.
After graduating and completing an internship, Architects typically need to obtain a professional license by passing the Architect Registration Examination.
---
Featured Schools
Architects Requirements
Step 1: Take Relevant High School Classes
High school students who are interested in becoming Architects should complete math and science classes. Algebra, geometry, calculus, trigonometry, and physics are often prerequisites for enrolling in an Architectural program. Taking AP courses may help a student get accepted into a competitive Architectural program. AP calculus, physics, and design also help students understand the concepts used in architecture.
Several colleges offer Architecture summer programs for high school students. These programs allow students to explore the curriculum of the program to determine if architecture is the right field.
Step 2: Enroll in a Bachelor's Degree Program
Architects require a Bachelor's degree in Architecture. Most Bachelor of Architecture degree programs last five years. These programs include courses in building design, architectural history, and the use of computer-aided design (CAD) software.
About two-thirds of US states require Architects to complete degree programs that are accredited by the National Architectural Accrediting Board (NAAB). Five-year Bachelor programs in Architecture are typically called "B. Arch". During the first two years of these programs, students focus on the history of architecture and basic building skills. The final three years of the program cover building technology, drafting, and computer-aided design.
Step 3: Complete an Architecture Internship
Before becoming a licensed Architect, you need to complete three years of training. The training is typically completed through a paid internship after graduating from an accredited Bachelor's program or Master's program.
Most internships are arranged through the Intern Development Program (IDP), which is administered by the National Council of Architectural Registration Boards (NCARB).
The IDP program requires interns to complete a total of 5600 hours of work experience. The internship needs to include experience in four core areas: pre-design, design, practice management, and project management.
Step 4: Earn a Master's Degree in Architecture
A Master's degree is not a requirement for becoming an Architect. However, a growing number of Architects hold a graduate degree. It can increase your employability and provide additional training.
A Master's degree is also a suitable option for those who already hold a Bachelor's degree in an unrelated field. Many colleges and universities offer separate Master's programs for students with an unrelated degree and students with a B. Arch.
The length of time needed to complete a Master's program depends on your existing Architectural education. For example, if you have a B. Arch, the Master's program may only take one to two years to complete. If you have an unrelated degree, the Master's program may take three years to complete.
Step 5: Pass the Architect Registration Examination
After completing an internship, aspiring Architects must pass the Architect Registration Examination (ARE). As with the internships, the ARE is administered by the NCARB. The ARE is designed to test architectural practices related to the health, safety, and welfare of a building. The test includes six separate divisions, which are completed separately at approved test centers.
A passing score on the ARE test is valid for five years. Before the time limit expires, you need to apply for a state license.
Step 6: Apply for a State License
All states require Architects to be licensed. The licensure process varies depending on your jurisdiction. However, the basic requirements are often the same. Most states require you to complete a NAAB-accredited Architectural program. You must also document your work experience, which is mostly obtained through the three-year internship. You must also pass the ARE test and meet any extra requirements in your jurisdiction.
If you meet the requirements, you receive a license from the state. You may also obtain a national license through the NCARB. The national license may allow you to work in multiple states without obtaining separate licenses in each state.
Step 7: Continue Your Education
Some states require Architects to continue their education to maintain a professional license. The licensing requirements for Architects vary but most states allow Architects to fulfill their continuing education requirements by attending workshops, conferences, university classes, and self-study courses.
Step 8: Join a Professional Association
Joining a professional association provides Architects with opportunities for networking, industry news, job placement, and continuing education.
The largest associations for Architects include the American Institute of Architects (AIA), which also assists with the internship programs. There are also dozens of regional and state associations for Architects.
What degree do most Architects have
Bachelor's degree
We did a survey to ask other Architects what degree they had when they first became one. Here are the results.
Bachelor's degree
---
Master's degree
---
First Professional degree
---
How long does it take
8 years
It typically takes about eight years to become an Architect as most Bachelor of Architecture programs take five years to complete plus an additional three years of paid internship.
---
Find a college with the major you want
---
---