How Long Does It Take, What Degree Do You Need, and More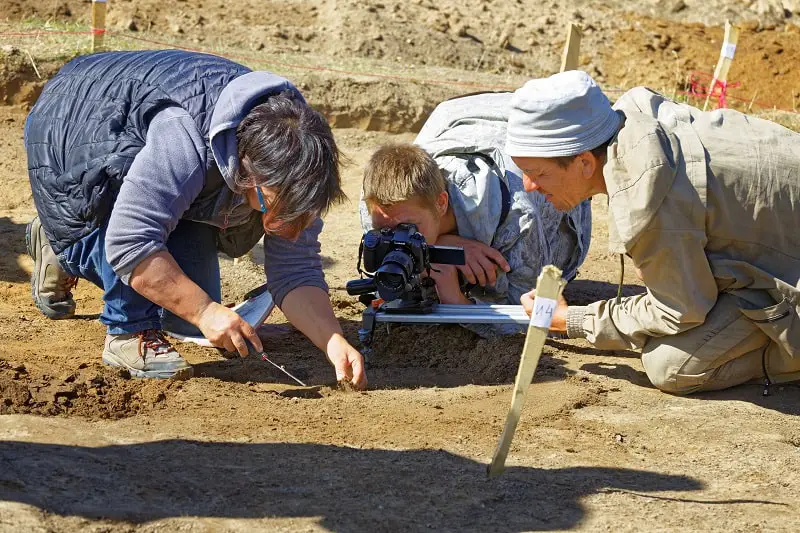 Archeologists conduct research to reconstruct record of past human life and culture from human remains, artifacts, architectural features, and structures recovered through excavation, underwater recovery, or other means of discovery.
Education
Doctoral degree
---
---
---
---
Table of contents
---
Summary
Archeologists typically need a Master's degree to enter this field.
Most Archeologists earn their Master's degrees in Archeology.
There are no major certifications or licenses needed for Archeologists, but you may join one of several professional organizations.
---
Featured Schools
Archeologists Requirements
Step 1: Explore Archeology During High School
Aspiring Archeologists should begin exploring this career in high school through online research or Archeology summer programs. Summer programs are often used by universities and colleges as recruitment tools to attract students to their Archeology programs.
Step 2: Earn a Bachelor's Degree
You will need to earn a Bachelor's degree before applying to a Master's program. Relevant majors include Archeology, Anthropology, History, and Geography.
Archeology is not a common field of study for Bachelor's programs. It is more common for aspiring Archeologists to earn a Bachelor of Science (BS) in Anthropology. Anthropology programs include coursework in Archeology, Cultural Anthropology, Biological Anthropology, and Linguistics.
Step 3: Find an Internship or Field School
During or after your undergraduate studies, you may have the chance to participate in an internship or a field school. These opportunities provide valuable hands-on training and experience. When you enroll in a field school, you typically travel to historical and archeological sites to practice excavating techniques and how to record your findings.
Some aspiring Archeologists may use the experience gained through an internship or field program to find employment as Research Assistants or Laboratory Technicians.
Step 4: Earn a Master's Degree in Archeology
Most Archeologists have Master's degrees in Archeology. A Master's of Science in Archeology program typically requires two years of study.
Archeology programs are often designed to accommodate different career paths. Traditional programs are designed as part of the educational path to earning a PhD. They focus on research and history. Applied Archeology programs focus on teaching the students the skills needed for careers outside of academia and research, such as the technical skills needed for field research.
Master's programs also allow students to focus on specific areas of study, such as Osteology, which is the study of bones. You may also study a specific period, such as Medieval Archaeology or Modern Archaeology.
Step 5: Look for Work as an Archeologist
You can start looking for work after earning your Bachelor's or Master's degree. It is important to seek employment soon after graduation to begin gaining the experience needed to become an Archeologist.
Many aspiring Archeologists start with entry-level jobs at laboratories or archeological sites. You may work as a Site Excavation Technician, Archeological Lab Technician, or a Research Assistant.
If you cannot find work in the field after college, consider volunteering for excavation projects. Volunteering helps you gain experience and professional connections that may increase your chances of finding employment.
Step 6: Join Professional Organizations
There are several major professional organizations dedicated to the field of Archeology. Joining one or more organizations can provide access to networking opportunities, continuing education courses, and seminars.
The Society for Historical Archaeology (SHA) and the Society for American Archaeology (SAA) are the leading archaeological societies in the United States.
Many Archeologists also join the Register of Professional Archaeologists (RPA). The RPA requires applicants to hold a graduate degree from an accredited institution. Joining the RPA demonstrates to employers that you follow a standard code of research ethics.
Step 7: Earn a PhD to Advance Your Career
A Master's degree and work experience should qualify you for most Archeology positions. However, a PhD may be necessary for some positions. For example, foreign governments often require visiting Archeologists to hold Doctoral degrees. You also need a PhD to teach at colleges and universities.
Doctoral programs often take two to three years to complete. You typically need to complete a Doctoral dissertation, which involves 18 to 30 months of field research. Additional requirements include reading proficiency in at least two foreign languages and the completion of teaching responsibilities. 
What degree do most Archeologists have
Doctoral degree
We did a survey to ask other Archeologists what degree they had when they first became one. Here are the results.
Doctoral degree
---
Master's degree
---
Bachelor's degree
---
How long does it take
6 years or longer
Archeologists often have Master's degrees in Archeology. Earning a Master's degree typically takes two years while a Bachelor's degree often takes four years to complete. If you plan on working for universities as a Professor or Researcher, you will need to earn a PhD, which may add several more years to your educational path.
---
Find a college with the major you want
---
---