How Long Does It Take, What Degree Do You Need, and More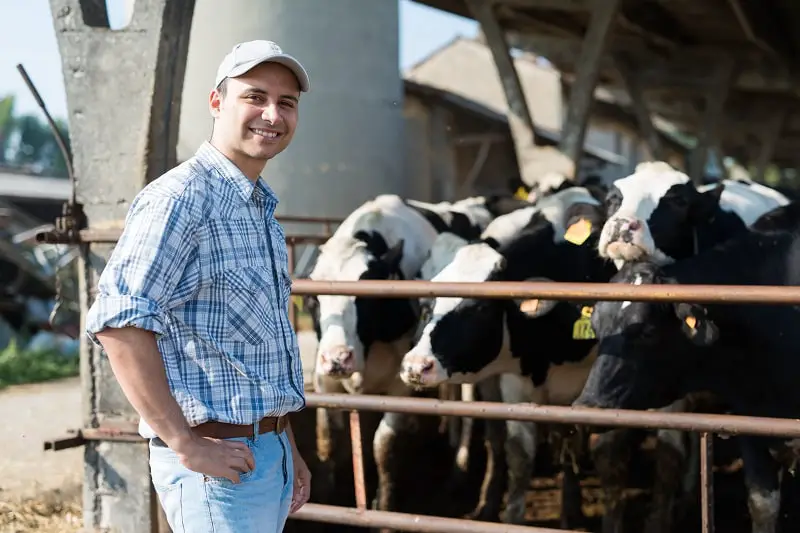 Animal Breeders select and breed animals according to their genealogy, characteristics, and offspring. May require knowledge of artificial insemination techniques and equipment use. May involve keeping records on heats, birth intervals, or pedigree.
Education
No degree required
---
---
---
---
Table of contents
---
Summary
| | |
| --- | --- |
| Degree | At least a Bachelor's degree to work in the livestock industry but do not need a degree to breed domesticated animals such as dogs |
| Degree field | Animal Science |
| License or certification | No certification required but some states may require breeders to be registered |
| Duration to become one | 0 to 4 years |
| Difficulty to become one | Easy |
Animal Breeders often need at least a Bachelor's degree to work in the livestock industry but do not need a degree to become independent breeders of domesticated animals, such as dogs. The most common major is Animal Science. Animal Breeders do not need certification, but some states may require them to become registered.
---
Featured Schools
Animal Breeders Requirements
Step 1: Study Science in High School
Animal Breeders often major in Animal Science, which requires knowledge of Biology and Chemistry. High school students should try to excel in these courses.
Joining a 4-H club or a National Future Farmers of America (FFA) club can also teach useful skills to aspiring Animal Breeders. Volunteering on a farm is another way to gain hands-on experience and become more comfortable around livestock.
Step 2: Decide What Types of Animals You Want to Breed
The type of animals that you plan on breeding will impact your educational requirements and career path. There are three main groups of Animal Breeders – Independent Breeders, Livestock Breeders, and Laboratory Breeders.
Step 3: Complete a Breeding Course for the Species You Want to Breed
If you plan on becoming an Independent Breeder, consider taking a course on breeding animals from a community college or vocational school. Independent Breeders often breed domesticated animals, such as dogs, for pet stores or private buyers.
Becoming a Dog Breeder or Independent Breeder does not require a college education. However, Dog Breeders typically need a kennel license from their local county animal control office if they breed more than two litters per year.
Step 4: Earn a Bachelor's Degree
Individuals who plan on breeding livestock or laboratory animals will typically need to earn at least a Bachelor's Degree. However, some farms may hire individuals with no experience and train them on the job.
Professional Animal Breeders often major in Animal Science or a related degree. Common courses include Reproductive Science, Genetics, and Animal Breeding.
Earning a Bachelor's Degree in Animal Science typically takes four years. During the first year of the program, students often take foundational courses in math and science. Some Animal Science programs allow students to focus on specialized tracks, such as animal management or marketing.
Animal Science programs also tend to provide internship opportunities at local zoos or veterinary hospitals. The internships allow students to interact with animals and practice some of the skills that they have covered in the classroom.
Step 5: Consider Earning a Master's Degree
Animal Breeders who want to increase their career prospects or seek research positions may benefit from a Master's Degree. Earning a Master's Degree in Animal Science allows Animal Breeders to focus their studies on a specific concentration.
Animal Science offers a variety of concentrations, including genetics, animal behavior, and exercise physiology. However, animal breeding, production, and meat science specializations are the most beneficial for aspiring Animal Breeders.
Instead of majoring in Animal Science, Animal Breeders may choose a related field of study to supplement their existing skills and knowledge. For example, an Animal Breeder may earn a Master of Science in Agriculture, as they are likely to work in the agriculture and food production industries.
A Master's Degree in Business Administration (MBA) is useful for those who want to pursue management positions at a facility that breeds animals. An MBA provides students with the skills needed to manage workers and business operations.
Step 6: Seek Entry-Level Jobs
Some individuals may struggle to find work as an Animal Breeder immediately after college, as employers occasionally prefer several years of work experience.
If you need work experience, consider finding entry-level work as a general laborer at the type of facility where you would like to work. After getting your foot in the door it is often easier to seek promotions.
Farms are more likely to require work experience. Livestock Breeders often receive on-the-job training and may need to spend one to two years working as a general laborer.
Step 7: Look for Animal Breeders Jobs
After earning more work experience, start looking for Animal Breeder positions. Most Animal Breeders work in the agricultural industry. They are often called "Livestock Breeders."
Working as a Livestock Breeder involves using artificial insemination techniques to maintain the populations of livestock on farms or to promote desirable traits in the next generation of livestock. Common employers include commercial farms that require Animal Breeders for animal production. Animal Breeders may also find work at slaughterhouses and animal processing facilities.
Animal Breeders may also work in laboratories. Laboratory Breeders help breed animals for use in scientific experiments and research projects. Employers for Laboratory Breeders include private research labs and pharmaceutical companies.
What degree do most Animal Breeders have
High School Diploma
We did a survey to ask other Animal Breeders what degree they had when they first became one. Here are the results.
High School Diploma
---
Post-secondary certificate
---
Certificate
---
How long does it take
0 to 4 years
Animal Breeders who breed domesticated animals do not need a degree. However, professional Animal Breeders often need a Bachelor's Degree in Animal Science, which may take four years to earn.
---
Find a college with the major you want
---
---