How Long Does It Take, What Degree Do You Need, and More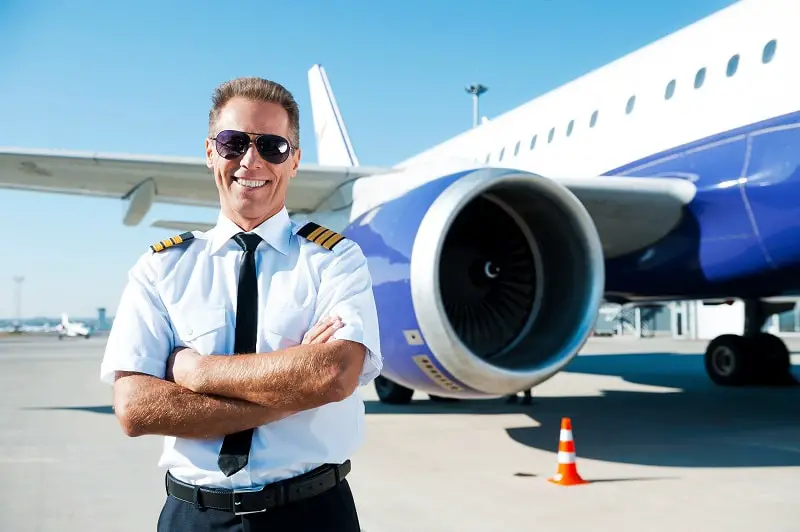 Airline Pilots pilot and navigate the flight of fixed-wing aircraft, usually on scheduled air carrier routes, for the transport of passengers and cargo. Requires Federal Air Transport certificate and rating for specific aircraft type used. Includes regional, national, and international airline pilots and flight instructors of airline pilots.
Education
Bachelor's degree
---
---
---
---
Table of contents
---
Summary
| | |
| --- | --- |
| Degree | Bachelor's degree |
| License or certification | Required |
| Duration to become one | 6 to 7 years |
| Difficulty to become one | Hard |
Airline Pilots typically need a Bachelor's Degree to seek employment, but some employers may accept qualified candidates with Associate's Degrees. While aspiring Airline Pilots can choose any major, majoring in Aviation or Aeronautics provides more relevant knowledge and training.
Airline Pilots must obtain several licenses and certifications, starting with a private pilot license.
---
Featured Schools
Airline Pilots Requirements
Step 1: Study Math and Science
Airline Pilots need to understand complex principles of flight and aerodynamics, which requires knowledge of math and science. High school students should take algebra, calculus, and physics to prepare for college.
Step 2: Consider Earning a Bachelor's Degree
Most airlines require Airline Pilots to have at least a Bachelor's Degree. Employers do not typically require candidates to possess degrees in specific fields of study. However, most pilots choose relevant majors, such as Aviation or Aeronautics.
Some Aviation programs may also incorporate flight training, allowing students to earn their private pilot license through their college program.
Step 3: Obtain a First-Class Medical Certificate
Pilots need to meet specific medical requirements to fly. Commercial airline pilots often face stricter medical standards compared to recreational pilots. A first-class medical certificate verifies that you are healthy enough to fly a commercial airplane.
The first-class medical certificate remains valid for 12 months for those under the age of 40. Depending on how long it takes to complete your flight training, you may need to renew your medical certificate before applying for an airline job.
Step 4: Apply for a Student Pilot Certificate
Applying for a student pilot certificate is necessary for completing the requirements for a private pilot license. The student pilot certificate allows you to fly without an instructor during your training.
You obtain the student pilot certificate by applying through the Integrated Airman Certification and Rating Application (IACRA) website or submitting a paper application to your nearest Flight Standards District Office (FSDO).
Step 5: Enroll in a Flight Training Program
You must complete an introductory training flight before enrolling in a flight training program. However, the introductory training flight is often available through flight training schools.
You can also enroll in a flight training program before applying for a student pilot certificate. However, you will need the certificate to fly solo and meet the flight time requirements for a private pilot's license.
Flight training programs may last several months or up to two years, depending on the steps covered by the program. For example, some flight schools offer training for each step needed to earn a commercial pilot license while others simply offer the required training and flight time for earning a private pilot license.
You need at least 40 hours of flight time to earn a private pilot license. Most of your flight time will be logged during flight training. However, you may also need to arrange private flight lessons to meet the requirements.
Step 6: Obtain a Private Pilot License
Obtaining a private pilot license requires taking and passing a knowledge test and a practical exam. The knowledge test is a computer-based exam with 60 multiple-choice questions. You must score 70% or higher to pass the test.
The practical exam must be completed with a Designated Pilot Examiner (DPE). It includes an oral exam and a flight test.
After passing the practical exam, you receive a private pilot license. However, you cannot start working as a paid pilot without a commercial pilot license.
A private pilot license permits you to fly private flights, such as flying yourself or your family to a vacation destination. You can also volunteer your services to nonprofits.
Step 7: Obtain an Instrument Rating
Obtaining an instrument rating is the next step in obtaining a commercial pilot license. The instrument rating qualifies you to pilot planes in low visibility guided by the instruments in the cockpit.
Obtaining an instrument rating requires at least 50 hours of cross-country flight time and 40 hours of real or simulated instrument flight experience. Your flight experience must be logged in your pilot logbook and reviewed by an instructor.
You must also complete an oral exam and a flight test to verify your knowledge of instrument flight rules.
Step 8: Apply for a Commercial Pilot License
Airline Pilots need a commercial pilot license to fly for commercial airlines. Applicants need to log at least 250 hours of flight time before applying for a commercial pilot license.
At least 100 hours of the flight time must have been in powered aircraft while at least 50 hours must have been in airplanes. You also need 50 hours of cross-country time, 100 hours of pilot-in-command time, and 10 hours of solo training.
Step 9: Obtain an Airline Transport Pilot (ATP) Certificate
Along with a commercial pilot license, Airline Pilots need an airline transport pilot (ATP) certificate. The ATP certificate requires 1,500 hours of flight time, which often takes two to three years from the time that a pilot earns their private pilot license.
Step 10: Apply for Airline Pilot Jobs
After obtaining a commercial pilot license, start looking for jobs at airlines. Demand for Airline Pilots varies depending on the state of the airline industry. Individuals who struggle to gain employment may need to consider alternative paths, such as working for a private charter company.
Working in related fields also gives aspiring Airline Pilots more experience, which may increase their chances of gaining employment at a commercial airline.
Step 11: Consider Earning a Multi-Engine Rating
Airline Pilots need a multi-engine rating from the FAA to fly multi-engine planes, which are often used for commercial flights. Obtaining a multi-engine rating is not strictly required for all Airline Pilot jobs but provides more job prospects.
Step 12: Obtain Flight Instructor Certificate
Obtaining a flight instructor certificate is another optional step that may provide more job opportunities. Pilots who cannot find work with airlines may earn a living working as instructors.
What degree do most Airline Pilots have
Bachelor's degree
We did a survey to ask other Airline Pilots what degree they had when they first became one. Here are the results.
Bachelor's degree
---
Post-secondary certificate
---
Master's degree
---
How long does it take
6 to 7 years
Most airlines require Airline Pilots to have Bachelor's Degrees, which typically take four years to earn. You must also obtain a commercial pilot license. The amount of time needed to earn a license varies but may take two to three years.
---
Find a college with the major you want
---
---