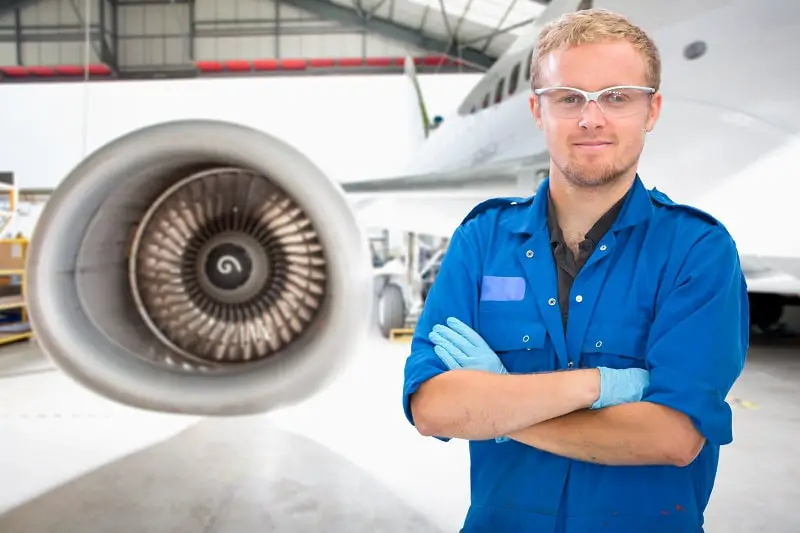 Aerospace Engineers
perform engineering duties in designing, constructing, and testing aircraft, missiles, and spacecraft. May conduct basic and applied research to evaluate adaptability of materials and equipment to aircraft design and manufacture. May recommend improvements in testing equipment and techniques.
---
How To Become an Aerospace Engineer
How long does it take, what degree do you need and more.
---
In this requirements guide for Aerospace Engineers, you will find out what do you need to become an Aerospace Engineer, how hard is it, and what does it take to become one.
After reading this, you will be able to plan for your future if you want to be an Aerospace Engineer.
---
---
Recommended degree level
Bachelor's Degree
We did a survey to ask other Aerospace Engineers what degree they had when they became an Aerospace Engineer. Here are the results.
Bachelor's Degree
---
Master's Degree
---
Associate's Degree
---
One of the most common questions that we always get is what major or degree do I need to become Aerospace Engineers or what courses do I need to take.
We also asked Aerospace Engineers what did they major in college or university and here are the top 5 most popular majors that came up.
Aerospace, Aeronautical and Astronautical/Space Engineering
Electrical and Electronics Engineering
Mechanical Engineering
---
Entry-level aerospace engineers usually need a bachelor's degree in aerospace engineering or some other field of engineering or science related to aerospace systems. Bachelor's degree programs include classroom, laboratory, and field studies in subjects such as general engineering principles, propulsion, stability and control, structures, mechanics, and aerodynamics, which is the study of how air interacts with moving objects.
---
---

Interested in becoming ? Find the right schools that can help you to become one. You will need some of your details to get you matched with the right college or university. This service is free thanks to our sponsors.
Questions to ask the university or college:
How many students are in the program?
Is your program accredited?
How many faculty members do you have? Do they hold the right credentials?
What is your job placement rate?
Does your school hold career fairs or other on-campus events with employers? How many employers typically attend?
How many of your students have at least one internship by graduation?
---
---
---
Improve Your
Test Score
Studying for a standardized test for your college admissions?
Improve your test scores on SAT, ACT, GRE, and GMAT.
Read more
---
---
---
You will need a considerable amount of work-related skill, knowledge or experience to be an Aerospace Engineer. For example, an accountant must complete 4 years of college and work for several years in accounting to be considered qualified.
Careers in this difficulty category will usually need several years of work-related experience, on-the-job training, and/or vocational training. These careers usually involve coordinating, supervising, managing, or training others. Similar careers include sales managers, database administrators, chemists, and art directors.
---
Related work experience required
2 to 4 years
2 to 4 years
---
4 to 6 years
---
8 to 10 years
---
Job training
6 months to 1 year
6 months to 1 year
---
Up to 1 month
---
1 to 2 years
---
---
---
License and certifications
Do you need any license or certification
Not required for entry-level engineers
---
Aerospace engineers are not required to be licensed at the entry level. More experienced aerospace engineers, who assume more responsibility, usually earn the Professional Engineer (PE) license. Several states require engineers to take continuing education courses to keep their licenses. Most states recognize licenses from other states, as long as the other states' licensing requirements meet or exceed their own licensing requirements.
---
---
We asked other Aerospace Engineers if they could only have 5 skills, what would they be. Here is what they said.
= Hot in-demand that most employers are looking for
---
---
---
Just like any other job, you will need certain know-hows to excel at your job. Aerospace Engineers are generally very knowledgeable in these 5 key areas.
---
---
---
Start your journey to be
Get the best college for Aerospace Engineers
---
---
Discover the best colleges for your $$$
---
---
Find colleges have the highest earning grads
---
---
Yes, I'm sure
---
---
Environmental Engineers

research, design, plan, or perform engineering duties in the prevention, control, and remediation of environmental hazards using various engineering disciplines. Work may include waste treatment, site remediation, or pollution control technology.

Salary

$92640

Electrical Engineering Technologists

assist electrical engineers in such activities as process control, electrical power distribution, or instrumentation design. May prepare layouts of electrical transmission or distribution systems, supervise the flow of work, estimate project costs, or participate in research studies.

Salary

$65720

Manufacturing Engineers

design, integrate, or improve manufacturing systems or related processes. May work with commercial or industrial designers to refine product designs to increase producibility and decrease costs.

Salary

$99410

Electronics Engineers

research, design, develop, or test electronic components and systems for commercial, industrial, military, or scientific use employing knowledge of electronic theory and materials properties. Design electronic circuits and components for use in fields such as telecommunications, aerospace guidance and propulsion control, acoustics, or instruments and controls.

Salary

$107930

Civil Engineers

perform engineering duties in planning, designing, and overseeing construction and maintenance of building structures, and facilities, such as roads, railroads, airports, bridges, harbors, channels, dams, irrigation projects, pipelines, power plants, and water and sewage systems.

Salary

$93720
---
Learn more about Aerospace Engineers
Find a college with the major you want

---
Related to Aerospace Engineers Requirements
Aerospace Engineers requirements, how to become Aerospace Engineers, degree required to be an Aerospace Engineer, Aerospace Engineers license and certifications, majors to be an Aerospace Engineer, is it hard to become an Aerospace Engineer and how long does it take