How Long Does It Take, What Degree Do You Need, and More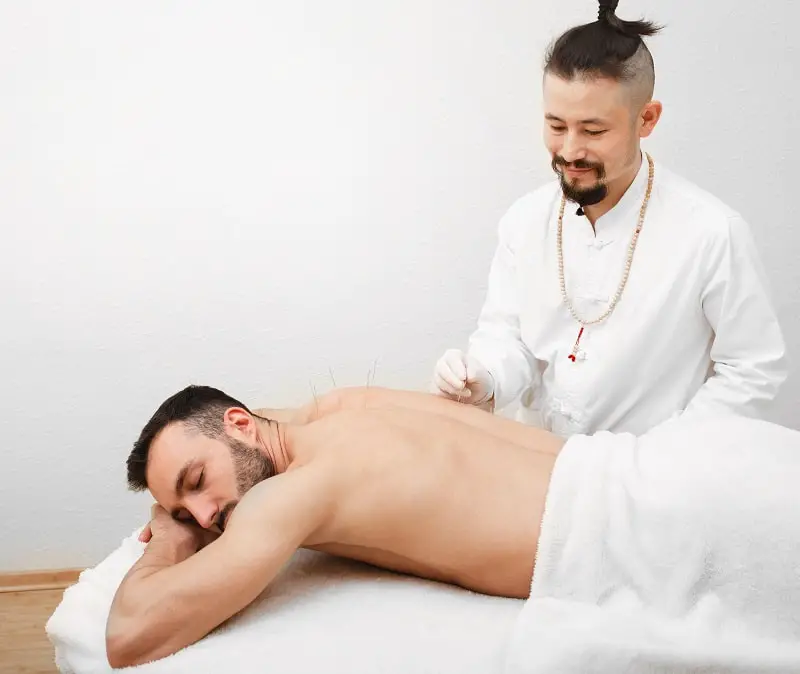 Acupuncturists provide treatment of symptoms and disorders using needles and small electrical currents. May provide massage treatment. May also provide preventive treatments.
Education
Master's degree
---
---
---
---
Table of contents
---
Summary
| | |
| --- | --- |
| Degree | Master's degree |
| Degree field | Chinese Medicine, Oriental Medicine, or Acupuncture |
| Duration to become one | 5 to 9 years |
| Difficulty to become one | Very Hard |
Acupuncturists typically need a Master's degree, but an increasing number of Acupuncturists hold Doctoral degrees.
Aspiring Acupuncturists often major in Chinese Medicine, Oriental Medicine, or Acupuncture.
Most states require Acupuncturists to obtain a certification to practice acupuncture.
---
Featured Schools
Acupuncturists Requirements
Step 1: Explore Anatomy and Biology in High School
High school students should study Anatomy and Biology, as Acupuncturists require a strong understanding of the human body.
Students should also learn more about Traditional Chinese Medicine and Acupuncture through independent research. The Internet contains a wealth of information about the various acupuncture points and the history of the practice, giving students a head start on their education.
Step 2: Earn an Associate's Degree
Earning an Associate's degree is one path to becoming an Acupuncturist. Most Master's programs require students to earn an Associate's degree or complete at least two years of undergraduate studies.
Common Associate's degrees include Natural Science, Oriental Medicine, and Acupuncture. However, the availability of these programs varies across the country.
Step 3: Earn a Bachelor's Degree
Instead of earning an Associate's degree, many aspiring Acupuncturists begin studying for a Bachelor's degree. The most closely related degree is a Bachelor of Science in Traditional Chinese Medicine.
While many Master's programs do not require a specific major, they typically have prerequisite undergraduate courses. Majoring in Traditional Chinese Medicine should allow students to meet all necessary prerequisites.
Step 4: Earn a Master's Degree
Acupuncturists need a Master's degree. The name of the degree varies between colleges and universities. Examples include Master of Science in Acupuncture (MSAc), Master of Science in Oriental Medicine (MSOM), Master of Science in Traditional Chinese Medicine (MSTCM), and Masters of Acupuncture and Oriental Medicine (MAcOM).
The program should be accredited by the Accreditation Commission for Acupuncture and Oriental Medicine (ACAOM). Over 45 schools in the United States are currently accredited by the ACAOM.
Most programs are designed to take three years to complete, but some may take four years, especially if the program includes classes for Traditional Chinese Medicine (TCM) or herbology.
Due to the length of the program, some students choose to enroll before completing their Bachelor's degrees.
Many programs only require two years of undergraduate study or an Associate's degree, allowing students to complete their education in five to six years. However, when applying to competitive Master's programs with limited placement, students may want to consider completing their Bachelor's degree.
Master's programs for Acupuncture cover a wide range of topics, including clinical skills and patient communication. Students learn the various acupuncture point locations and needling techniques. Depending on the program, students may also explore the use of herbs and massage for treating patients.
Step 5: Complete Clinical Training
About 44 states have specific certification processes for Acupuncturists, which often includes completing a minimum number of clinical hours. Master's programs in states with clinical requirements offer the required training.
During the final year of the Master's programs, students may begin clinical rotations at local health clinics or by working with volunteer patients at the school.
Step 6: Become a Licensed Acupuncturist
After earning a Master's degree, aspiring Acupuncturists can work toward becoming licensed in their state. Almost every state in the United States requires Acupuncturists to become licensed through their state's licensing board.
The licensing process varies, but typically requires certification from the National Certification Commission for Acupuncture and Oriental Medicine (NCCAOM).
Obtaining certification from NCCAOM requires a Master's degree, a Clean Needle Technique (CNT) certificate, and the completion of several board exams.
The CNT certificate requires students to complete the Council of Colleges of Acupuncture and Oriental Medicine's (CCAOM) CNT course. The course involves one-day of instruction, a written exam, and a practical exam. The CNT course is currently available in-person and online.
After obtaining the CNT certificate and passing the NCCAOM board exams, Acupuncturists can apply for a state license through the licensing board. Some states may require an additional exam, along with a background check.
Step 7: Earn a Doctoral Degree
Earning a Doctorate in Acupuncture or Oriental Medicine is an optional step. However, an increasing number of Acupuncturists are seeking the highest level of education.
Doctoral programs for Acupuncturists tend to focus on advanced areas of research, such as the Chinese medical language. Doctoral programs are also available for specialized areas of Acupuncture, such as Family Medicine or Reproductive Health.
Step 8: Start Looking for Work as an Acupuncturist
Licensed Acupuncturists can start looking for work in their field. Most Acupuncturists work at private practices or operate their own practices. However, an increasing number of hospitals and clinics are starting to offer acupuncture to patients.
What degree do most Acupuncturists have
Master's degree
We did a survey to ask other Acupuncturists what degree they had when they first became one. Here are the results.
Master's degree
---
First Professional degree
---
Doctoral degree
---
How long does it take
5 to 9 years
Most Acupuncturists hold Master's degrees in Acupuncture, which typically takes five to six years to earn after starting college. However, some Acupuncturists continue their education and earn Doctoral degrees, which can add three years to the process.
---
Find a college with the major you want
---
---