How Long Does It Take, What Degree Do You Need, and More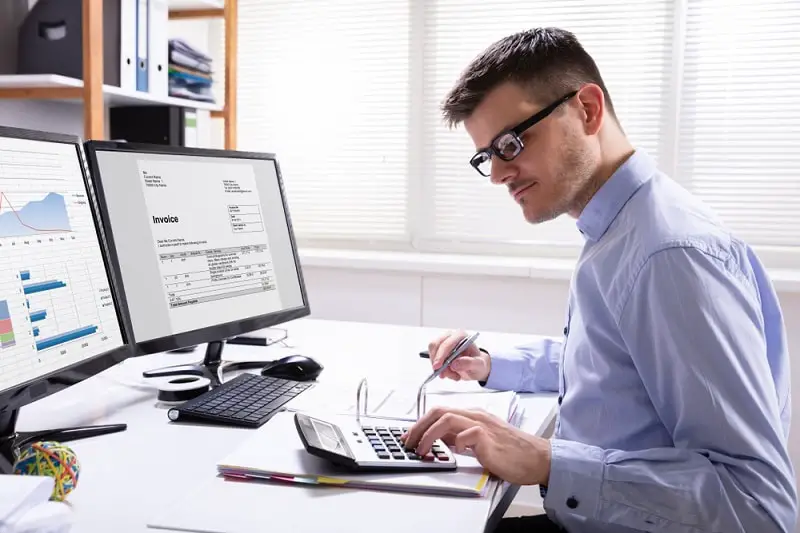 Accountants analyze financial information and prepare financial reports to determine or maintain record of assets, liabilities, profit and loss, tax liability, or other financial activities within an organization.
Education
Bachelor's degree
---
---
---
---
Table of contents
---
Summary
| | |
| --- | --- |
| Degree | Bachelor's degree |
| Degree field | Accounting |
| License or certification | Most accounting jobs do not require you to have a license, but you will need to get a license if you wish to become a Certified Public Accountant (CPA). |
| Duration to become one | 2 to 4 years or longer |
| Difficulty to become one | Hard |
Technically, an accountant doesn't have to possess a degree to work in the field; however, most accountants go to college and obtain a four-year degree.
Those who wish to become accountants will want to pursue a bachelor's degree in accounting at a reputable university.
Most accounting jobs do not require you to have a license, but you will need to get a license if you wish to become a Certified Public Accountant (CPA).
---
Featured Schools
Accountants Requirements
Step 1. Learn Math and Get Good Grades in High School
You should start your journey by focusing on learning as much as you can about mathematics in high school. Take various math courses in high school so that you can gain the skills that you'll need later on. If you're able to get good grades in school, then you'll have an easier time getting into a respected college with a good accounting program. Try your best to be studious and focus on your studies.
Some high schools might offer accounting courses that will get you used to what accountants do. If your high school doesn't offer an accounting course, then take as many math courses as you can. Learning about algebra, trigonometry, and calculus will make it that much easier to get through college.
Step 2. Earn a Bachelor's Degree in Accounting
Earning a bachelor's degree in accounting is going to be your next big goal. Technically, you don't need to have a college degree to work as an accountant, but you need to possess the right math skills to do well in the field. If you have a bachelor's degree in accounting, then that shows that you're capable of doing pretty much any basic accounting job. You can choose to pursue a higher degree if you would like as well, and that might help you to get a position at a large accounting company.
Note that some universities will offer two-year accounting degrees. You might be able to get an associate's degree in accounting, but it could be hard to find work when you're competing with people who have bachelor's degrees.
Step 3. Decide on a Specialty
Deciding on a specialty will be your next course of action. Most accountants are going to specialize in one or two areas of practice. There are many different types of accounting to consider, but the most common ones to choose from will be public accounting and business accounting. Other accountant specialties include environmental accounting, managerial accounting, taxes, and internal auditing.
Step 4. Decide If You Wish to Become a CPA
Deciding if you wish to become a CPA or not is going to determine your path forward. Standard accounting jobs do not require you to seek special licenses in most places, but you will need a license to become a CPA. CPAs must meet certain requirements such as possessing a college degree, passing a CPA exam, and working for a certain number of hours under the supervision of a current CPA. If you choose to pursue becoming a CPA, then you'll need to work to pass the exam and work the necessary hours under supervision.
Step 5. Taking the CPA Exam
Assuming that you took the CPA path, you'll need to pass the exam. The CPA exam consists of four parts: Business Environment and Concepts, Regulation, Financial Accounting and Reporting, and Audit and Attestation. You can take the CPA exam during the first two months of any quarter, and you can choose to take the exam in whichever order you prefer. Once you pass one part of the exam, you will have 18 months to pass the other three parts.
Step 6. Networking
Networking is a good way to get better opportunities when it's time to look for jobs. You should consider setting up an online networking profile on popular networking sites. Connecting with different accounting firms and getting to know people professionally can help you to get your foot in the door. You might need to work to get yourself noticed if you're trying to procure a job at a respected accounting firm.
Step 7. Apply for Jobs
With your education and licensing requirements out of the way, you're going to be ready to apply for jobs. Start applying at accounting firms to seek out entry-level positions. Some college students attempt to build relationships with accounting firms while still attending school. For example, you could apply for an internship at an accounting firm while going to school so that they might be more likely to offer you a job upon graduation. 
Step 8. Continue to Learn
Continuing to learn while you're working as an accountant is important. To become successful in this field, it's going to be wise to keep learning and seeking out further education opportunities. The more you learn, the easier it will be to move up the corporate ladder. If you want to advance beyond an entry-level position, then you'll want to keep seeking out new opportunities to grow as an accountant.
If you decided to seek a standard accounting job, then you could make the choice to pursue becoming a CPA to move up the ladder. There will always be opportunities to specialize and change things up. Paying attention to what the accounting firm that you're working for needs is a good idea. If you know that the company needs an accountant who specializes in a certain area, then that's a good way to make yourself more valuable to the company.
What degree do most Accountants have
Bachelor's degree
We did a survey to ask other Accountants what degree they had when they first became one. Here are the results.
Bachelor's degree
---
Certificate
---
Associate's degree
---
How long does it take
2 to 4 years or longer
Becoming an accountant is going to take people between two and four years or longer in most instances. Although you don't need an associate's or bachelor's degree to legally work as an accountant, it's going to be hard to find work without the right skills and the degree to show that you're qualified. It could take longer than four years for some who wish to become CPAs. Depending on how long it takes you to pass the CPA exam, you could tack some time onto the process.
---
Find a college with the major you want
---
---