Day in the life of


Hairstylist – Dawn Clemens
The bulk of my day is obviously spent on giving haircare services. But no two days are the same. Sometimes I have a truckload of customers who only need a short trim or styling. And sometimes I get stuck with customers who are looking for specific styles and need a few hours' worth of work.
Here's a look into my average day:
I start off my workday early at 9 in the morning. I usually get mothers at this time because it's the only part of the day when they have time away from their kids.
I take care of the few morning customers and then spend an hour going over the books and making calls to confirm appointments.
I don't have a specific break time, because customers can actually walk in anytime and I don't like turning them away, so I have my lunch whenever I can between customers.
My midday and afternoon are reserved for appointments only. These take more time so I have to schedule them accordingly.
After I'm done with my appointments, I take my assistant and head over to photoshoot locations where I provide my services for models.
This is the end of my workday. Well, most of the time.
Sometimes I reserve nights for special customers who can't find time during their busy days. It's rare but I do have to work late into the night occasionally.
Pros
Easy to learn: Most trade schools offer courses in cosmetology that you can complete before you even graduate high school, giving you an early head start in your career.
Social Interactions: You get to meet so many new people from different walks of life and have ample networking opportunities.
Job Satisfaction: Hairdressing is a very satisfying job as you look at a finished style you created and can see how much your customer loves their new hair.
Flexibility: Once you're experienced enough you can set your own schedules that clients have to follow, allowing more flexibility in your life.
Cons
Low Wages: If you're not working independently or at your own parlor, you'll likely be paid by the hour and would need a second job to make ends meet.
Licensing Requirement: Each state has its own eligibility requirements to apply for a license which can be quite burdensome.
Product Costs: If you're working for yourself, you'll have to buy your own stock of hair products which is way more expensive than you think.
Physical Demand: You'll always be on your feet, and would be dead tired by the end of the day..
---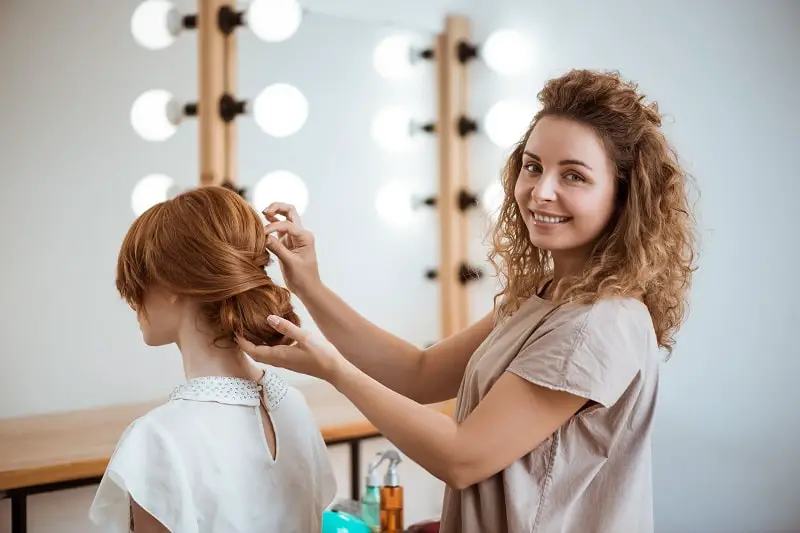 provide beauty services, such as cutting, coloring, and styling hair, and massaging and treating scalp. May shampoo hair, apply makeup, dress wigs, remove hair, and provide nail and skincare services.
Education:
Post-secondary certificate
Suitable Personality:


The Artist
---