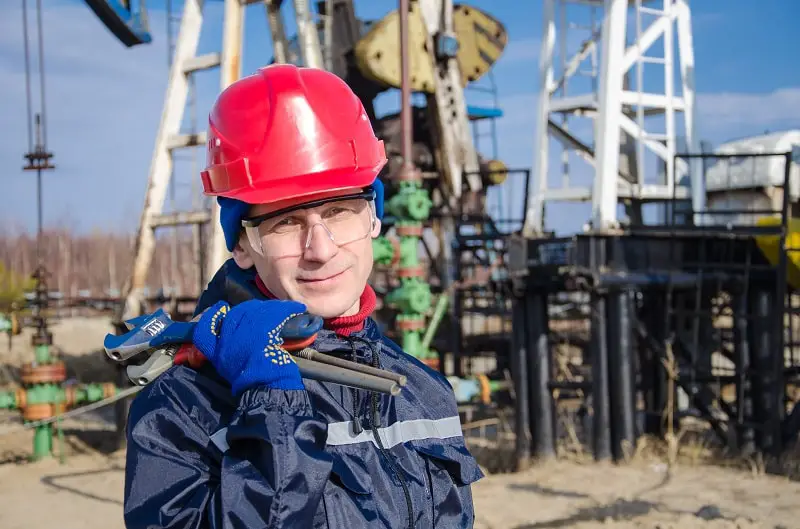 Wellhead Pumpers
operate power pumps and auxiliary equipment to produce flow of oil or gas from wells in oil field.
---
Wellhead Pumpers
Salary, Job Description, How To Become One, and More
---
In this career summary, you will find out what the job of a Wellhead Pumper is about and what it is like.
After reading this, you will have a good idea on what the job is about and decide if this is the right career for you.
---
---
Wellhead Pumpers operate power pumps and auxiliary equipment to produce flow of oil or gas from wells in oil field.
---
---
---

Interested in becoming a Wellhead Pumper? Find the right schools that can help you to become one. This service is free thanks to our sponsors.
---
---
---
Improve Your
Test Score
Studying for a standardized test for your college admissions?
Improve your test scores on SAT, ACT, GRE, and GMAT.
Read more
---
---
---
Average salary
$53870 per year
Average hourly wage
$26 per hour
---
Wellhead Pumpers with little to no experience tend to make between $31280 and $38700 while the more experienced ones can earn over $66500 per year.
| Top 5 paying states | Hourly | Annual |
| --- | --- | --- |
| CO | $33 | $69,130 |
| WY | $30 | $63,120 |
| KY | $30 | $62,670 |
| MT | $29 | $61,020 |
| UT | $29 | $60,010 |
One of the easiest ways to increase your salary as a Wellhead Pumper is to move to a higher paying state like CO. Right now, the highest paying states for Wellhead Pumpers are CO, WY, KY, MT and UT.
However a higher pay at CO doesn't guarantee that you will make more because the living expenses at CO might be twice as high than where you are currently at now.
Three other factors that can increase your salary as a Wellhead Pumper is the degree you hold, the industry you work in and lastly the company you work for.
---
---
Recommended degree level
High School Diploma (or GED)
We asked other Wellhead Pumpers what degree they had when they got the job and most of them said they had a High School Diploma followed by a Post-Secondary Certificate.
Other than that, we also asked them what did they major in and here are the most popular majors that came up.
---
---
---
Here are some of the pros and cons of being a Wellhead Pumper.
PROS
Suitable for people who likes practical and hands-on work
Suitable for people who wants to work in a supportive work environment
This career is perfect for people who love to work outdoors.
It is easy to get into this career. Some previous work-related skill, knowledge, or experience is required for this career.
CONS
Not suitable for people who likes to help and teach others
Salary is below average
Long working hours (More than 40 hours per week)
---
---
---
Is this job meaningful
47%
---
61% of Wellhead Pumpers said they were satisfied with their job and 47% said they feel like their job is making other people's lives better.
---
---
Best personality for this career
The Builders and The Organizers
---
You can read more about these career personality types here.
People who are suitable for this job tends to like work activities that include practical, hands-on problems and solutions. They like working with plants, animals, and real-world materials like wood, tools, and machinery..
They also like following set procedures and routines. They like working with data and details more than with ideas.
---
---
Start your journey to be
a Wellhead Pumper
Get the best college for Wellhead Pumpers
---
---
Discover the best colleges for your $$$
---
---
Find colleges have the highest earning grads
---
---
Yes, I'm sure
---
---
Parking Lot Attendants

park vehicles or issue tickets for customers in a parking lot or garage. May collect fee.

Salary

$25130

Pump Operators

tend, control, or operate power-driven, stationary, or portable pumps and manifold systems to transfer gases, oil, other liquids, slurries, or powdered materials to and from various vessels and processes.

Salary

$47510

Machine Feeders and Offbearers

feed materials into or remove materials from machines or equipment that is automatic or tended by other workers.

Salary

$31710

Airfield Operations Specialists

ensure the safe takeoff and landing of commercial and military aircraft. Duties include coordination between air-traffic control and maintenance personnel; dispatching; using airfield landing and navigational aids; implementing airfield safety procedures; monitoring and maintaining flight records; and applying knowledge of weather information.

Salary

$56760

Tank Car, Truck and Ship Loaders

load and unload chemicals and bulk solids, such as coal, sand, and grain into or from tank cars, trucks, or ships using material moving equipment. May perform a variety of other tasks relating to shipment of products. May gauge or sample shipping tanks and test them for leaks.

Salary

$42330
---
Learn more about Wellhead Pumpers
Find a college with the major you want

---
Related career information
Wellhead Pumpers job description, Wellhead Pumpers salary, Wellhead Pumpers information, what is the job of a Wellhead Pumper like, pros and cons about Wellhead Pumpers, colleges and universities for Wellhead Pumpers, is Wellhead Pumpers the right career for me, careers in Transportation
Similar careers
Gauger, Head Pumper, Lease Attendant, Lease Operator, Multi-Skilled Operator, Oil Field Operator, Oil Field Pumper, Oil Field Worker, Oil Pumper, Oil Well Pumper
Additional resources