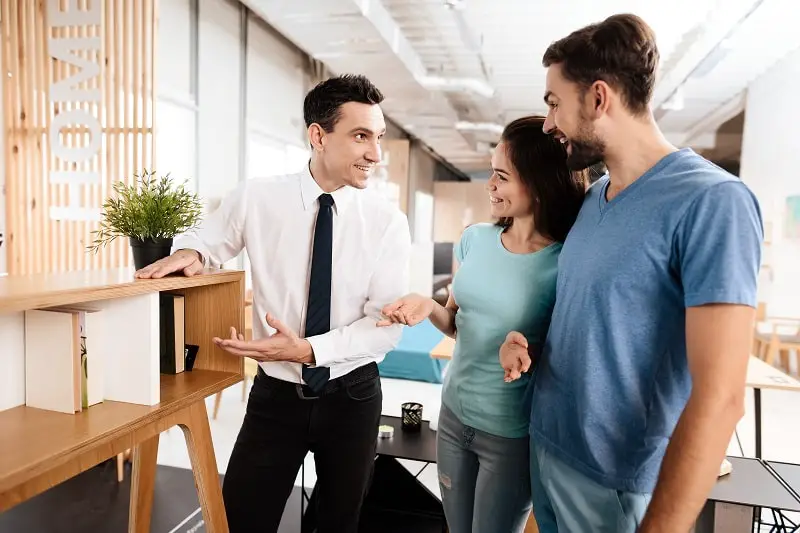 Retail Salespersons
sell merchandise, such as furniture, motor vehicles, appliances, or apparel to consumers.
---
How To Become a Retail Salesperson
How long does it take, what degree do you need and more.
---
In this requirements guide for Retail Salespersons, you will find out what do you need to become a Retail Salesperson, how hard is it, and what does it take to become one.
After reading this, you will be able to plan for your future if you want to be a Retail Salesperson.
---
---
Recommended degree level
High School Diploma
We did a survey to ask other Retail Salespersons what degree they had when they became a Retail Salesperson. Here are the results.
High School Diploma
---
Less than a High School Diploma
---
Associate's Degree
---
One of the most common questions that we always get is what major or degree do I need to become Retail Salespersons or what courses do I need to take.
We also asked Retail Salespersons what did they major in college or university and here are the top 5 most popular majors that came up.
---
Although retail salespersons usually have no formal education requirements, some employers prefer applicants who have a high school diploma or equivalent, especially those who sell technical products or "big-ticket" items, such as electronics or cars.
---
---

Interested in becoming ? Find the right schools that can help you to become one. You will need some of your details to get you matched with the right college or university. This service is free thanks to our sponsors.
Questions to ask the university or college:
How many students are in the program?
Is your program accredited?
How many faculty members do you have? Do they hold the right credentials?
What is your job placement rate?
Does your school hold career fairs or other on-campus events with employers? How many employers typically attend?
How many of your students have at least one internship by graduation?
---
---
---
Improve Your
Test Score
Studying for a standardized test for your college admissions?
Improve your test scores on SAT, ACT, GRE, and GMAT.
Read more
---
---
---
You may need some previous work-related skill, knowledge or experience to be a Retail Salesperson. For example, a bank teller would benefit from experience working directly with the public.
Careers in this difficulty category need anywhere from a few months to one year of on-the-job training.
---
Related work experience required
None
None
---
6 months to 1 year
---
8 to 10 years
---
Job training
1 to 3 months
1 to 3 months
---
3 to 6 months
---
Up to 1 month
---
---
---
License and certifications
Do you need any license or certification
Not required
---
No license or certification required for Retail Salespersons
---
---
We asked other Retail Salespersons if they could only have 5 skills, what would they be. Here is what they said.
= Hot in-demand that most employers are looking for
---
---
---
Just like any other job, you will need certain know-hows to excel at your job. Retail Salespersons are generally very knowledgeable in these 5 key areas.
---
---
---
Start your journey to be
Get the best college for Retail Salespersons
---
---
Discover the best colleges for your $$$
---
---
Find colleges have the highest earning grads
---
---
Yes, I'm sure
---
---
Travel Agents

plan and sell transportation and accommodations for travel agency customers. Determine destination, modes of transportation, travel dates, costs, and accommodations required. May also describe, plan, and arrange itineraries and sell tour packages. May assist in resolving clients' travel problems.

Salary

$42720

Sales Engineers

sell business goods or services, the selling of which requires a technical background equivalent to a baccalaureate degree in engineering.

Salary

$108610

Wholesale and Manufacturing Sales Reps

sell goods for wholesalers or manufacturers to businesses or groups of individuals. Work requires substantial knowledge of items sold.

Salary

$69480

Telemarketers

solicit donations or orders for goods or services over the telephone.

Salary

$28550

Technical Products Sales Reps

sell goods for wholesalers or manufacturers where technical or scientific knowledge is required in such areas as biology, engineering, chemistry, and electronics, normally obtained from at least 2 years of post-secondary education.

Salary

$91830
---
Learn more about Retail Salespersons
Find a college with the major you want

---
Related to Retail Salespersons Requirements
Retail Salespersons requirements, how to become Retail Salespersons, degree required to be a Retail Salesperson, Retail Salespersons license and certifications, majors to be a Retail Salesperson, is it hard to become a Retail Salesperson and how long does it take