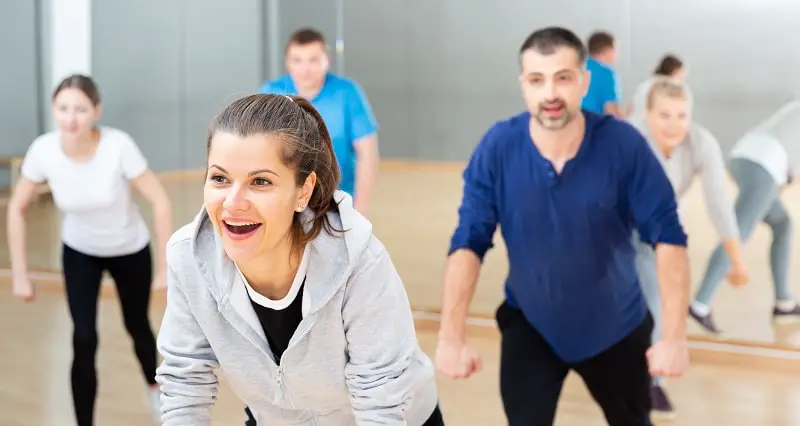 Fitness and Wellness Coordinators
manage or coordinate fitness and wellness programs and services. Manage and train staff of wellness specialists, health educators, or fitness instructors.
---
How To Become a Fitness and Wellness Coordinator
How long does it take, what degree do you need and more.
---
In this requirements guide for Fitness and Wellness Coordinators, you will find out what do you need to become a Fitness and Wellness Coordinator, how hard is it, and what does it take to become one.
After reading this, you will be able to plan for your future if you want to be a Fitness and Wellness Coordinator.
---
---
Recommended degree level
Bachelor's Degree
We did a survey to ask other Fitness and Wellness Coordinators what degree they had when they became a Fitness and Wellness Coordinator. Here are the results.
Bachelor's Degree
---
Master's Degree
---
Less than a High School Diploma
---
One of the most common questions that we always get is what major or degree do I need to become Fitness Coordinators or what courses do I need to take.
We also asked Fitness Coordinators what did they major in college or university and here are the top 5 most popular majors that came up.
Educational Leadership and Administration
Administration of Special Education
Adult and Continuing Education Administration
Educational, Instructional, and Curriculum Supervision
Higher Education or Higher Education Administration
---
You will need a bachelor's degree to become a fitness and wellness coordinator. Degrees in exercise science, nutrition science, health and wellness or a health related field will be helpful in your career.
---
---

Interested in becoming ? Find the right schools that can help you to become one. You will need some of your details to get you matched with the right college or university. This service is free thanks to our sponsors.
Questions to ask the university or college:
How many students are in the program?
Is your program accredited?
How many faculty members do you have? Do they hold the right credentials?
What is your job placement rate?
Does your school hold career fairs or other on-campus events with employers? How many employers typically attend?
How many of your students have at least one internship by graduation?
---
---
---
Improve Your
Test Score
Studying for a standardized test for your college admissions?
Improve your test scores on SAT, ACT, GRE, and GMAT.
Read more
---
---
---
You will need a considerable amount of work-related skill, knowledge or experience to be a Fitness and Wellness Coordinator. For example, an accountant must complete 4 years of college and work for several years in accounting to be considered qualified.
Careers in this difficulty category will usually need several years of work-related experience, on-the-job training, and/or vocational training. These careers usually involve coordinating, supervising, managing, or training others. Similar careers include sales managers, database administrators, chemists, and art directors.
---
Related work experience required
2 to 4 years
2 to 4 years
---
4 to 6 years
---
1 to 2 years
---
Job training
1 to 3 months
1 to 3 months
---
3 to 6 months
---
None
---
---
---
License and certifications
Do you need any license or certification
Recommended but not required
---
It is recommened to get a certificate as it will improve your chances for getting hired and also for job advancement. A certificate like ACE's Health Coaching certification will be helpful to a fitness and wellness coordinator.
---
---
---
---
---
---
Start your journey to be
Get the best college for Fitness Coordinators
---
---
Discover the best colleges for your $$$
---
---
Find colleges have the highest earning grads
---
---
Yes, I'm sure
---
---
Hydroelectric Production Managers

manage operations at hydroelectric power generation facilities. Maintain and monitor hydroelectric plant equipment for efficient and safe plant operations.

Salary

$113370

Funeral Service Managers

plan, direct, or coordinate the services or resources of funeral homes. Includes activities such as determining prices for services or merchandise and managing the facilities of funeral homes.

Salary

$93820

Legislators

develop, introduce or enact laws and statutes at the local, tribal, State, or Federal level. Includes only workers in elected positions.

Salary

$47620

Purchasing Managers

plan, direct, or coordinate the activities of buyers, purchasing officers, and related workers involved in purchasing materials, products, and services. Includes wholesale or retail trade merchandising managers and procurement managers.

Salary

$125630

Green Marketers

create and implement methods to market green products and services.

Salary

$133090
---
Learn more about Fitness and Wellness Coordinators
Find a college with the major you want

---
Related to Fitness and Wellness Coordinators Requirements
Fitness and Wellness Coordinators requirements, how to become Fitness Coordinators, degree required to be a Fitness and Wellness Coordinator, Fitness and Wellness Coordinators license and certifications, majors to be a Fitness and Wellness Coordinator, is it hard to become a Fitness and Wellness Coordinator and how long does it take