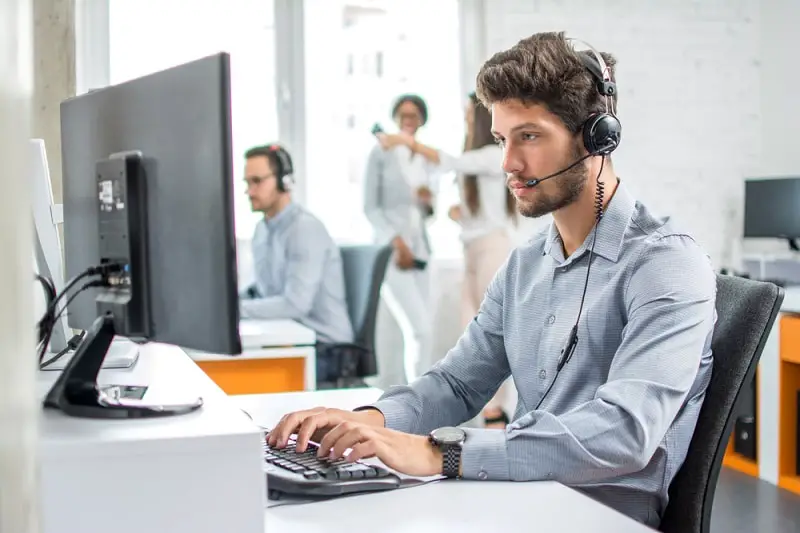 Computer User Support Specialists
provide technical assistance to computer users. Answer questions or resolve computer problems for clients in person, or via telephone or electronically. May provide assistance concerning the use of computer hardware and software, including printing, installation, word processing, electronic mail, and operating systems.
---
How To Become a Computer User Support Specialist
How long does it take, what degree do you need and more.
---
In this requirements guide for Computer User Support Specialists, you will find out what do you need to become a Computer User Support Specialist, how hard is it, and what does it take to become one.
After reading this, you will be able to plan for your future if you want to be a Computer User Support Specialist.
---
---
Recommended degree level
Bachelor's Degree
We did a survey to ask other Computer User Support Specialists what degree they had when they became a Computer User Support Specialist. Here are the results.
Bachelor's Degree
---
High School Diploma
---
College Certificate
---
One of the most common questions that we always get is what major or degree do I need to become Computer Support Specialists or what courses do I need to take.
We also asked Computer Support Specialists what did they major in college or university and here are the top 5 most popular majors that came up.
Agricultural Business Technology
Computer Support Specialist
Medical Office Computer Specialist
---
A bachelor's degree is required for some computer support specialist positions, but an associate's degree or postsecondary classes may be enough for others. Large software companies that provide support to business users who buy their products or services often require a bachelor's degree. More technical positions are likely to require a degree in a field such as computer science, engineering, or information science, but for others, the applicant's field of study is less important.
---
---

Interested in becoming ? Find the right schools that can help you to become one. You will need some of your details to get you matched with the right college or university. This service is free thanks to our sponsors.
Questions to ask the university or college:
How many students are in the program?
Is your program accredited?
How many faculty members do you have? Do they hold the right credentials?
What is your job placement rate?
Does your school hold career fairs or other on-campus events with employers? How many employers typically attend?
How many of your students have at least one internship by graduation?
---
---
---
You may need some previous work-related skill, knowledge or experience to be a Computer User Support Specialist. For example, an electrician must complete three or four years of apprenticeship or several years of vocational training, and often must have passed a licensing exam, in order to perform the job.
Careers in this difficulty category will usually need 1 or 2 years of on-the-job training and informal training with experienced workers. These careers usually involve using communication and organizational skills to coordinate, supervise, manage, or train others to accomplish goals. Similar careers include hydroelectric production managers, travel agents, electricians, court reporters, and medical assistants.
---
Related work experience required
2 to 4 years
2 to 4 years
---
1 to 2 years
---
6 months to 1 year
---
Job training
3 to 6 months
3 to 6 months
---
1 to 3 months
---
Up to 1 month
---
---
---
License and certifications
Do you need any license or certification
Not required
---
No license or certification required for Computer User Support Specialists
---
---
We asked other Computer Support Specialists if they could only have 5 skills, what would they be. Here is what they said.
= Hot in-demand that most employers are looking for
---
---
---
Just like any other job, you will need certain know-hows to excel at your job. Computer Support Specialists are generally very knowledgeable in these 5 key areas.
---
---
---
Start your journey to be
Get the best college for Computer Support Specialists
---
---
Discover the best colleges for your $$$
---
---
Find colleges have the highest earning grads
---
---
Yes, I'm sure
---
---
Database Administrators

administer, test, and implement computer databases, applying knowledge of database management systems. Coordinate changes to computer databases. May plan, coordinate, and implement security measures to safeguard computer databases.

Salary

$92030

Biostatisticians

develop and apply biostatistical theory and methods to the study of life sciences.

Salary

$92600

Business Intelligence Analysts

produce financial and market intelligence by querying data repositories and generating periodic reports. Devise methods for identifying data patterns and trends in available information sources.

Salary

$93350

Computer Systems Engineers

design and develop solutions to complex applications problems, system administration issues, or network concerns. Perform systems management and integration functions.

Salary

$93350

GIS Scientists

research or develop geospatial technologies. May produce databases, perform applications programming, or coordinate projects. May specialize in areas such as agriculture, mining, health care, retail trade, urban planning, or military intelligence.

Salary

$93350
---
Learn more about Computer User Support Specialists
Find a college with the major you want

---
Related to Computer User Support Specialists Requirements
Computer User Support Specialists requirements, how to become Computer Support Specialists, degree required to be a Computer User Support Specialist, Computer User Support Specialists license and certifications, majors to be a Computer User Support Specialist, is it hard to become a Computer User Support Specialist and how long does it take