Last updated: July 22, 2020
Find A School
---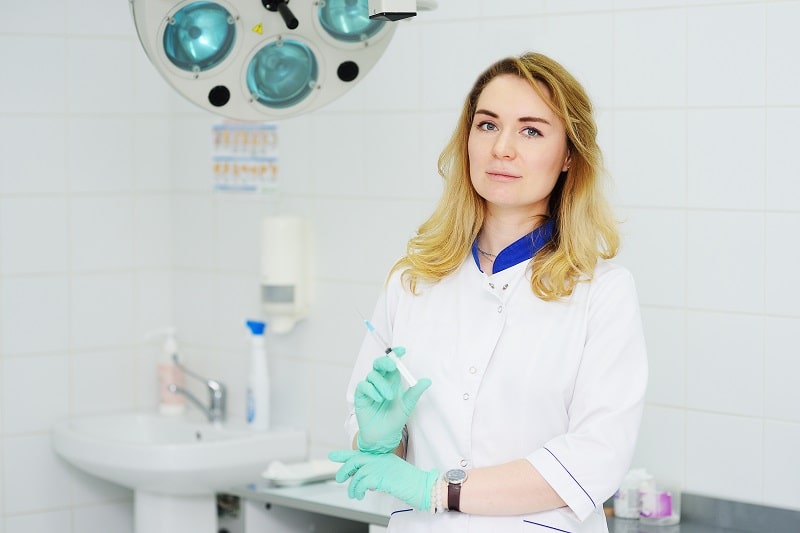 Anesthesiologists
administer anesthetics prior to, during, or after surgery or other medical procedures.
Summary
| | |
| --- | --- |
| Degree level | Anesthesiologists must earn a Bachelor's Degree followed by a Medical Degree from a Medical School. |
| Degree field | When earning a Bachelor's Degree, most aspiring Anesthesiologists major in Pre-Medicine, Science, or a related field. |
| License or certification | Anesthesiologists must pass a national exam to become board-certified after completing a four-year residency. |
| Duration to become one | 12 years |
| Difficulty to become one | |
Featured Healthcare Schools
Anesthesiologists Requirements
Step 1: Develop Your Science Skills in High School
Anesthesiologists require strong science skills, which you can start developing in high school. Most states require high school students to complete at least three credits of science. This typically includes Biology, Chemistry, and Physics.
If possible, take science classes beyond the requirements. Some high schools may offer AP science classes, Human Anatomy, and other courses that are more directly related to the medical field.
Step 2: Earn a Bachelor's Degree
Before enrolling in Medical School, you must obtain a Bachelor's Degree. Most aspiring Anesthesiologists major in Pre-Medicine, Biology, or Chemistry. However, some Anesthesiologists obtain Liberal Arts Degrees. If you pursue a non-medical major, you should still complete relevant courses such as Biology, Chemistry, and Physics.
Enrollment as Medical Schools is competitive, requiring applicants to have high GPAs during their undergraduate studies. You may need a GPA of 3.5 to 4.0 when earning your Bachelor's Degree.
Step 3: Pass the Medical College Admission Test (MCAT)
During your last year of undergraduate studies, you can sign up to take the Medical College Admission Test (MCAT). The MCAT is a requirement for Medical School admission. It tests your knowledge in a variety of relevant subjects including:
Physics
Biology
General Chemistry
Organic Chemistry
Writing Skills
Problem Solving
Critical Thinking
The exam includes multiple parts, including three multiple-choice sections. The three sections cover Biological Sciences, Verbal Reasoning, and Physical Sciences. You must also complete a writing assignment. The Association of American Medical Colleges (AAMC) administers the test and provides online tools to help prepare students.
Step 4: Earn a Medical Degree
After earning a Bachelor's Degree and passing the MCAT, you may enroll in Medical School. Medical Schools grant students Doctor of Medicine (MD) Degrees and Doctor of Osteopathic Medicine (DOM) Degrees. Both options are suitable for aspiring Anesthesiologists.
The first two years of Medical School are spent in classrooms and science labs. You may study biochemistry, human anatomy, and other foundational courses. The second portion of your Medical School training also typically includes an internship. You will spend the next two years of Medical School working in hospitals and clinics. You will typically work under the supervision of experienced Doctors and Anesthesiologists.
Step 5: Prepare for the United States Medical Licensing Examination
Aspiring Anesthesiologists must pass the United States Medical Licensing Examination (USMLE). This is a requirement for any job that requires medical licensure in the United States. The USMLE includes three separate exams. You may complete the first two exams during enrollment at Medical School. However, you need to wait until you graduate from the program and earn your Medical degree before completing the final part of the USMLE.
Step 6: Complete a Residency Program in Anesthesiology
After earning a Medical Degree, you can apply for a position in an Anesthesiology residency program. The residency programs typically last four years.
Step 7: Obtain a State License to Work as an Anesthesiologist
The final step before you can start looking for work as an Anesthesiologist is to become state-licensed. The requirements vary by state. However, almost every state requires you to complete the steps described above.
You must earn a Medical degree, pass the USMLE exams, and complete a residency program in Anesthesiology. Depending on the state, you may also need to become board-certified before obtaining a license.
Step 8: Pass the National Exam to Become Board-Certified
Many states require Anesthesiologists to become board-certified, which involves passing a national exam. As the requirements vary, you may need to pass the board certification exam before or after applying for your state license.
Board certification is handled by the American Board of Anesthesiology (ABA) and the American Board of Physician Specialties (ABPS). The requirements for board certification include the completion of a residency program along with the submission of 25 anesthesia case reports that are no older than 12 months.
You must also submit two letters of recommendation from board-certified members of the ABPS, ABMS, AOA, RCPSC, or the CFPC. After meeting these requirements and passing the exam, you become a board-certified Anesthesiologist.
Step 9: Apply for Jobs as an Anesthesiologist
You can now start looking for work as a full-time Anesthesiologist. Search for jobs with titles such as General Anesthesiologist or Anesthesia Technician. Some employers may require you to work under an experienced Anesthesiologist for a year.
Step 10: Continue Your Education
Experienced Anesthesiologists may choose to advance their careers by obtaining additional certifications and continuing their education. This requires the completion of an additional residency program, which takes another four years to complete. Some of the available subspecialties of Anesthesiology include:
Critical Care Medicine
Hospice and Palliative Medicine
Neurocritical Care
Pain Medicine
Pediatric Anesthesiology
Sleep Medicine
After completing the required residency program for one of these subspecialties, you may complete a certification exam and start working in your area of specialty.
Along with these subspecialties, some Anesthesiologists choose to expand their career prospects by obtaining Nursing credentials. For example, you may choose to become certified as a Nursing Assistant (CNA), Licensed Practical Nurse (LPN), or a Registered Nurse (RN).
As you have already completed Medical School, the path to becoming a Nurse is often much shorter compared to those entering the Nursing field. You may qualify for an accelerated Nursing program that takes one to two years to complete instead of the traditional four years.
After completing a Nursing program, you will need to earn a Master's Degree in Nurse Anesthesia. Due to your existing credentials, this may take an additional one to two years instead of up to four years.
What degree do most Anesthesiologists have
Doctoral degree
We did a survey to ask other Anesthesiologists what degree they had when they first became one. Here are the results.
Post-Doctoral Training
---
Doctoral degree
---
First Professional degree
---
How long does it take to become an Anesthesiologist?
12 years
Becoming an Anesthesiologist may take about 12 years. You need to earn a Bachelor's Degree, earn a Medical Degree, and complete a residency program, which each take four years to complete.
Allergists and Immunologists

diagnose, treat, and help prevent allergic diseases and disease processes affecting the immune system.

Salary

$203880

Clinical Nurse Specialists

plan, direct, or coordinate the daily patient care activities in a clinical practice. Ensure adherence to established clinical policies, protocols, regulations, and standards.

Salary

$75510

Dentists

examine, diagnose, and treat diseases, injuries, and malformations of teeth and gums. May treat diseases of nerve, pulp, and other dental tissues affecting oral hygiene and retention of teeth. May fit dental appliances or provide preventive care.

Salary

$175840

Orthotists and Prosthetists

design, measure, fit, and adapt orthopedic braces, appliances or prostheses, such as limbs or facial parts for patients with disabling conditions.

Salary

$73860

MRI Technologists

operate Magnetic Resonance Imaging (MRI) scanners. Monitor patient safety and comfort, and view images of area being scanned to ensure quality of pictures. May administer gadolinium contrast dosage intravenously. May interview patient, explain MRI procedures, and position patient on examining table. May enter into the computer data such as patient history, anatomical area to be scanned, orientation specified, and position of entry.

Salary

$72230
---
---
Find a college with the major you want

---
---